Microsoft has significantly diversified the approaches to data conversion with ease, in Office software. We have already seen how to extract export text to Word from PowerPoint slides, and now we're back with another article to show you the way to convert your PowerPoint 2013/16 presentation into pictures. This would be a beneficial option for you when you're facing issues in running Slide Show under PowerPoint. In that case, you can order the converted images into a sequence and project these images using full-screen mode.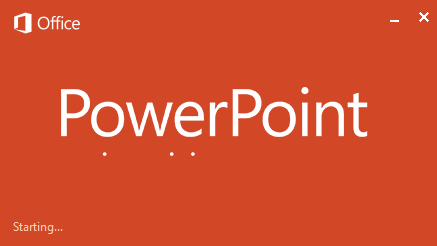 Now the question might be coming to your mind, how do you convert slides into images? Well, there is an easy way to do this as mentioned in the below steps. You can also control at what resolution your slides should be saved as images. Thus by saving the high-quality images, you can use any device which supports the playing of pictures as a slide show to play your presentation.
Convert & save PowerPoint Presentation Slides as High Resolutions Images
1. Open any presentation in PowerPoint of your choice which you'd like to save as images. Click FILE.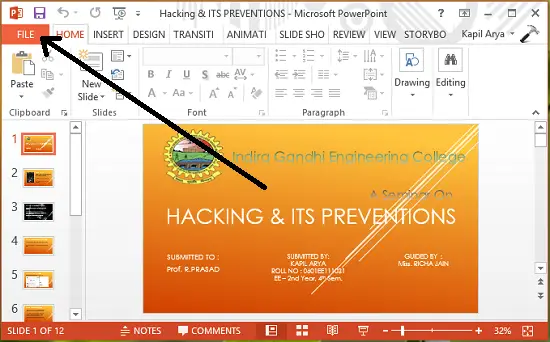 2. Next, in the following screen, click Save as.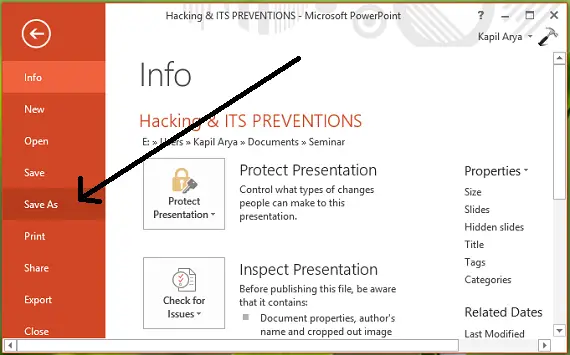 3. Now comes the tricky part! When you got the Save as window, make sure to use the Save as type as PNG, JPG, GIF or TIFF format. All of these are image format, as a tip, I suggest you select PNG format, since the good quality of images can be expected with it. Click Save finally.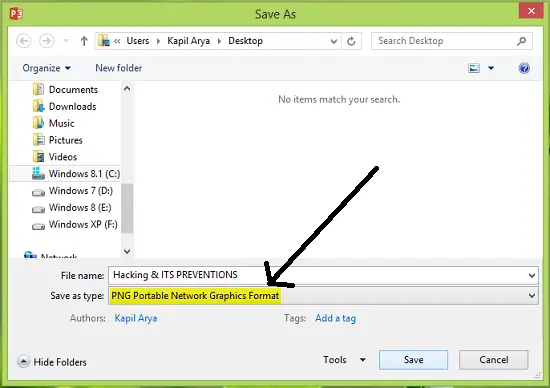 Since we have to save the entire presentation in form of images, select All Slides in the following prompt:

PowerPoint may now get busy in conversion and it will notify you when it is done with it:

In this way, all of your presentation slides are exported to separate images inside a new folder. Now let us see, how you control the resolution of these exported images so far.
Change Export Resolution Of PowerPoint Slides
According to Microsoft Support, there is an easy way, using which you can configure at what resolution the slides should be exported to the image. You can use the following steps to make such a configuration:
1. Press Windows Key + R combination, type put Regedt32.exe in Run dialog box and hit Enter to open the Registry Editor.
2. Navigate here:
HKEY_CURRENT_USER\Software\Microsoft\Office\15.0\PowerPoint\Options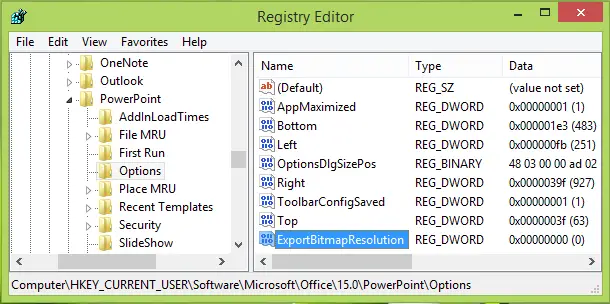 3. In the right pane, right-click in blank space and select New -> DWORD Value. Name the newly created DWORD as ExportBitmapResolution. Double click on same DWORD to modify its Value data: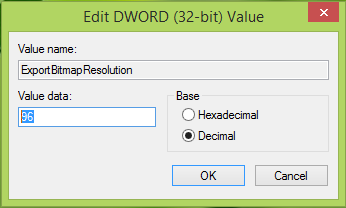 4. In the above-shown box, you have to first select Decimal base. Input 96 as the Value data which scales the exported images at 1280 x 720 pixel resolutions. You can reference the following values to get the desired image size:

Click OK after inputting your desired Value data. Close the Registry Editor and reboot the machine to get changes effective.
Trust you find the article useful!