If the Ryzen Master application installed on your AMD computers is unable to launch, then this post will help you. When launching the application, since it cannot process the request, it gets aborted and asks to reinstall the app. However, more often than not, reinstalling will have no effect. Ryzen Master failed to initialize because of some security programs. In this post, we will see what you can do if Ryzen Master is unable to initialize.
Ryzen Master unable to initialize. Kindly reinstall the program.

Hence Aborting!
Fix Ryzen Master failed to initialize in Windows 11
If Ryzen Master Failed to initialize on your computer, the very first thing you should do is to update your operating system. To do the same, just go to Windows Settings > Windows Update and then check if there is an update available. In case, there are available updates, just install them and you will be good to go. If the issue still persists, follow the solutions mentioned below to resolve it.
Disable Microsoft Vulnerable Driver Blocklist
Disable Core Isolation temporarily
Reinstall Graphics Drivers
Reinstall Ryzen Master
Let us talk about them in detail.
1] Disable Microsoft Vulnerable Driver Blocklist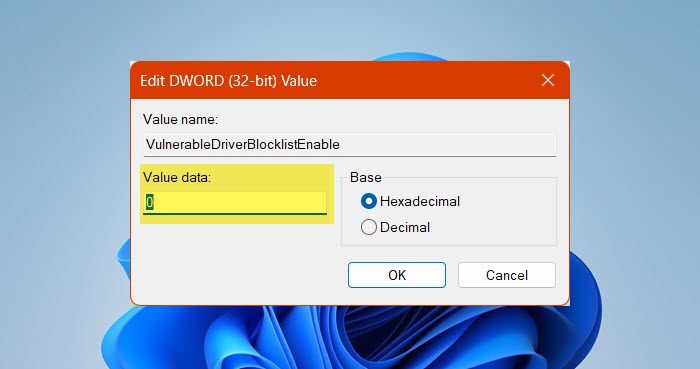 Microsoft's Driver tends to block apps that it thinks can harm your system. In this case, Ryzen Master is getting blocked because of the Windows Security system. We need to disable Microsoft Vulnerable Driver Blocklist to get the security down. Follow the steps given below to do the same.
Open Registry Editor from the Start Menu.
Now, go to the following location.

HKEY_LOCAL_MACHINE\System\CurrentControlSet\Control\CI\Config\

Then right-click on Config and select New > DWORD (32-bit value).
Name the newly created key VulnerableDriverBlocklistEnable.
Double-click on it and set the Value data to 0.
Click on OK.
Finally, restart the computer and see if the issue is resolved.
2] Disable Core Isolation temporarily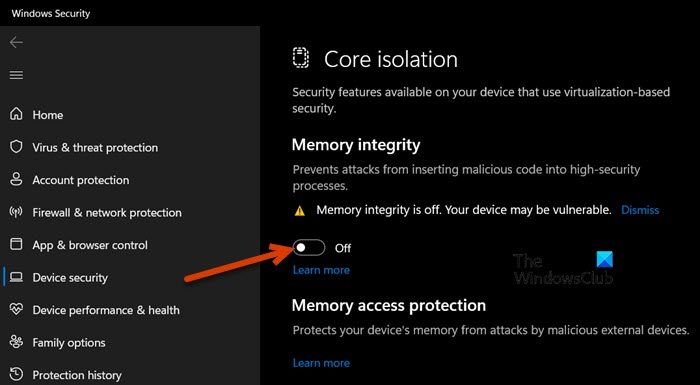 If you are not willing to make changes in the registry, we can disable Core Isolation from Windows Settings. When you enable Core Isolation, a VBS Environment is created, it conflicts with Ryzen Master and causes issues for the user. Remember that disabling the security feature will make the system vulnerable. Follow the steps mentioned below to disable Core Isolation.
Hit Win + S, search "Core Isolation" and open the app.
Go to Device Security.
Turn off Memory Integrity.
You will have to restart to confirm your actions. Finally, check if the issue is resolved.
3] Reinstall Graphics Drivers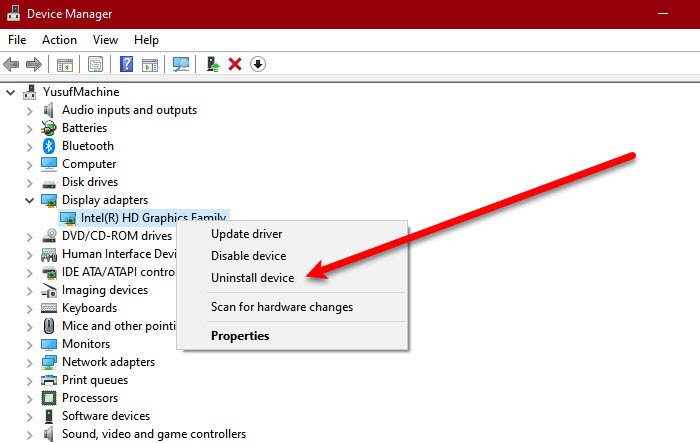 Ryzen Master will fail to initialize resources if the display driver is corrupted. We won't get into why the driver is corrupted, but we sure will look for appropriate measures. So, in order to repair the corrupted driver, we need to reinstall it. To do the same, follow the steps mentioned below.
Open Device Manager by Win + X > Device Manager.
Expand the Display adapter, right-click on the display driver, and select Uninstall device.
Now, click on Uninstall again to confirm your actions.
Note: Do keep in mind that after clicking on the Uninstall button, your screen will go black. That is a normal procedure and there is nothing to worry about.
Once the screen goes back to normal, restart your computer.
Now that your computer started, open the Device Manager and check if the correct driver is installed.
If the correct driver is not installed, right-click on the Display adapter and click on Scan for hardware changes.
In case Windows fails to install the right driver, download it from the manufacturer's website and then install it.
4] Reinstall Ryzen Master
If nothing worked, your last resort is to reinstall Ryzen Master as is mentioned in the error message. Remember, Ryzen Master is an overclocking utility and is not necessary to have on your system. In order to uninstall Ryzen Master follow the steps mentioned below.
Open Settings.
Go to Apps > Installed apps or Apps & features.
Look for "Ryzen Master".

Windows 11: Click on the three vertical dots and select Uninstall.
Windows 10: Select the app and then click on Uninstall.

Finally, click on the Uninstall button again to confirm your action.
After uninstalling the app, go to amd.com to install the app. Hopefully, this will do the job for you.
We hope that you will be able to resolve the issue using the solutions mentioned in this article.
Does Ryzen Master not work with Windows 11?
If Ryzen Master is not working on your computer, do check if you are using the latest version of Graphics Drivers. So, first of all, update your GPU drivers and then check if the issue is resolved. In case the issue persists, execute the solutions mentioned in this post to resolve the issue.
Raed: Ryzen Master Driver is not installed properly
Does Windows 11 have issues with AMD processors?
When Windows 11 first came out, there were notable heating issues with AMD processors. However, over time, the issue got resolved as the new operating system is completely optimized for AMD chipsets. So, if you are in the market looking to get a new computer, exclude AMD processors from the list due to these rumored issues.
Read: Fix AmdRyzenMasterDriver.sys Blue Screen error on Windows.