While we are discussing the Blue Screen of Death errors, one of them is a system file labeled as rtwlane.sys. This comes under the category of DRIVER IRQL NOT LESS OR EQUAL stop errors. This indicates that a kernel-mode driver attempted to access pageable memory at a process IRQL that was too high. The main issue with this error revolves around the Realtek PCI-E Wireless LAN PCI-E NIC driver. Or in simple words, it has issues with the wireless card of your machine that is built by Realtek. You might also face some connectivity issues with your machine where the WiFi card refuses to find any network connections or even disconnects randomly.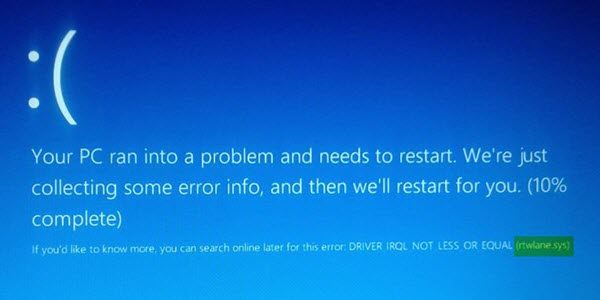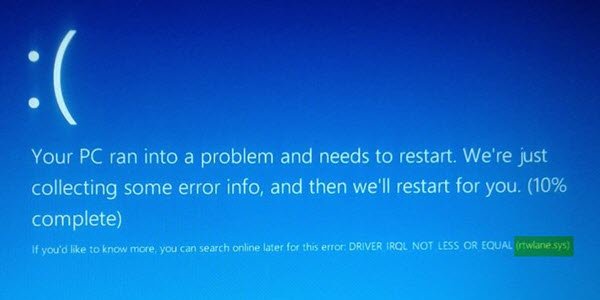 Fix rtwlane.sys Blue Screen error
If running the Blue Screen Troubleshooter does not help you, you need to take a look at the rtwlane.sys device driver.
Update or Rollback your Realtek driver
If the problem started after you updated the Realtek driver, you should rollback the driver to the previous working version.
If you have not updated, then you should update this Realtek driver to its latest version. You should visit the manufacturer's site and download the latest version and install it.
When you get into the Device Manager, you can expand Network Adapters from the list that is populated.
Then right-click on this driver entry: Realtek <Model> Wireless LAN 802.11n PCI-E NIC and then click on Update Driver.

This post will show you in detail how to rollback or update device drivers using Device Manager.
If you see any other entries like the following, you may want to download and install their latest versions from the manufacturer's website as well.
Realtek High-Definition (HD) Audio Driver
Realtek Card Reader Driver
Realtek Local Area Network (LAN) Driver.
Hope this helps!