In this post, we will help you rotate videos using some free video rotator software and online tools. You can set the rotation angle to 90 degrees clockwise or anticlockwise, 270 degrees, etc. If some video is upside down or its orientation is portrait or landscape and you want to change it, then these tools might come in handy. You will be able to save the rotated video and there will be no watermark in the output.
While there are some free media players that let you rotate the video, those tools don't help to save the output with rotated angle. For that, the tools covered in this post are helpful.
Rotate videos using free video rotator software & online tools
We have created a list of 2 freeware and 3 free online video rotator tools. These are:
Movie Rotator
Free Video Flip and Rotate
Ezgif.com with Rotate Video Online tool
Online Video Cutter
RotateMyVideo.
1] Movie Rotator
Movie Rotator comes with a very simple interface where you can add MOV, AVI, MP4, WMV, or 3GP format video file and rotate it. It lets you rotate a video to 90 degrees clockwise or anticlockwise direction and preview it. If the preview looks good, you can save the rotated video in MP4 format.
Get this tool and install it. Its interface has two sections. The left section provides five buttons:
Open button to add a video
Play and pause button
Clockwise button
Anticlockwise button
Save button to begin the rotation process and store rotated video as MP4 format to the desired folder.
The left section also helps to play and preview the video. On the right-hand side, you can see the rotation process.
2] Free Video Flip and Rotate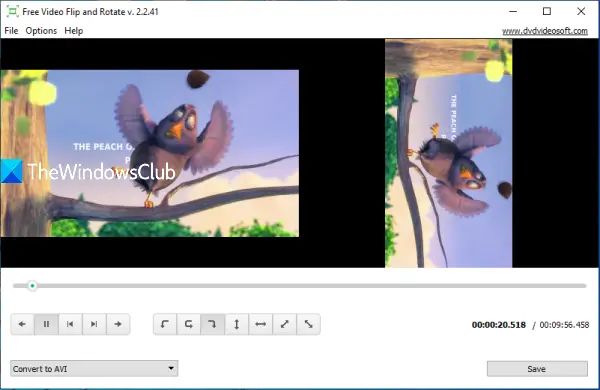 As its name indicates, this tool can help you flip as well as rotate a video. It lets you rotate a video to 90° right (or clockwise), left 180°, rotate left 90°, flip video up or down, and left or right. Add any supported video and save it as MKV, GIF, MP4, or AVI video. One good feature is you can preview the input and rotated video on its interface to get a good idea about the output.
Use this link to download this Free Video Flip and Rotate software. On its interface, drag n drop a video file. After that, use the play button to preview it on the left section. Now you can use available rotate buttons and a preview of the rotated video will visible on the right section.
To save the output, select an output format using the drop-down menu available on the bottom left part. Use the Save button. A conversion box will open. There you can select output video resolution, audio bitrate, etc. Finally, press the Continue button, and it will begin the video rotation process. When the rotation is completed, you can open the output folder to use the rotated video.
3] Ezgif.com with Rotate Video online tool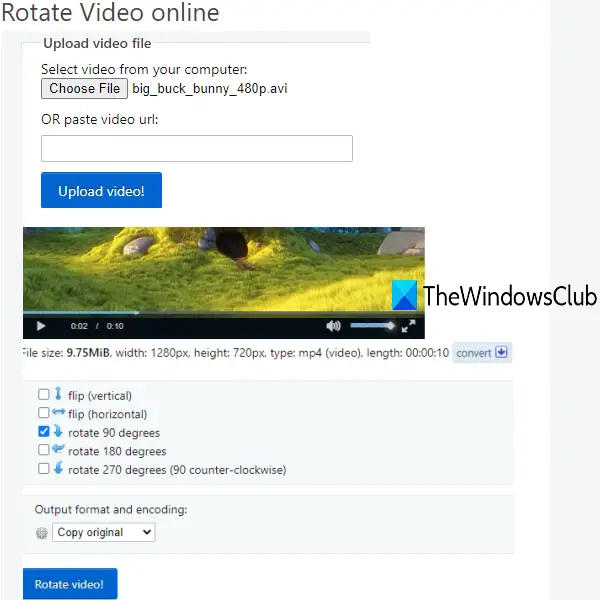 Ezgif website brings a lot of features like GIF maker, video to GIF converter, reverse an animated GIF, GIF to animated PNG converter, and more. Rotate Video online tool is also provided it which works very well. The free plan of its video rotator lets you upload up to 100 MB video file. MPEG, 3GP, MP4, FLV, and other video formats are supported by it.
Access this tool and then add an online video or add a video from your desktop. After that, press Upload Video! button. Now you can preview the uploaded video and also use rotate options. Available rotate options are 180 degrees, 270 degrees, and 90 degrees. Select an option. The options to flip video are also present.
In the next step, select if you want to keep the original format and encoding, or use MP4 as output format. After that, use Rotate Video! Button. It will process the video and then you can preview the rotated video. If the video is good, press Save button to download it.
4] Online Video Cutter
As its name indicates, this tool helps to cut a video into small parts and save them as separate video files. But this Online Video Cutter can also be used to rotate a video and save the rotated video. Its free plan lets you upload a maximum 500 MB video file. You can also preview the video before saving the output.
Open the homepage of this online tool and drop a supported video. You can also add an online video or import a video from your Google Drive or Dropbox account. Once the video is uploaded, you can use the rotate button and rotate it to 90, 180, or 270 degrees, and preview the changes. The options to set the start time and end time for the output video and crop the video are also present. It also lets you keep the same quality or set quality for output.
When the output is ready, use the Save button. The output can be downloaded to your PC or you can store it in your Dropbox or Google Drive account.
5] RotateMyVideo
RotateMyVideo is a very simple online tool to rotate a video in a clockwise as well as an anticlockwise direction. The good thing about this website is you get the output in original format only. It also lets you change the video ratio to 16:9 or 4:3, but you can also keep the original aspect ratio. The size limit to upload a video is not mentioned but it successfully uploaded a video file of more than 200 MB for me.
Open the homepage of this online tool and press the Pick Video button to add a video from the PC. After uploading the video, use the rotate buttons and you can preview a frame of the input video. Use Ratio buttons if needed or simply click on the Rotate Video button. When the rotated video is ready, save it to your PC.
Hope this post is helpful enough to easily rotate a video and save the rotated video.
Read next: Best Free Video Editing Software for Windows 10.