Windows 11/10 PCs come with two keyboard applications, one is the On-Screen Keyboard, and the other is the Touch Keyboard. You basically do not need a touchscreen to use the on-screen keyboard. It displays a virtual keyboard on your screen, and you can use your mouse to select and press the keys.
While the on-screen keyboard app is very useful and helpful when we don't have a physical keyboard, its size is always an issue for the users. You can move or enlarge the virtual keyboard from the icons on the top right corner. If you wish, you can also resize it easily.
Resize On-screen Keyboard on Windows 11/10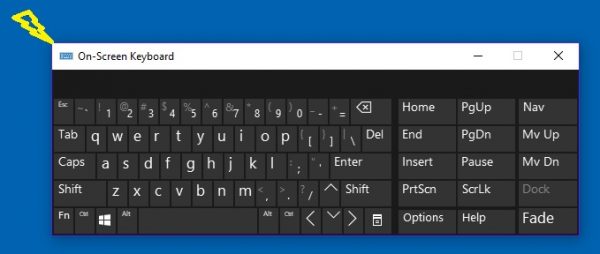 Resizing the On-Screen Keyboard is very simple:
Type On-Screen Keyboard on your Windows search and launch the desktop app
You can also go via  Settings > Ease of Access > Keyboard > Turn on the On-screen keyboard.
To resize the On-screen keyboard, take your cursor to the corner and drag it to the preferred size.
Alternatively, right-click on the icon in the top left corner and select Size.
Use the 4-point cursor to change the size.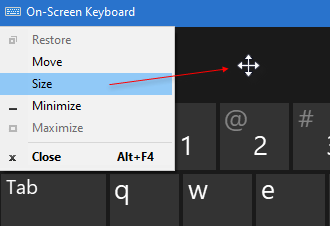 Resize Touch Keyboard on Windows 11/10

You cannot resize the Touch Keyboard using its corners.
But you can use an alternate layout to make it larger or smaller.
The virtual keyboard was actually designed specifically for the tablet users, but PC users can also use it when required.
To launch the virtual keyboard, go to Settings > Devices > Typing section > Touch keyboard and Toggle on Add the standard keyboard layout as a touch keyboard option.
If you use the virtual keyboard regularly, it is suggested to pin it on your Taskbar. This will leave an icon on your taskbar, and you can get easy and quick access to the virtual keyboard.