The Touch Keyboard in Windows 10/8 is a useful tool that lets you type on touch devices, without needing any physical keyboard. It is not to be confused with the Windows On-screen Keyboard which can appear on non-touch devices too. In this post, we will see how to use, start, enable, disable the Touchscreen keyboard, change its layout, disable it if the Touch keyboard icon keeps appearing in your taskbar, and what to do if the Windows Touch Keyboard is not working.
Touch Keyboard in Windows 10
In Windows 10 you will find the settings at Settings > Devices > Typing section > Touch keyboard.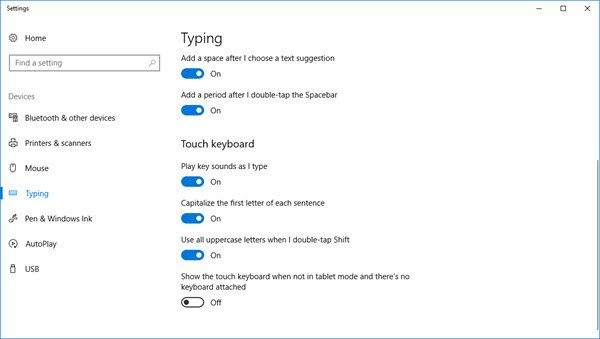 To turn on the Touch Keyboard in Windows 8.1, swipe in from the right edge to open the Charms bar. Tap Settings and then Keyboard. Next select Touch keyboard and handwriting panel. The keyboard will appear.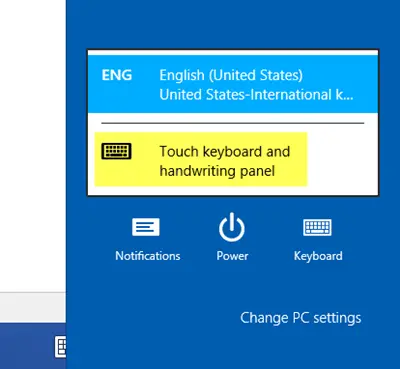 Now, in Windows 10 or Windows 8.1/8, If you need regular and faster access, you can right-click on the taskbar > Toolbars > Touch keyboard. The touch keyboard icon will appear and sit in your taskbar near the notification area. Tapping it will make the touch keyboard appear.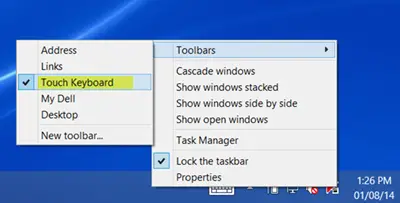 Press the touch keyboard icon in the bottom right corner. You will see the four available layouts in the Default Docked Style. These appear edge-to-edge.
The first one is the default layout.

The second one is a mini layout.
The third one is the Thumb keyboard, which splits the keys on either side of the screen. You will find this view useful if you are standing, holding the device, and need to type with both your thumbs.
The fourth one, the Standard Keyboard layout.
The fifth one activates the Pen Input layout.

Related: What is the meaning of Touch Support with Touch Points in Windows.
You can also activate the Detached Style – which will again offer you 5 layouts.
A few Touch keyboard tips to get you started:
Turn Caps Lock on by double-tapping the Shift key.
Double-tap the Spacebar to insert a full-stop and space.
Tap the &123 key to switch to the numbers and symbols view.
Switch to and from the numbers and symbols view by pressing and holding the &123 key, tapping the keys you want, and then releasing it.
Tap the Emoticon key to see Emojis. Go here to see how to use colored Emojis.
Related: How to customize Touch keyboard on Windows 11.
Touch keyboard icon keeps appearing? Disable Touch keyboard
If your Touch keyboard icon keeps appearing in your taskbar every time you log on or reboot, you can if you wish to disable the Touch screen keyboard. To do this, Run services.msc to open Services Manager.
Change the Startup type of Touch keyboard and handwriting panel service from Automatic to Disabled.
See this post if your Touch keyboard is not working in Windows 10.