A few days back, we checked out Windows Touch Keyboard settings and some tips to help you get started. Today we will go a step further and see how you can use Emoji using the Touch Keyboard on Windows 10/8.1.
Emoji is a type of emoticon used on Windows 10/8, iPhone, iPad,  Android, and Mac OS. What is an Emoji? It is a small digital image used to express emotions. The word Emoji means Picture letter in Japanese.
How to use Emoji on Windows 10
The touch keyboard icon appears and sits in your taskbar near the notification area. Tap it to make the touch keyboard appear.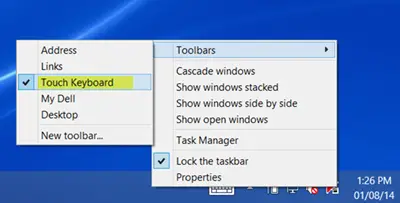 When the default layout of the touch keyboard opens, tab the Smiley. You will see all the Emoji's here. Click on the Emojis in the bottom-most row, to see all the categories of emojis. Also, make use of the Left and Right arrows to see all the emojis within a particular category.
Emojis are supported on Windows 7 or above, including Windows RT, Windows 10/8.1. Windows Vista and below do not support Emoji.
To be able to see Emoji in color, Windows 10/8.1 is required – and you will be able to see them only in Internet Explorer. Chrome does not support native Emoji on any version of Windows. On Firefox too, you won't be able to see colored Emojis.
Emoji Keys is an app available in the Windows Store that allows you to convert iPhone emojis into icons so that you can understand them. It also lets you send your own back to them using the full emoji keyboard. It is not a free app, however.
If you wish to use an Emoji without using the Touch keyboard, just visit GetEmoji.com or EmojiCut.com in your browser, select the Emoji and copy-paste it. You will be able to use these Emojis anywhere – even in your Twitter tweets. You will see the colored Emoji's only when you use Internet Explorer on Windows 10/8.
PS: You can now also use the Emoji Panel in Windows 10.