Xbox One lets you create guest accounts, so if someone wants to experience exactly the same as your account, they can do it. You can add restrictions on what kind of content guests can see or experience. This is great if your guest is a kid. The guest account feature also lets the console owner create free access to his console using a Guest Key, also called the Passkey. It's like a password, built using a combination of controls of the controller, so they can access the console in your absence. Now it may so happen that you forgot the guest key. In this guide, we will tell how to reset the guest key on your Xbox One console.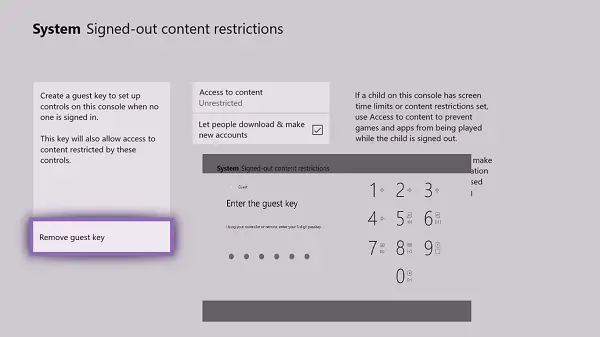 Reset Guest Key on Xbox One console
The only way to do it is by using your Microsoft account password with which you are signed into the console. You can delete it as well, but we will take a look at that later in the post.
Sign-in with your account on Xbox One.
Press the Xbox button to open the guide > Settings > System > Signed-out content restrictions.
It will ask you to enter your Microsoft account password to confirm your identity.
It will then ask you to enter the guest key to remove it.
You can also try entering an incorrect guest key three times, and then it will prompt you to enter the Microsoft account password to remove it. This will remove the guest key.
If you remember it correctly, you will directly get an option to Remove guest key.
You can then go ahead, and create a new key with new restrictions.
Here is my tip. When creating a guest key, keep it simple. You may even choose 5678, but not everyone will remember the sequence of trigger that needs to be used to enter that. You can also choose from left to right to right to left for easy remembrance.
That said if someone else has created the passkey, and it's not you, remove that account from the console, and it will also delete the Guest Key.  Many a time there is more than one adult user on the same console, and anyone could have done it. You can always recreate his or her profile by signing in again in the console by launching the menu and select Add New from the menu at extreme left.