Many a time, you may have guests in your house, and they want to experience Xbox One gaming right on your console. It follows its previous versions, and an update to the Xbox One console has enabled the Guest account for Xbox One.  This allows them to experience the gaming on the console, an opportunity for you to convince them how awesome gaming is when you have a console. In this guide, I am sharing how to create and manage Xbox Guest Account.
Create and Manage Xbox Guest Account
The advantage of setting up a guest account goes both ways. You have more control compared to a regular account, and they can participate in side-by-side multiplayer games but does not have their own Xbox Live account or gamertag.
What happens when you create a guest account? Xbox creates a temporary account. It is a copy of the account of the family member who is currently on the console. Once their experience is complete, you can sign them out, and it also removes them from the console.
How to create a guest account on Xbox One
Turn on your Xbox One and sign-in with your account on the console.
Next, press the Xbox button to open the guide, and use the d-pad on the controller to extreme left where you can see your profile.
Here you will have the option to Add Guest. Press A on your controller.
You will instantly get notification of another account created. In my case, it is named wpxbox(1).
Xbox might ask for a confirmation for your account through Kinect if that's installed. Skip it to stay in guest account. 
Now, if you go back to your profile again, you will see options to switch to Guest account.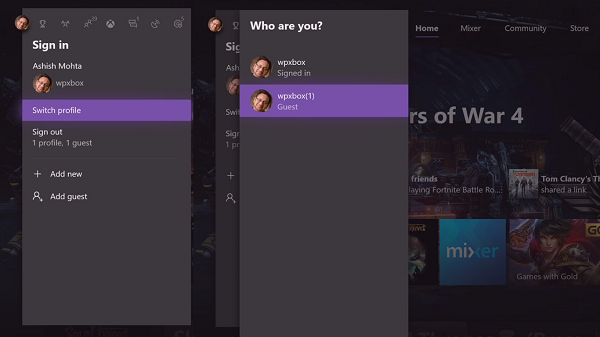 Scroll down and select switch profile, select guest account. Look at the image above.
You can add another controller to your Xbox One, and then let the guest use it to play with you.
In case the second controller is not able to identify the guest account, do the following.
Make sure that both are signed in, and both are on the same menu. You can switch account, and see it. Now let the guest play press the start button, and it should load their user. In case the game is still not able to figure it out, just restart the game.
Note:
You can create multiple guest accounts.

If you have a Kinect hooked up, the guest account is properly identified as the guest player. If not, it can lead to random controller disconnects and other glitches.
How to remove a guest account from your Xbox One console
The process is tad simple. Probably simplest of all. All you need to do is sign out your guest and his account will be gone.
Press the Xbox button to open the guide, and use the d-pad on the controller to extreme left where you can see your profile.
Click on Signout, and select the guest profile. Press A to do it.
The guest account is now deleted.
Xbox One Guest Account Limitations
It is interesting that since Xbox One creates a copy of your profile, it enjoys almost everything on the console, including multiplayer. However, there are set of limitations as it is not a signed-in account. So what are the limitations for that account?
Control Ratings and New Account Creation
Press the Xbox Guide button on your controller, and use the right bumper to navigate to the end of the flyer menu. Select Settings.
Now go to System > Signed-out content restrictions.
Here you can create a guest key. It will allow guest to access contents according to your restrictions when nobody else is available.
Select Create a guest key, and press A on your controller. The guest key is a combination of controls on your controller.
Once done, you can configure Age-based ratings for apps and games. You can also choose to limit download and make a new account option. This will make sure you haven't given open access to everything on your console.
Privacy and online safety settings for the guest account are same as yours or of the family members with most restrictive settings. For example, if a child is signed in, the guest is restricted by the child's settings.
The guest account cannot purchase games or subscribe to any service using the host's account.
There is no way to save settings of the guest once he logs out. Any gameplay, achievements, etc. are lost immediately.
Maybe in the future, Microsoft may roll out a feature that will help convert a guest account into Microsoft-linked account. It may so happen that the game went so well, and the guest wants to keep the progress, achievements and so on. Do let us know in the comments how you create and manage Xbox Guest Account in your family.
Read: How to reset the Guest Key on your Xbox One console.