Although Microsoft Outlook is pretty good in handling various email accounts, sometimes you may face problems while sending or receiving email. If your email is not being sent or you do not receive any email even after an extended period, maybe it's time to check a few things. This post will help you if you receive this error message:
Reported error (0x80042108): Outlook is unable to connect to your incoming (POP3) email server. If you continue to receive this message, contact your server administrator or Internet service provider (ISP)
In most cases, you cannot solve this issue by contacting your ISP or server administrator. This error occurs when your antivirus or any security shield behaves unexpectedly. The simple solution is to remove virus scanner integration with Outlook.
Reported error (0x80042108): Outlook is unable to connect to your incoming (POP3) email server
As mentioned earlier, you need to remove either the whole security shield or the integration between Outlook and antivirus. In most cases, antivirus uses an add-in to scan all the emails for various suspicious codes or files. In other words, it protects you from viruses, ransomware, adware, etc. However, you need to disable the antivirus temporarily to check whether they can send or receive email or not. To remove the add-in, you need to go to File > Options > Add-ins in Microsoft Outlook.
Here, you should find a Go button that you need to click.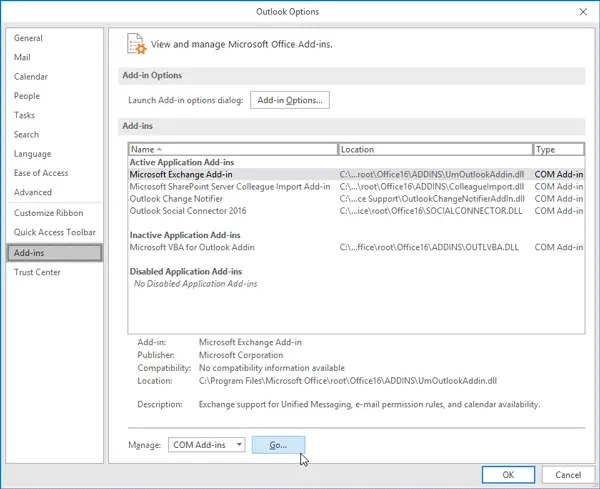 Next, select all the add-ins related to your antivirus or any other security shield and click on Remove button.
After that, you will be able to do all the things without getting any error.
Is it safe to remove the antivirus integration?
As you are removing the antivirus integration from Outlook, you might be worried about your computers security. However, as per some security professionals, it is fine to make this change since the Microsoft Outlook doesn't execute any code that has been sent by someone automatically. The user needs to click on any file or link or code to execute. Having said that, you will now need to be more careful when clicking on any link or file in your email. We, therefore, recommend this as a temporary workaround only till you are able to find the cause and fix.
You can also try these things and see if it helps you.
1] Enable POP in email settings
Outlook uses POP and IMAP to send and receive email. If you haven't enabled POP in your email service provider, you might face this issue. Therefore, check that setting as well. For Gmail, you can click on the settings gear button and select Settings. After that, switch to Forwarding and POP/IMAP page and make sure the POP Download settings in Enabled.

Outlook or Hotmail users can do the same by visiting this OWA page.
2] Allow an app through Firewall
If your Firewall has mistakenly blocked the Outlook app, it will disable all incoming and outgoing traffic – as a result; you won't be able to send or receive any email using Outlook. Therefore, you should consider checking your Firewall as well. For that, open Control Panel\All Control Panel Items\Windows Defender Firewall and ensure that the Private and Public checkboxes are selected for Microsoft Office Outlook. You will have to press the Change settings button.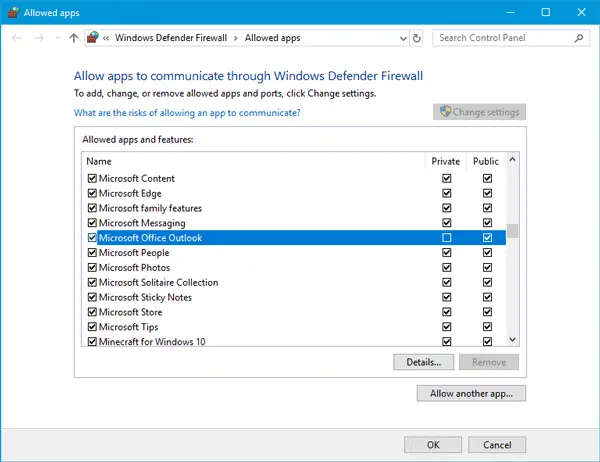 If it is blocked, make select the corresponding checkbox and save your change. After that, you should not get any issue at all.
Let us know if anything here helped you.
Related read: Outlook cannot log on, verify you are connected to the network.