If you want to remove all the pinned apps and reset the Taskbar of your Windows 11/10 PC, then instead of doing so manually one-by-one, you may follow this tutorial. The Taskbar is an essential element in Windows computers that helps users to open frequently opened apps quickly.
You can pin almost any app and open them as per your needs. However, if you have pinned a lot of apps and you want to get rid of them, you can do so. Resetting the Taskbar can help you in different ways. For example, if the Taskbar has disappeared from the Desktop, you can get it back.
There are mainly two different ways to perform this. You can find all the paths where pinned apps are saved and delete them manually – but it takes a lot of time. However, if you follow the second method, you would end up creating a .bat file that can clear both locations at once.

As it makes changes in the Registry Editor, it is recommended to first backup Registry files or create a System Restore point.
Remove all Pinned Apps & Reset Taskbar
To remove and clear all the pinned apps and reset the Taskbar in Windows 11/10:
Open Notepad
Paste the text that contains commands in Notepad.
Click on File > Save As.
Choose a location where you want to save the file.
Enter a file name with .bat extension.
Select All Files from Save as type drop-down menu.
Click the Save button.
Double-click on the .bat file to run it.
The taskbar will be reset.
So, open the Notepad on your computer so that you can create the required file. In the Notepad window, paste the following texts-
DEL /F /S /Q /A "%AppData%\Microsoft\Internet Explorer\Quick Launch\User Pinned\TaskBar\*"

REG DELETE HKCU\Software\Microsoft\Windows\CurrentVersion\Explorer\Taskband /F

taskkill /f /im explorer.exe

start explorer.exe
Now, click on the File button and select Save As. Alternatively, you can press Ctrl+Shift+S buttons together.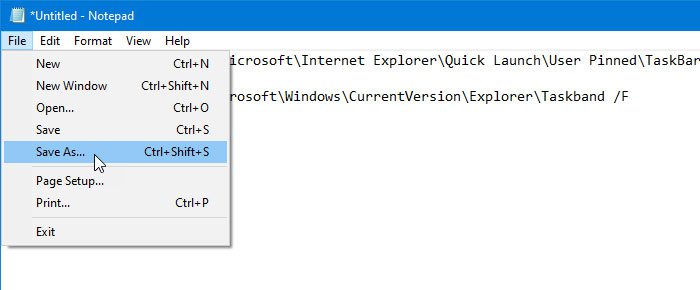 After that, select a location where you want to save the file, enter a name with .bat extension (example: testfile.bat), choose All Files from Save as type drop-down list.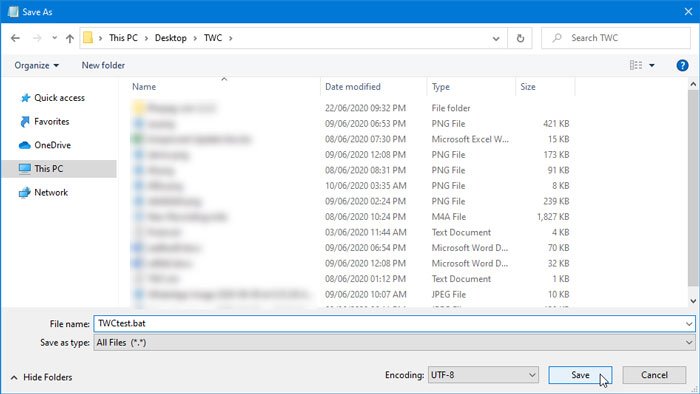 At last, click the Save button. Now, you need to double-click on the newly created .bat file. If you saved the texts as mentioned earlier, you could not find any confirmation window or anything else. You should see the changes directly.
That's all! It is as simple as said.
Related read: How to Backup and Restore pinned Taskbar items.