The Outlook/Hotmail team has always been helpful in helping retrieve deleted mail on a personal level, even after emptying your Deleted items folder. Subsequently, Hotmail started offering a feature to let you recover deleted mail.
Those who have upgraded to the new Outlook.com mail may be happy to know that this feature has been continued here too! With Microsoft Outlook, you can recover emails that might have been accidentally deleted from your inbox or your Deleted folder. This is also helpful if your account has been hacked because hackers often delete all the messages in an account.
Restore deleted mail in Outlook.com
If you wish to retrieve such deleted mail, log into your Outlook.com mail account and click on the Deleted folder.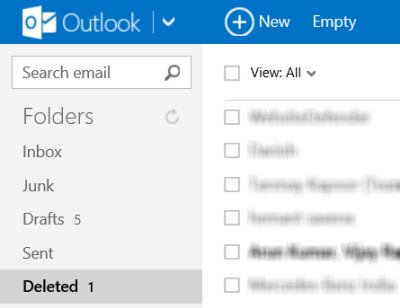 Toward the bottom, you will see a link to Recover deleted messages.
Click on it and you will see your Deleted folders being flooded with old deleted mail.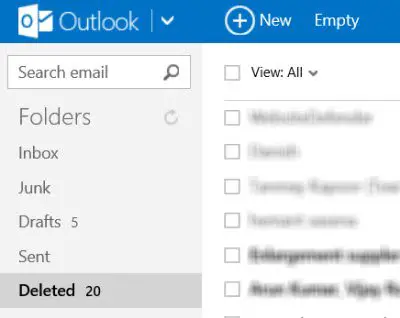 Do remember to give your feedback, so that Microsoft can improve upon its services.
Got a jubilant response when I clicked on it worked! Bought a smile to my face! :)
Outlook will recover as many messages as possible and put them in your Deleted folder. If you don't see the deleted messages that you wanted, it means they are permanently lost. When the recovered messages are back in your Deleted folder, you should move the important ones back to your inbox or personal folders because the Deleted folder gets cleaned out periodically.
Do note this feature does not work for child accounts. This way, parents can be confident that when they delete messages from their children's accounts – they stay deleted!
Related: Recover items deleted from the Deleted Items folder of Outlook.
Opt out of Recover delete mail feature in Outlook.com
For privacy purposes, if you wish, you can opt-out of this feature, so that your deleted mail, remains permanently deleted with no chance of recovery.
To do so, click on Settings and select More mail settings.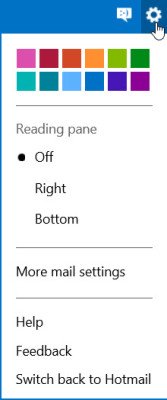 Click on Advanced Privacy Settings.
Select Don't let me recover deleted messages – once they leave the Deleted folder, don't give me a link to get them back and click on Save.
Do note that this option is a one-way street and once you exercise this option, there is no way of reversing it or going back.