Rainbow Six Siege Error code 2-0x0000D00A, Matchmaking Error means the connection between your computer and the game's server is built or the connection to the Matchmaking service is timed out. The issue is not just encountered by you, there are a lot of gamers experiencing this error on multiple platforms. The following is the exact error message users are seeing.
Matchmaking Error
Rainbow Six Siege error code: [2-0x0000DOOA]
Error during matchmaking. Contact support for additional Information
http://support.ubisoft.com
In this post, we are going to talk about this issue and see what you can do to resolve this error.
Fix Rainbow Six Siege Error code 2-0x0000D00A, Matchmaking Error
If you encounter Rainbow Six Siege Error code 2-0x0000D00A, Matchmaking Error, and no connection is built between the client and the game's server, try the solutions mentioned below to resolve the issue.
Check Server Status
Check your Internet Connection
Restart your network devices
Ask your ISP to enable UPnP
Try Google Public DNS
Release IP, Reset Winsock, and Flush DNS
Use Wired Connection
Let us talk about them in detail.
1] Check Server Status
The first thing you should do regardless of the device you are gaming on is to check if the servers are down or under maintenance. It is quite simple, you can either go to twitter.com/UbisoftSupport or try one of the free down detectors to know the server status of Ubisoft. If the server is down, the only thing you can do is wait for the issue to be resolved. You can keep on checking the server status to keep yourself up-to-date.
2] Check your Internet Connection
Since there is something wrong with your network, checking your Internet Connection is a wise idea. We need to make sure that the bandwidth is now low and that there is enough speed for the client to communicate with the server. For that, you need to pull up a browser and try one of the free online Internet Speed checkers. If the Internet is slow, you restart your network devices (steps are mentioned hereinafter) and if that doesn't work, contact your Internet Service Provider.
3] Restart your network devices
If your Internet Speed is low, or you are having some other network issue, try restarting your router. Follow the prescribed steps to do it right.
Turn off your Router.
Unplug all the cables and wait for a minute as the capacitor discharges.
Now, plug the cables back in and turn on the router.
Check if the issue persists. If the issue does persist, restart your console or PC as well. Hopefully, this will do the job for you.
4] Ask your ISP to enable UPnP
Network Protocol, Universal Plug and Play (UPnP) enable your device to set Port Forwarding automatically for themselves. This feature is usually enabled but sometimes it is disabled by the Internet Service Provider. You should ask your ISP to enable this feature as it is required for Rainbow Six Siege to do Port Forwarding. Once this feature is enabled, you can go back to your game.
5] Try Google Public DNS
One of the workarounds that you can try to fix this issue is opting for Google Public DNS. This can get rid of any DNS glitches that can occur due to the random assigning of DNS by ISP. To switch to Google Public DNS, you can follow the prescribed steps.
Open Control Panel and change the View by to Large icons.
Then, go to Network & Sharing Center.
Select the connected network from the Connection options.
Click on Properties.
Double-click on Internet Protocol Version 4 (TCP/IPv4).
Select Use the following DNS server addresses option.
Finally, set Preferred DNS server: 8.8.8.8 and Alternate DNS server: 8.8.4.4
Click Ok
Now, close the Control Panel and try playing the game. Hopefully, the issue will be resolved this time.
6] Release IP, Reset Winsock, and Flush DNS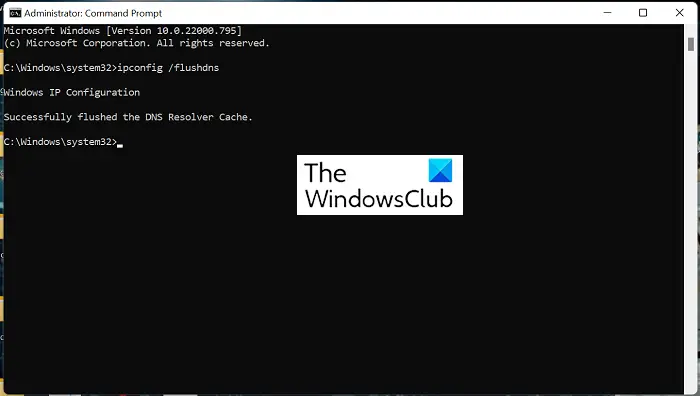 Another way of resolving the network issue is by resetting the Network Protocol. This will clear out any glitch that may cause the issue in question. IP, Winsock, and DNS are protocols responsible for creating a link between the client, that is your computer, and the server.
To reset the protocol, launch Command Prompt as an administrator. There are multiple ways to do the same, either search it out from the Start Menu or hit Win + R, type cmd, and hit Ctrl + Shift + Enter. Once the command line interpreter is launched, execute the following commands one by one.
ipconfig /release
ipconfig /renew
ipconfig /flushdns
ipconfig /registerdns
netsh winsock reset
Hopefully, this will do the job for you.
7] Use Wired Connection
In order to play any online game, you should be using an Ethernet connection instead of WiFi. Wired connections give you a stable Internet Connection capable of maintaining the bandwidth. It is always recommended for gamers to use a wired connection to get low Ping and to stay clear of any network issues.
Hopefully, you are able to resolve the Rainbow Six Siege Matchmaking error using the solutions mentioned in this article.
Read: Fix Rainbow Six Extraction FPS Drops and Stuttering Issues 
How do I fix the Matchmaking Error in Rainbow Six Siege?
The Matchmaking error in Rainbow Six Siege can be resolved by executing the solutions mentioned in this post. You should start executing from the first solution and then move your way down as it will save a lot of your time. Hopefully, you will be able to resolve the issue easily.
Read: No compatible driver/hardware found in Rainbow Six Extraction 
Why can't I connect to Rainbow Six Siege servers?
If you can not connect to the Rainbow Six Siege server, first of all, check the server status, and go to the first solution to do the same. Also, since it is a network issue, all the solutions mentioned in this post will fix that issue as well. However, one of the most common reasons why this is happening is a corrupted host file.  To troubleshoot the corrupted host file, you need to reset the Host file back to default. That will do the job for you.
Also Read: Rainbow Six Extraction keeps crashing on Windows PC.