Microsoft Store, earlier known as the Windows Store, is a centralized place from where consumers can download Apps and Games. While you can always download software outside Microsoft's digital Store, there are a lot of them available in the Store. In this post, we have written our Quick Start Guide for Windows Store to help you get started.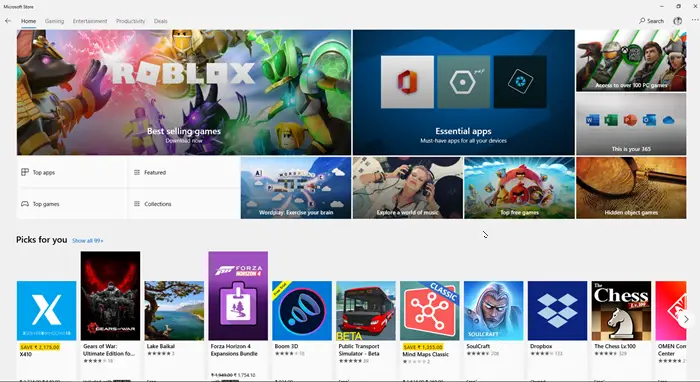 How to use Microsoft Store in Windows 11/10
The primary reason why Windows Store was renamed to Microsoft Store because it's just about software any more. Microsoft also lists Hardware and Accessories, but it could be limited based on the country. Here is the list of topics we will cover in this post:
Add/Remove Microsoft Account to Microsoft Store
Install an application or game from the Microsoft Store
Payment, Store Settings and My Library, and more
Finding installed Apps and Managing them
When you launch the Store, the top menu displays popular categories such as Gaming, Entertainment, Productivity, and Deals. Under Home, you have a carousel displaying popular apps and games. Followed by it, you have Top Apps, Featured, Top Games, and Collections. As you keep using the Store, you will also receive personalized suggestions under the "Picks for you" section, top free apps, and so on.
1] Add/Remove Microsoft Account to Microsoft Store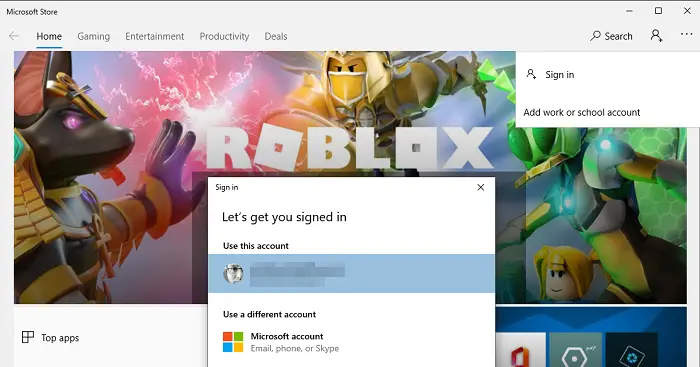 The first thing you should know is that to use the Store, you need to use a Microsoft account. If you have created a Windows account that is linked with a Microsoft account, then you will be signed in using that account. If you want to use another account, you can always sign out and add a different Microsoft account.
To switch the Microsoft account, click on the profile icon on the top right corner of the app store, and signout.
Click on the Profile icon again and click on Sign-in. Now you can use a different account or an existing account.
That said, Microsoft store allows you to add multiple accounts as well. It can be your work or school account. If there is an app available on the Store which only works with your corporate or school account, then you can add them here, and then install the app.
2] How to install an application or game from the Microsoft Store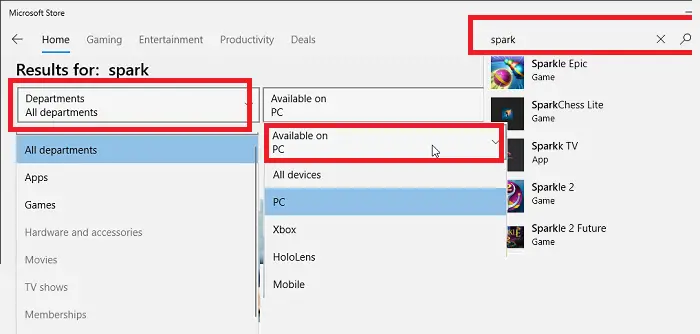 Click on the search icon on the top left, next to the profile icon
Type the app name and press the Enter key. You should see the app suggestion as you type.
The search result will be categorized into Apps, Games, Xbox related items, etc.
If you notice, there are two important filters available

Department or Category such as Apps, Games, Movies, TV Shows, Membership and Avatar Items
Available on PC/Xbox/HoloLens/Mobile

Click on View All link to expand the search in the category
Once you find the app, click on the Get button to start the installation to add to the cart.
Later you can checkout and install them in bulk.
If its paid application, you can make the payment during checkout.
Once installed, all the applications will be available in the Start Menu.
3] Payment, Store Settings and My Library, and more.
Like every other application, Microsoft Store has its settings. I recommend you should take a look at them and configure them according to your choice. Click on the three dots menu next to your profile and click on My Library. It will reveal all the apps you have ever owned with an option to sort by most recent, or sort by name. The menu on the left is what is incredibly useful. You have access to All Owned, Installed, Ready to Install, Downloads, Xbox Game Pass, and Xbox Live Gold.
Since the Store is linked to a Microsoft Account, when you click on Payment options, it will take you to the online Microsoft Account page. Whatever payment method is included, there will appear here when you make payment.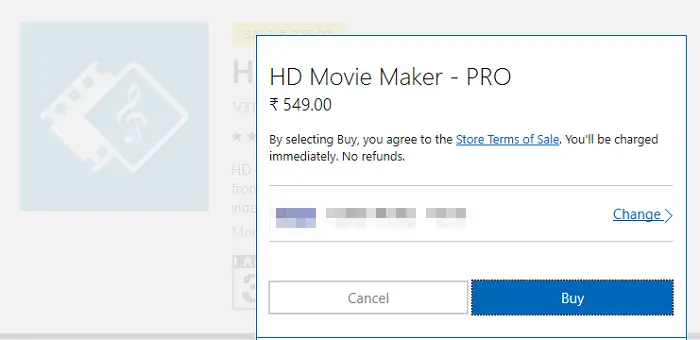 Read: Troubleshoot Microsoft Store payment failed errors.
The settings menu gives you access to some of the essential features such as the option to disable automatic updates, live tile settings, video autoplay, offline permissions, and the most important is to ask for the password for every purchase. Microsoft often shows suggestions and installs some apps as part of their default installation; we suggest you turn it off to stop installing unwanted apps.
4] Finding installed Apps and Managing them
When you install an application, it will appear under recently installed apps in the Start menu. You can also find them by clicking on the alphabetically sorted list. If you use an application often, I would recommend you to pin it to Start Menu or Taskbar or both.
When you right-click on any of the apps, you also get access to quick actions related to the app.  So when I made a right-click on the Xbox Console companion app, I get immediate access to My games, messages, achievements, capture, Microsoft Store, trending, connect to console, and so on. Microsoft also offers a context menu that you can use to rate, review, and share the app with others.
To uninstall an application, you have a direct uninstall option. You can also install apps by going to Settings > Apps > Apps and Feature. Select any application you wish to remove, and then click on the uninstall button.
Microsoft keeps evolving Microsoft Store with every update. It is possible that the options might change a bit with time. While we plan to keep it updated if you see anything which is worth a change, let us know.
I hope the Quick Start Guide for Microsoft Store is helpful to you.