Apps that we as computer or mobile users use are all about getting things done – booking travel, checking the weather, working, photo editing, checking health parameters, etc. We like getting all these services for free but sometimes, you get what you pay for. Shelling out few bucks can fetch you a much better app that can make your life easier. These apps in Windows Store make it worth paying for the upgraded experience or additional features beyond what you could get in a free version.
Payment Method in Microsoft Store
The Windows Store like Google Play and the Apple App store has an option to add, edit or remove your payment methods to download paid apps for Windows 10. So, if you want to buy an app from the Windows Store, you'll need to add a payment method to your account. You can edit or remove your payment method or if required, view your purchases and billing history.
When you go on to make app purchases on the Windows Store, via a Windows 10 device or Windows 10 Mobile device, Microsoft saves your Payment Method and Credit Card details online, on its servers. It does this so that the next time you make a purchase, it becomes a lot easy for you, as all the details are already there. Now if for some reason, you wish to edit or change your payment method or delete or remove your Credit Card details and information, or if you wish to add a new payment method, view billing & transaction history, then this post will show you how to do it.
Add or Edit payment method for Windows Store
Sign in to your Microsoft Account website with your Microsoft Account credentials.
You can even access these options & the web page via your Windows Store by opening it, clicking on your User Icon, selecting Payment options from the menu.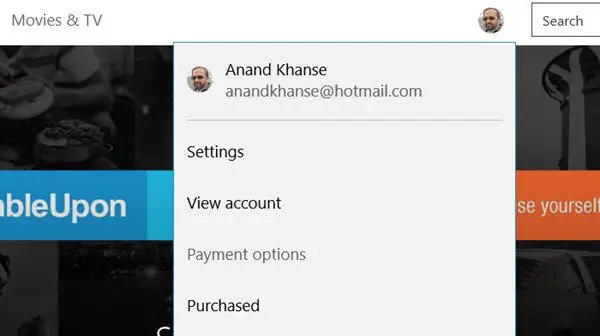 Now, under the Payment & Billing tab on the web page, select Payment options.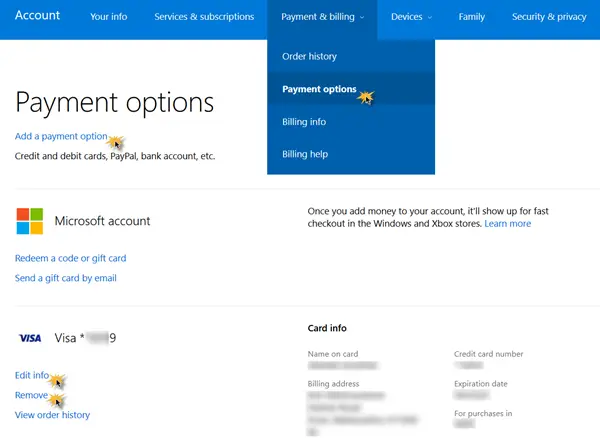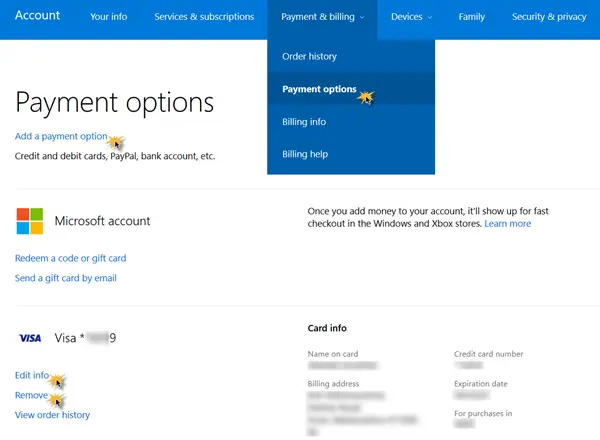 Here you will see a Add a Payment link. Here select a payment option to add, Country and other details. Save and exit.
To edit the information on your current payment method, click on the Edit info page. Here you will see settings where you can manage your payment options or Edit payment method. Change your Credit Card number, address and other details. Click on App payment option to add an option and follow the procedure to the end. You can also Edit any necessary information. Click Next, Submit and exit.
Remove Credit Card from Windows Store
To remove your Credit card, here on the same page, you will also be able to see a Remove link. Click on it, confirm and exit.
The credit card will be removed.
If you are interested in checking or viewing your billing history, click on the View order history.
You will be able to see all the purchases made. You can even Print out a statement.
Hope this helps!