Projecting to this PC is a special feature of Windows which allows streaming apps and content from another device to show on your PC. It is also called mirroring, but it works without wires. And that is where Miracast also comes into the picture because then it will help to cast one device screen to another. That said, if Projecting to this PC option is greyed out or disabled in Windows 11/10, here is how to fix the problem.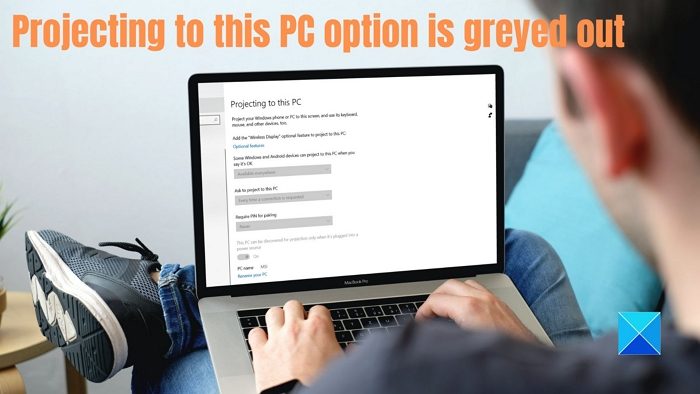 Why does this problem happen?
The most probable reasons are hardware and software issues. Sometimes we get the latest PC but only realize later that the native support of this feature is not available. We not only need to check if the GPU supports it but also need to find out if the WIFI adaptor support is available for your PC.
Projecting to this PC option is greyed out in Windows 11/10
Before we go ahead, ensure you have tried it with multiple devices to rule out the possibility of any physical damage. That out of the way, there are only two ways to fix the problem
Install Wireless Display Optional feature
Check WiFi-Direct Support
Make sure to use an admin account to execute these.
1] Install Wireless Display Optional feature
Microsoft offers this as an optional feature that users need to download and install.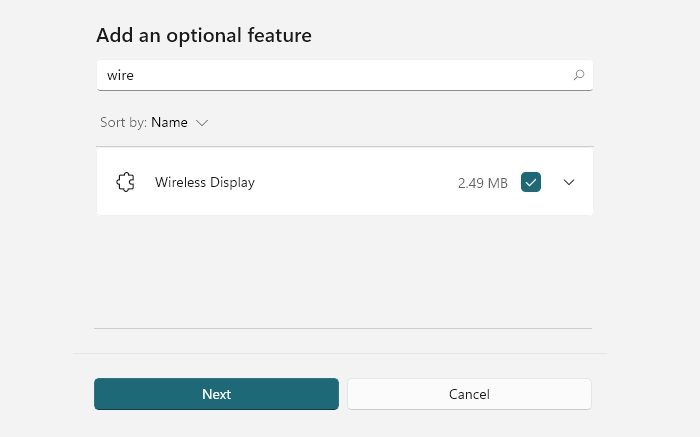 Open Windows Settings (Win + I)
Navigate to System > Projecting to this PC.
Under Add the Wireless Display optional feature to project to this PC, select Optional features.
To  Add, click on View features and type wireless display.
Once it appears, select the check box next to it, and install.
You can go to Settings > Apps > Optional features if you can't find it here. Click on the View features button to bring up the search box. Type Wireless display and once it appears, check the box and install it.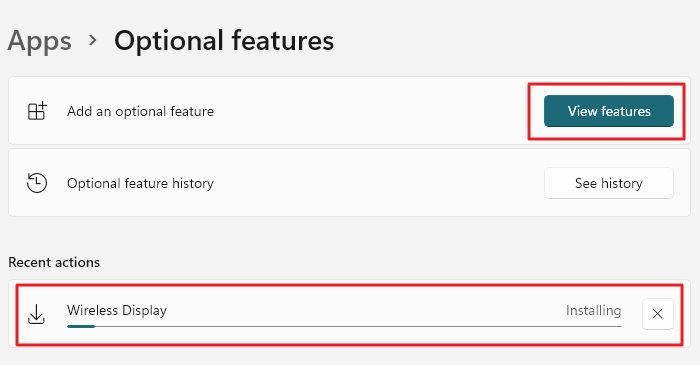 Once done, go back to the projecting preferences on the Projecting to this PC page in Settings and check if the error is not there anymore. Now try and see if everything works as expected.
Read: Your PC can't project to another screen, Try reinstalling the driver
2] Check WiFi-Direct Support
If the above doesn't work, then it is possible that your Wifi-Adapter doesn't support WiFi-Direct for projection to work correctly. Execute the following command on an elevated Command Prompt or Windows terminal, and check on the status of Wireless Display Supported. If it says that the PC doesn't support Miracast or there is no wireless interface on the system, then you cannot use this feature. Here is the command:
netsh wlan show drivers
The status has two parts—Graphics Driver and WiFi Driver. So the support of GPU is needed, and the Wifi driver should also support it.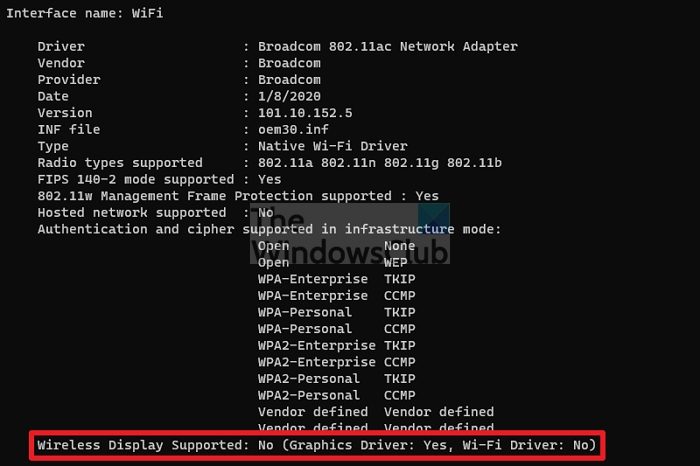 That said, it is essential that updating the driver will not help. The Network drivers are installed with Windows or through the OEM software installed. But you can try once to check if resolving the issue helps.
Projecting to this PC is an advanced feature of Windows which allows you to mirror from another device to yours. For this to work, you need support on both hardware and the software level.
What does Projecting to PC mean?
With the projection feature, you can use the monitor of another computer to display on this PC. It is almost like mirroring but without wires. You can keep working on your PC and still project another PC to one of the monitors on your PC.
Read: Allow or Stop Windows from asking PIN for Projecting to the PC
How do I project my PC to my TV?
You can do that either using a Miracast adaptor or connecting the TV using an HDMI cable. You will need to find a compatible cable that can connect one of the video out port to the video in the TV port.
What is the difference between Miracast and Wifi display?
There is none. Wi-Fi Display is the original name for the Miracast technology. This has been modernized to call Mircast, and the devices which support this are called Miracast devices. If you are looking for a device that supports it, check the specs on the product's official page.
What are the best WiFi Display Adaptors?
A lot of companies sell Wifi Display adaptors. Some are available with the monitor, while others come as plug-and-play.  For example, Dell S2317HWi LED-Lit Monitor, SAMSUNG M5 Series Smart Monitor, and Bimawen Wireless Portable Monitor support wifi display. When it comes to adaptors, Microsoft, ScreenBeam, and Samrtsee are some comp[anies that sell them.