The Print Spooler Service is responsible for managing print jobs which are in turn meant for the printer to handle. If this service ceases to work, the printer won't print documents and it might be that the system won't detect it either. In such a situation, users can see any one of the following error messages, depending on the circumstances:
Windows cannot connect to the printer, The local Print Spooler service is not running
The local Print Spooler service is not running, Please restart the Spooler or restart the machine.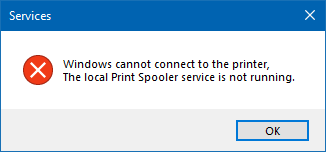 The Print Spooler Service is not running
This can happen if the Print Spooler related-file has become corrupted or gone missing. It could also happen if the concerned Windows Services are not functioning as they should. So to fix the issue, you can try the following suggestions:
Restart Print Spooler Service
Update or reinstall the Printer drivers
Run the Printer Troubleshooter.
1] Restart Print Spooler Service
Open the Services Manager. Locate the Print Spooler Service, right-click on it and select Properties.
This service spools print jobs and handles interaction with the printer. If you turn off this service, you won't be able to print or see your printers.
Change the Startup Type to Automatic and click on Start.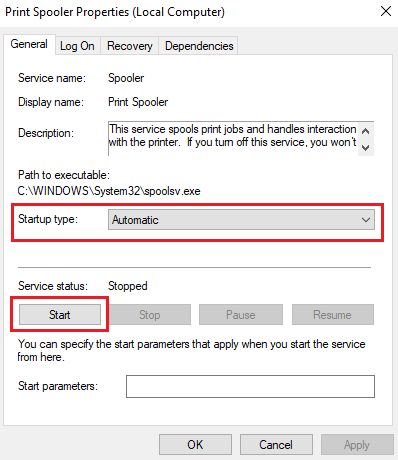 Click on Apply and then on OK to save the settings.
Now try and see if you can print.
2] Update the Printer drivers
To update drivers, press Win+R to open the Run window and type the command appwiz.cpl. Press Enter to open the Programs and features window.
Locate the previously installed Printer drivers. Right-click and select Uninstall for them.
Restart the system to complete the uninstall process.
Connect to the Internet and then plug in the Printer to your computer now. The system will install the drivers automatically.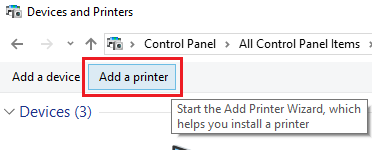 If the system doesn't install the printer drivers automatically, use the Add a printer wizard and the drivers can be downloaded from the manufacturer's website.
3] Run the Printer Troubleshooter
Running the Printer Troubleshooter can help solve most print issues. To do so, click on the Start button and then on the gear-like symbol to open the Settings menu.
Select Updates & Security > Troubleshoot. Choose the Printer troubleshooter from the list and run it.
This Printer troubleshooter will check if:
You have the latest Printer drivers, and fix and or update them
If you have connectivity issues
If the Print Spooler and required Services are running fine
Any other Printer related issues.
Once the process is done, restart the system and check if it helps resolve the problem.
Hope this helps!
Related read: Print Spooler Service Error 1068, The dependency service or group failed to start.