The Print Spooler Service in the Windows operating system is responsible for managing all print jobs and handles interaction with the printer, and if it ceases to run, you would be unable to print anything from your system. In such a situation, you should try restarting the Print Spooler service.
To do so, open Windows Services Manager and locate the Print Spooler Service.
Right-click on it and select Restart. If it is not running, select Start. If the Service Restarts or Stars, great! If it does not, and you receive the following error message :

Windows could not start the Print Spooler service on Local Computer, Error 1068, The dependency service or group failed to start.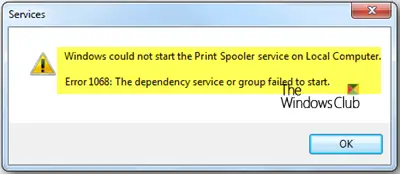 If you face this issue, here are a few things you could try to fix the problem.
Read: How to Repair Print Spooler in Windows 10.
Print Spooler Service Error 1068
The reason you couldn't start the service is that the Print Spooler service is dependent on other services that might not be running properly. This could happen if the following Services are not running:
Remote Procedure Control (RPC) Service
HTTP Service.
Now it may happen that you do not see the RPC Service. This means that the Print Spooler Service does not recognize its dependancy on the RPC Service.
In this case, you need to configure the dependency manually by following any one of the following procedures:
1] Configure the dependency using CMD
To do so, open an elevated command prompt and execute the following command:
sc config spooler depend= RPCSS

Restart the system once the command has executed and it would probably fix your issue. If not, proceed to the Registry Editor method.
2] Resolve the dependency using the Registry Editor
Press Win + R to open the Run window and type the command regedit. Hit Enter to open the Registry Editor.
Navigate to the following key:
HKEY_LOCAL_MACHINE\SYSTEM\CurrentControlSet\Services\Spooler
On the right-pane, click on the DependOnService entry and select Modify.
Change the Value Data to RPCSS.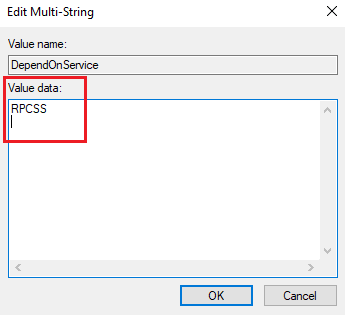 Click on OK to save the settings and exit the Registry Editor.
Restart the system and your issue should be resolved by now.
FIX: Printer Spooler error 0x800706B9.
3] Run the Printer Troubleshooter
The last option you have is running the Printer Troubleshooter as it can help solve most print issues. To do so, click on the Start button and then on the gear-like symbol to open the Settings menu. Select Updates & Security > Troubleshoot. Choose the Printer troubleshooter from the list and run it.
This Printer troubleshooter will check if:
You have the latest Printer drivers, and fix and or update them
If you have connectivity issues
If the Print Spooler and required Services are running fine
Any other Printer related issues.
Once the process is done, restart the system and check if it helps resolve the problem.
Hope something here helps you!
Related read: The Local Print Spooler Service is not running.