Windows File Explorer offers a preview pane, where, when a file is selected, a preview of the file content is displayed for some of the files. Text, PDF, Images are some of them that support this.
However, if, for some reason, the Preview Pane doesn't display anything, and displays the "No preview available" message when you select a file, then this post is going to show how to fix it. It is possible that it is not restricted to certain file types, but with all or few media file types. One of the users reported that images work, but not the media files such as audio and video.
Preview Pane not working in Explorer
If the Preview Pane missing or not working and Cannot preview Files in Windows 10 Explorer, then there are three ways to fix the problem:
Enable Preview Pane
Run System File Checker
Add More File Types to Preview Pane
Preview Pane is extremely helpful when you have many text and media files and want to preview without opening them. It can be a little tricky when there is a custom file type, but it will work if the software supports it.
1] Enable Preview Pane
Open File Explorer.
Switch to the View section.
Select Folder/File Options button.
In the  Folder Options section, switch to the View tab,
Select the checkbox against —Show Preview Handlers in Preview Pane.
2] Run System File Checker

SFC or System File Checker is a utility from Microsoft which can scan and restore corrupt Windows System Files. There may be corruption in the files related to previewing handlers, and this tool can help you fix it.
3] Add More File Types to Preview Pane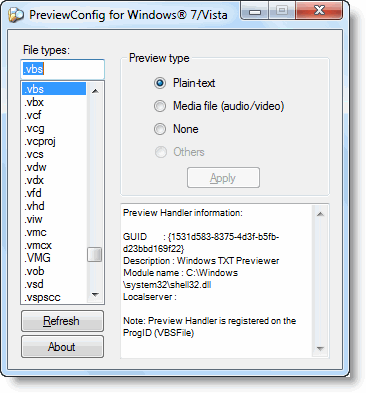 Use the PreviewConfig Utility to add more file types to Preview Pane. The tool helps you fix if Preview Type is set to another, i.e., if the text file is set to Media file instead of Plaint-text.
If you have a custom file type; and wish to register a plain text or a multimedia preview handler, you can do so using this utility for this custom file type.
I hope the post was useful, easy to understand, and one of these tips helped you to preview files as expected.
TIP: You can also Preview files in Windows using these free apps.