The Add and remove a device or printer option is available in Control Panel. These options are available for all users. However, if an administrator wants, he can remove the access to these options for local users. This article will guide you on how to prevent users from deleting printers in Windows 10.
Prevent users from deleting Printers in Windows 10
The method which we will show you to disable the Remove Device option is by using the Registry Editor. To use regedit, you must sign in to Windows 10 computer as an administrator.
Please follow all the instructions carefully while editing the Registry Editor, as any mistake can cause damage to your computer. Before you proceed, it is advised to create a backup of Windows 10 registry on your hard drive so that you can restore the registry if any problem occurs.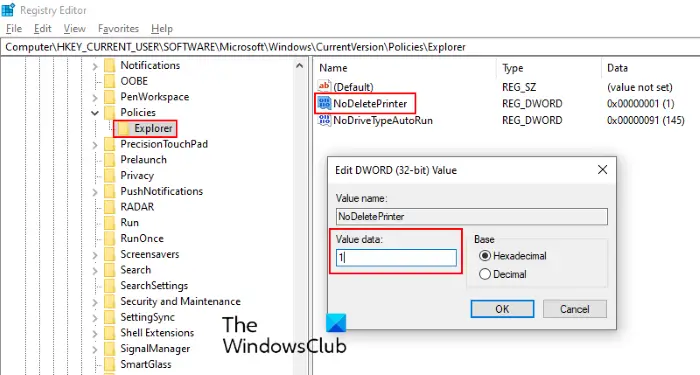 Follow the below-listed steps:
Press Windows + R keys to launch the Run dialog box. Type regedit and click OK.
Click Yes in the UAC (User Account Control) window.
Copy the following path, paste it into the address bar of the Registry Editor, and press Enter. If you want, you can also go to the path manually.
HKEY_CURRENT_USER\Software\Microsoft\Windows\CurrentVersion\Policies\Explorer
Now, you have to create a new value in the Explorer subkey.
To do so, select the Explorer key, right-click on the right side of the interface, and go to "New > DWORD (32-bit) Value."
Name the newly created value as NoDeletePrinter. Double click on NoDeletePrinter and set its value to 1.
Close the Registry Editor.
Now, no user can remove or delete the printers installed on your computer.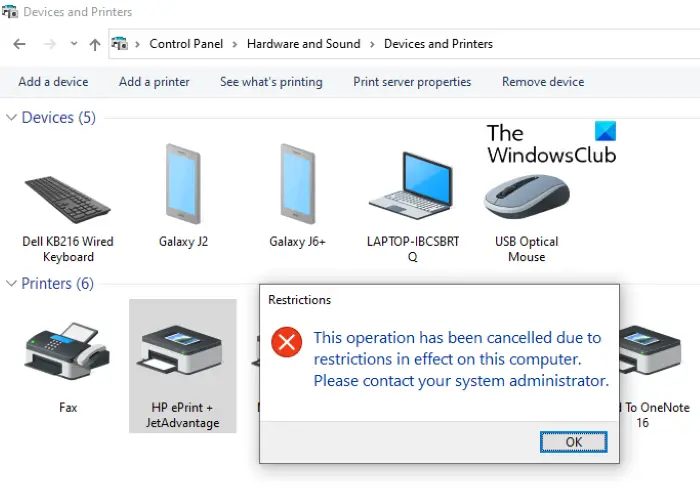 If any person clicks on the Remove device button, he will see the following message on the screen:
This operation has been cancelled due to restrictions in effect on this computer. Please contact your system administrator.
If you want to revert the changes, set the value of NoDeletePrinter to 0 and restart your computer. If it does not work, delete the key that you have created.
Let us know if you have any questions.
Related posts: