This post covers some best free PowerPoint to image converter software and online tools. You can get the output as BMP, JPG, PNG, or some other format image files. Most of these tools support PPTX as well as PPT format presentation files for conversion. Just a few simple steps will convert PowerPoint slides and provide the output images. Let's check these tools.
Convert PowerPoint to Image
We have added 2 freeware and 3 online tools for converting PowerPoint slides to images. These are:
ActivePresenter
SoftMaker FreeOffice
Online2PDF
CloudConvert
Convertio.
1] ActivePresenter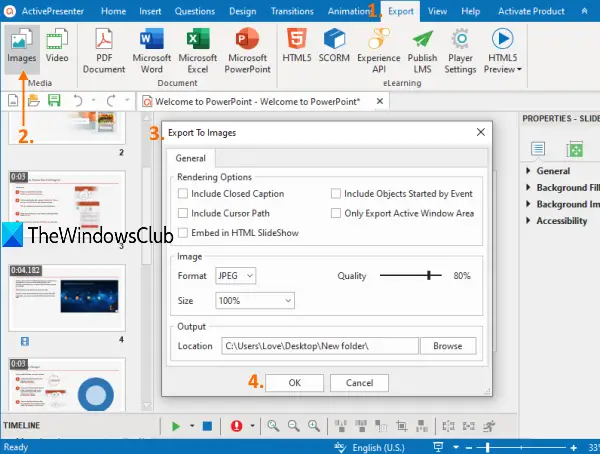 ActivePresenter is actually a feature-rich video editor, screen recorder, and eLearning authoring software. But it can also help you import a PowerPoint file (PPTX format) and convert PowerPoint slides to JPG or PNG images.
Use this link and download its free edition (for personal and non-commercial use only). Install the software and launch it. It will prompt you to select a theme (light or dark) which you can also change later by accessing the View tab and using the UI Theme menu. After opening its interface, use the Import PowerPoint option using ActivePresenter menu available on the top left corner, and add your PPTX file.
Now, go to the Export menu and then click on the Images option. A small box will open. Select output format, output quality (if JPEG format is selected), optimization level (for PNG format only), and output folder. There are additional options that you can try such as include a cursor path, closed caption, etc. Press the OK button to export PowerPoint slides to the output folder as PNG/JPG images.
2] SoftMaker FreeOffice
SoftMaker FreeOffice is an Office suite and one of the best free alternatives to MS Office. It comes with a spreadsheet maker and editor, presentation maker, TextMaker, etc. It can also help you convert PowerPoint files to images using its Presentations application. The option to export all slides, current slide, or selected slides is also available that makes it more useful. Also, you can select GIF, PNG, TIFF, BMP, or JPEG as output format.
After installation, open its Presentations application and add a PPT or PPTX format presentation using the File menu. Thumbnails of slides will visible on the left section and the current slide will open on its main interface.
To convert PowerPoint slides to images, access the File menu. After that, click on Export as drop-down menu and select the Pictures option. An Export pictures box will open. In that box, you can select an output format, output folder, and other output options. Finally, use OK button and you will get the output images. If you need a good MS Office alternative that can also convert PowerPoint slides to images, this software is handy.
3] Online2PDF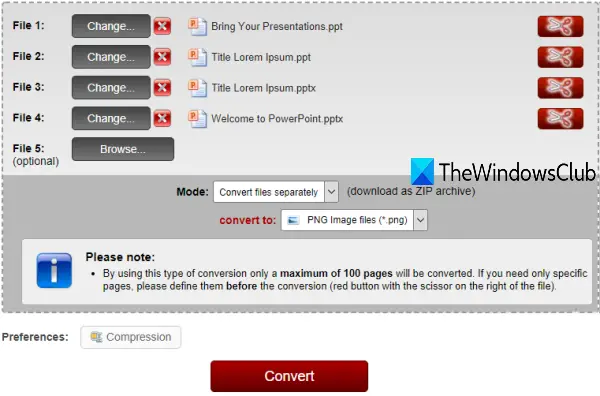 Online2PDF brings a lot of tools which include PDF to Word conversion, PDF to Excel, protect PDF, rotate, merge PDF, unlock PDF, and more. The feature to convert PPT and PPTX files to images is also there. You can convert PowerPoint to JPG or PNG image files. It supports bulk PowerPoint to image conversion.
Open its homepage and upload PowerPoint files. You can add up to 20 PowerPoint files and the size of those files should not be larger than 150 MB. Also, for JPG or PNG output, only 100 pages can be converted. So, you should make sure your PowerPoint files fit that requirement. If you have unnecessary pages in your PowerPoint files, then you can also set page range using the available option for each input file.
When you have done everything, set output format using convert to menu, and press Convert button. Once the conversion is completed, you can download the zip file that will contain all the output images.
4] CloudConvert
CloudConvert is a file converter service that supports 200+ formats. PPT and PPTX files are also supported for conversion. You can convert PowerPoint to image in PNG, XPS, JPG, or EPS format. It also lets you convert multiple presentation files at once but its free plan is limited to 25 conversations per day.
After opening its homepage, select input format (PPT or PPTX) and output format using the available drop-down options. Or you can simply add presentation files and then select the output format with the help of the output drop-down menu. You can add files from cloud storage services like Google Drive, OneDrive, etc., your PC, or add the URL of an online file. After that, click on the Convert button.
It will upload and convert your files automatically. Finally, it will provide individual download links for output files. You can also download all files together by using the All Files option.
5] Convertio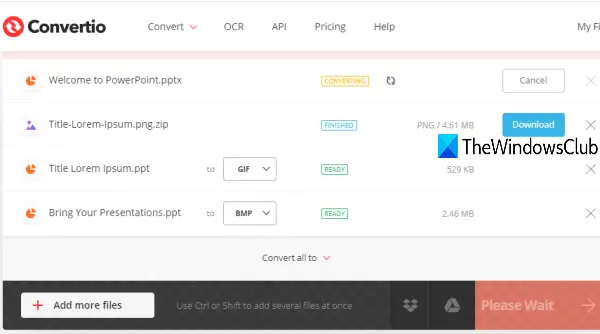 Convertio is also an online tool that is similar to CloudConvert. It supports 300+ formats including PPTX and PPT. The best part is it supports a lot of formats for output files. You can convert PPTX or PPT to JPG, BMP, GIF, PNG, TGA, ICO, SVG, JP2, PPM, FAX, PCX, ICO, RGB, XBM, etc. You can add multiple PowerPoint files but only the first two files are converted in the free plan and so on. Also, the size of each individual PowerPoint file is limited to 100 MB which is sufficient in many cases.
This link will open the homepage of this service. Open it and then add input files using any of the four supported platforms: Online file, Dropbox, Google Drive, and desktop.
After adding the files, set their output formats with the help of the drop-down menu available for each individual input file. When it is done, press the Convert button. When the first two files are uploaded and converted, press that Convert button again to convert the next two files. Finally, you can download the entire archive or individual output files using the Download button.
So, these are some good options to convert PowerPoint files to images. Hope this will be helpful.