Microsoft PowerPoint is an awesome tool to create a presentation. Whenever you need to create a presentation for school or college project, or for office work, you can opt for Microsoft PowerPoint, which comes with beautiful themes & templates. The desktop version costs money. If you do not want to spend money, the PowerPoint web version can do the same job for you free! You may not get as many features as the desktop version provides but you can still get along without them. Let us take a look at some Microsoft PowerPoint Online tips and tricks that will help you create better presentations.
PowerPoint Online Tips and Tricks
1] Convert Presentation to PDF
Even though people use PowerPoint to make a presentation visually impressive, sometimes you may not be able to play your presentations. You can, however, show the same presentation, without any animation, to everyone by converting it to PDF or Portable Document Format. Once you have completed your presentation, go to File > Print > Print to PDF. It will take a few moments to convert your presentation and then show you the option to download it.
2] Let others design your Presentation
If you are facing any problem creating a PPT or you want to work with someone to create a special PowerPoint presentation, you can invite that person or share a link to let him/her edit your presentation. Like other Microsoft Office Online tools, there is no need to have a Microsoft account to edit. The person from the other end can download or embed the presentation as well. Make use of the "Share" button visible on the top right section. You would be able to create a link to view or edit the presentation.
3] Insert copy-right free images from Bing
Sometimes you may need to insert images into a presentation to make it look more attractive or to explain a point. You have two options. First, you can search for copyright-free images and upload them. Second, you can use search for images right from Microsoft Office Online. There is no need to upload pictures – and the best part is you do not have to worry about the copyright since all the images will be copyright free. For doing this, go to Insert tab > select Online Pictures > search for an image and choose one from search result > hit the Insert button.
4] Insert YouTube video into a presentation
If you wish to insert a YouTube video into PowerPoint presentation, here is the trick. Head over to Insert > Online Video > search for a video and select one from the search result > click on Insert button.
5] Embed a Presentation into a web page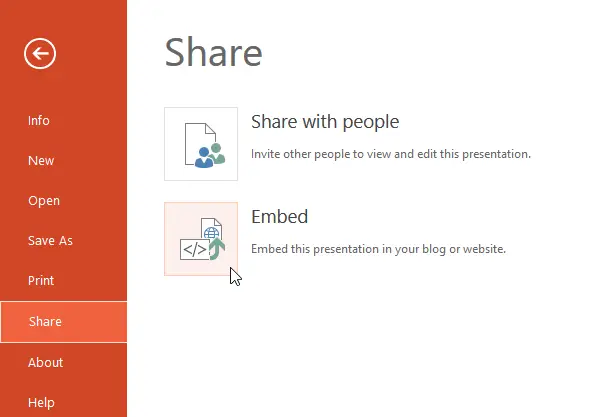 Do you have a website and want to embed a PPT presentation? Microsoft PowerPoint Online does that job pretty well. You can design your presentation with all the slides and make it ready. Having done that, go to File > Share > Embed > hit Generate > Select dimension > copy code and paste it into the HTML page.
Read: 10 Most Useful PowerPoint Tips and Tricks.
Hope you find this post useful.