Images always convey better when compared to words and there is always a saying that, an image speaks fat better than 1000 words. So, images play a crucial role when you need to deliver something during your presentation or assignment.
In such cases, you may be looking for images and gets into a lot of trouble to get the right images and that too copyright free. You might have come across huge trouble and if you are one among them, then your trouble ends here. In this article, I will let you know 10 amazing free Stock Photography sites for beginners, photographers, and all, from where you can use copyright-free images wherever you want. You can use these top quality images for both personal & commercial use royalty-free without any restrictions
Best Stock Photography sites
There are many free stock photo websites, but not all of them are good. Some provide you photos with low resolution, watermark, blurred and some limit you to use a little number of photos. So, I have decided to list down the 10 best websites that offer you copyright-free images and it's your turn to choose the one which suits you better. In some cases, however, you may be required to pay.
Pexels
Stock Vault
Pixabay
StockSnap.io
Picjumbo
Free Images
Getty Images
Unsplash
SplitShare
Morguefile.
1] Pexels.com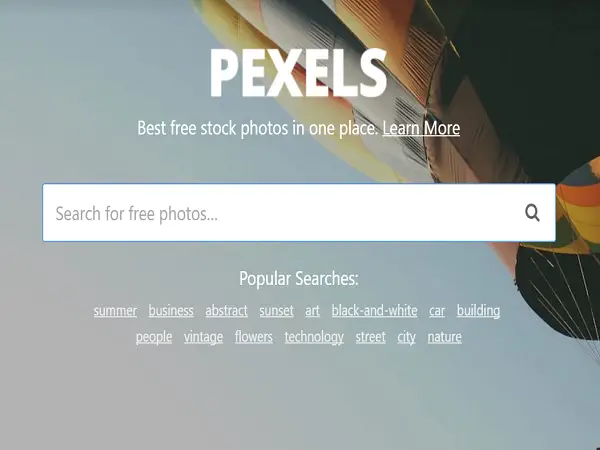 Pexels serves its users with high-quality photos and it is a new free stock photos website. Daily 50 new high-quality photos were uploaded and on the main page, it shows you popular searches and popular photos. All images provided by Pexels are of high quality and with Creative Commons license. It has a user-friendly User Interface and provides you the facility to search for photos as per your wish. It is the best place to find the best free stock photos in one place.
2] StockVault.net
Stock Vault is a website that provides royalty-free images. Hundreds of photos, illustrations and graphics are added every week and all of them are high-quality. You can search for photos on your own and you could see popular searches available below the search bar. You can see photos based on categories and based on other factors like Most Viewed, Most Loved, Most Downloaded, Features Photos, and Newest Photos. This is one of the best free stock photo websites to give a try.
3] Pixabay.com
Pixabay provides you free high-quality images with more than 680,000 free stock photos, art illustrations, and vectors. Apart from providing free images, Pixabay allows you to download stock free videos. You can search with any query of your choice and it serves you the better. Search includes various media types like all images, photos, vector graphics, illustrations, and videos. You can look into various categories and the most interesting thing about Pixabay is that it allows you to search for photos based on color.
4] StockSnap.io
StockSnap.io is another website that offers you the best free stock photos with good quality. These photos can be used anywhere for your personal and commercial use.  It also allows you to search for photos under any category among thousands of photos. It adds hundreds of photos every week from every genre. It allows you to contribute to it by adding copyright-free images and to do that, you need to sign up with the website.
5] Picjumbo.com
Picjumbo offers you the best free stock photos which are mostly contributed by photographer and owner Viktor Hanacek. Not all photos but most of them are free and are high-quality. As the photographer is also a web designer, you could find photos of all categories. It has a great collection of photos belonging to every genre. It is worth giving a try.
6] FreeImages.com
Free Images is the free stock photos website that allows you to search through thousands of high-quality free images. You can go through categories, regular search or search through tags if you feel it comfortable. It offers you both free and premium images and I would feel free images are enough as it has the collection of more than 400,000 free photos. Just click on an image to know the details which include author, tags, download button and a button to mark as favorite.
7] GettyImages.in
Getty Images has a huge collection of high-quality photos. You can use these photos for personal use for free and they charge if you need to use it for commercial use. You just need to hover your mouse on the image, copy the code and paste it into your blog or website. You could see the image on your website along with it being present on Getty images. Search for images by checking the option "Royalty-free".
8] Unsplash.com
Unsplash never compromises in providing you the photos with good quality. It uploads 10 photos in every 10 photos which are high-quality. It provides you the search facility which is very easy to use and can look for photos under featured, new and collections. You can decide and download images based on the number of likes it received which can be seen below every image. Subscribing to the website allows you to receive free stock photos to your mail daily.
9] SplitShire.com
SplitShare is not a big website like other free stock photo websites but all it does is providing high-quality photos. It has got great creative photos and good resolution. You can search images through categories or through the easy search bar. As a free subscriber, you need to download each photo and as a premium member, it allows you to download photos and videos in bulk. Popular categories for SplitShare include Automotive, Interiors, Animals, Backgrounds and more.
Read: Best Websites to download Copyright-free, Royalty-free Stock Videos
10] Morguefile.com
Morguefile allows you to use stock free images and is said to be one of the old websites. It allows you to use all images without any restrictions for both personal and commercial use. You can bookmark any image by liking it and by doing so, it stores the reference of that image in your like box. You can later refer to these images from your like box. Premium users can even share photos via email or social media. In order to like photos, you need to login to the website. Morguefile website provides you photos which are free and with high resolution.
This is the list of 10 amazingly free stock photo websites. Let us know your favorite stock free photos website and if you have anything to add, please do share with us through comments.
Now read: Most useful Websites on the Internet that you must visit.