Content creation is rampant nowadays. People are consuming a lot of content and to cater to them, the creators are increasing. Not everyone can have the chance to shoot great videos and upload them on their sites. If you liked a video from a website and uploaded it on your website or YouTube under your name, it attracts Copyright infringements. There are many websites that offer royalty-free websites for free use for personal and commercial uses. In this guide, we list 10 Websites to download royalty-free videos.
Websites to download Copyright-free, Royalty-free Stock Videos
You can download Copyright-free, Royalty-free Stock Videos & Stock video clips without watermark for personal and commercial use from these video download sites.
Wave Video
Pexels
Pixabay
Mixkit
Videvo
Coverr
Mazwai
Vidsplay
Videezy
Vecteezy
Let's get into the details of each website.
1] Wave Video
Wave Video has millions of free stock footage and images that can help you find the type of footage you want. You can also download royalty-free music from this website that suits your content. The best thing about Wave Video is, it offers a free video editor online where you can make a video easily with its stock footage, images, and music.
2] Pexels
Pexels is a well-known free image and video downloading website. It has millions of video footage in various resolutions and sizes to suit your needs. You don't even need to sign up for the website. Just search for the type of video you need and download it.
3] Pixabay
Pixabay is another popular free image and video stock provider. Like Pexels, it has millions of hours of stock footage that can help you do a video without thinking of copyright infringement. you just search for the video, download it and make videos.
4] Mixkit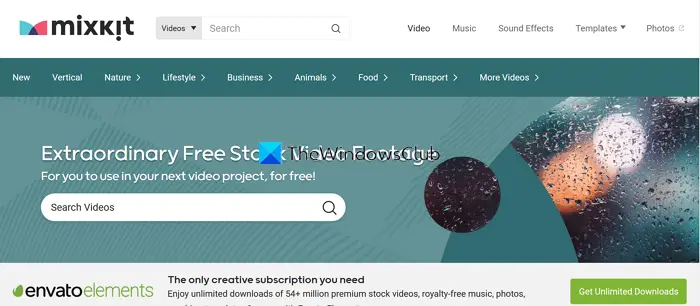 Mixkit is a website for free stock footage that has many video clips, free music tracks, and Premiere Pro templates. You can simply find videos, select music, and template to edit them, and download them to make a video. Mixkit offers two types of licensing. Free License gives rights to use the footage in commercial projects and a restricted license restricts the usage of footage in commercial projects.
5] Videvo
Videvo is a free stock footage platform that has over 18000+ free stock video clips, motion graphics, animate templates, and hundreds of sound effects. There is a premium plan offered on Videvo which unlocks 500,000 premium stock assets with Royalty-free licensing.
6] Coverr
Coverr offers 100% free stock footage for both personal and commercial usage without any requirement for giving credits to them. You don't need to sign up with them to download footage. They update the footage every day and you can download them and use them however you want to create content.
7] Mazwai
Mazwai offers hand-picked free stock footage for your content. Its aim is to provide free, high-quality, cinematic-style stock footage that can be used in a wide range of projects. The team of Mazwai hand-picks the footage so that no licensing problem occurs in the future.
8] Vidsplay
Vidsplay has been in the free stock footage industry since 2010. All the footage that is available on the Vidsplay website is free to download and use in your projects. They don't charge a penny to let you use their footage. Vidsplay team uploads new footage every few weeks and they are added to the Homepage.
9] Videezy
Videezy is one of the largest video communities in the world. It contains high-quality video footage that gets updated in a short span. Most of the files available on Videezy are free to download and free to use in your projects. Videezy not only supplies stock video footage, but also animation and After Effects templates.
10] Vecteezy
Vecteezy has millions of free resources like images, videos, illustrations, and vectors which can be licensed easily for free and personal use. The content on Vecteezy gets updated every day. There are free and paid plans on Vecteezy.
What is a royalty-free video?
Royalty-free video means it does not have any obligation to pay any royalty over its usage. The videos are usually free for personal and commercial usage. Sometimes, royalty-free videos attract a small licensing fee to use them. But, there is no obligation to pay for the usage in the future.
Read: Best Stock Photography sites to download images
Where can I find royalty-free videos?
You can find royalty-free videos on any of the above websites like Wave Video, Pexels, Pixabay, Mixkit, Videvo, Coverr, Mazwai, Vidsplay, Videezy, Vecteezy. They offer both free and paid footage for personal and commercial usage.
Are there any websites that offer free stock videos without watermark?
There are many websites like Pexels, Pixabay, Coverr, etc. that offer free stock footage for both personal and commercial usage without any restrictions in licensing or signing up. You can search for videos, download and use them in your project. The videos available on these sites are not watermarked or low in quality.