Image editing has been one of the biggest on-demand skills nowadays, thanks to social media. Though there are many tools that anyone can use to do basic editing like color correction, it takes a professional tool and a person who knows it to make a difference in the images. Adobe Photoshop and GIMP are both image editing and manipulation programs available for users. Photoshop has become a synonym for image editing while GIMP is known for a few compared to Photoshop. They both are different in many ways though they are used for the same purpose. In this guide, we explain to you Photoshop vs GIMP – Comparison and Differences.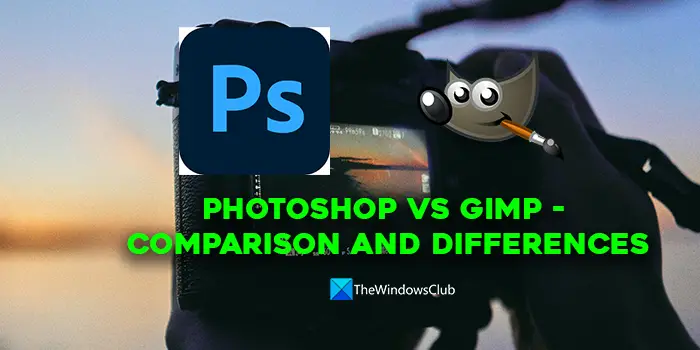 Photoshop vs GIMP – Comparison and Differences
Adobe Photoshop and GIMP are both used to manipulate and edit various kinds of photos. They both are large software programs that consume a lot of CPU resources. However, there are many differences between Photoshop and GIMP. Some of the important differences are:
Usability and Cost
Interface
Tools
Image editing capabilities
Raw Photo Editing
AI features
Let's get into the details of each one and know the differences better.
1] Usability and Cost
GIMP is an open-source software program that is available for free. You can download it from its official website and use it without signing in or creating an account. Just download, install, and use. You do not have to pay a penny to use it. If you like GIMP, you can choose to donate some amount to GIMP developers who are working hard to give you a free image manipulation and editing tool.
Adobe Photoshop on the other hand is a paid software program. Though it is a paid program, there are millions of users around the world. You need to create an account on Adobe and pay a subscription fee that renews monthly, then download the program using Adobe Creative Cloud and install it. To use Photoshop, you need to pay its subscription fees monthly unlike GIMP. Also, Adobe Photoshop uses a lot of system resources and your PC needs to meet minimum system requirements for it to work well. GIMP does not need as many resources as Photoshop to run.
Read: GIMP Review: A free, open source, powerful image editing software
2] Interface
Both Adobe Photoshop and GIMP have similar interfaces. As Photoshop is a paid one and developed by Adobe it has a modern interface compared to GIMP. If you have used earlier versions of Photoshop, you can easily use GIMP. GIMP interface looks quite old compared to Photoshop. If you have used Photoshop, it would take some time to get adjusted to the interface and UI of GIMP. You can customize the interfaces on both GIMP and Photoshop to see the tools you regularly use on the window. Compared to GIMP, you can enable or disable various panels on Photoshop which is a drawback of GIMP.
Read: Photopea: Free online tool to edit Photoshop & Gimp image files
3] Tools
Since Adobe Photoshop is a paid tool and regularly updated, it has some of the best tools and they work fast. For example, if you are cutting out a person from an image or isolating the person from the background, you can use selection tools on both GIMP and Photoshop and select the person. To select the person's hair, GIMP lacks intuitive features like Photoshop to select even the strands of hair. Not only in selection tools, but Adobe Photoshop also has the best tools to remove objects and fill the area with content-aware options. Regarding the tools, Adobe Photoshop has an edge over GIMP.
4] Image editing capabilities
Both Adobe Photoshop and GIMP can edit images in different formats like JPG< PNG, GIF, and TIFF files. But they differ in the manipulation of images. If you use GIMP to manipulate an image to an unrecognizable level, it would take hours of time and great knowledge of its tools. It is not the case with Adobe Photoshop. You can install and use third-party plugins, filters, and tools to manipulate images. You can do them even if you are a Photoshop beginner thanks to its capability of running third-party tools on it.
5] Raw Photo Editing
Raw images take a lot of resources to edit as they contain every detail regarding the image. Adobe Photoshop has a Camera Raw processor to open and edit Raw Photos. Since it is their own processor, it takes very less time and you see great features to edit Raw images fast and easily. GIMP uses another open-source program called darktable to open and edit RAW images. The desired results of both programs can't be compared as Adobe Photoshop has better features. If you are a professional and you know your tools, Adobe Photoshop, or GIMP doesn't matter to edit RAW images.
6] AI features
This is the time when AI is booming with different tools available online to do everything with just text input. Adobe Photoshop introduced AI features called "Neural filters" that can help you while using tools like the Clone tool, selection tools, or the healing tool. It uses machine learning and adjusts your images using AI when you use such tools. GIMP doesn't have any such AI tools in its program. It is one of the biggest drawbacks, We can't expect everything like a paid tool on a free tool, also.
Read: Fix Photoshop Scratch Disks are full issue on Windows and Mac
These are the major differences you find between Adobe Photoshop and GIMP.
Can GIMP do everything Photoshop can?
No, GIMP cannot do everything Photoshop can do. GIMP is an open-source freeware tool that can help you with basic image editing and manipulation. Adobe Photoshop is a paid tool used mainly by professionals to give an edge to their work with all the modern features like Neural filters, etc.
GIMP can be used by professional photographers too. Not every professional can't afford the monthly subscription fees of Adobe Photoshop. If a professional knows the tools of GIMP well, it won't make much difference in the output except for a few areas that GIMP lacks over Photoshop.
Related read: Photoshop keeps lagging, closing itself or flickering on PC.