Any software uses temporary storage for some of the important work, which comes in handy when there is not enough RAM. In similar ways, Adobe Photoshop uses part of the hard disk for this kind of work and calls it a Scratch Disk. When using Photoshop, if you are receiving Photoshop Scratch Disks are full error then this post will help you fix it.
Could not complete the command because the scratch disks are full
What is Photoshop Scratch Disk?
A scratch disk is a hard disk drive or SSD used as temporary storage to save document history, states, and anything that cannot be saved into the RAM for a long time or doesn't fit into the memory.
The default location of Scratch Disk is the hard drive on which the OS is installed. This applies to both Windows and macOS.
Fix Photoshop Scratch Disks are full
If you see Could not complete the command because the scratch disks are full message, follow these methods to fix the problem:
Delete Photoshop Temporary Files
Increase Scratch Disk space
Change Scratch Disk Location
Disable Photoshop Recovery
Let Photoshop Use More RAM
Make sure you clearly understand how the changes will impact the work.
1] Delete Photoshop Temporary Files
Open Run prompt (Win + R)
Type %temp% and press the Enter key
In the folder, select all files which are named Photoshop or PST.
Use Shift + Delete to delete the files permanently
2] Increase Scratch Disk space
Photoshop recommends a minimum of 6 GB disk space to use as a scratch disk. If you don't have enough free disk space on the drive used as a scratch disk, you need to increase it. We all the default minimum location doesn't work out for most of the time.
To calculate, if the free space in your scratch disk is 10 GB, the available disk space Photoshop will consider is 10-6 = 4GB, and that may not be enough.
You can either change the location or remove unwanted things to create more space.
3] Change Scratch Disk Location
If you have a spare hard drive or another partition on your computer, then you can change the Scratch Disk location to that though we still recommend using an SSD over HDD and an external location.
Open Photoshop, and go to Preferences.
Choose Edit > Preferences > Scratch Disks (Win) or Photoshop > Preferences > Scratch Disks (Mac).
To change the scratch disk order, click the arrow buttons and then select a new location.
Click OK. To apply the changes, restart Photoshop.
4] Disable Photoshop Recovery
Adobe Photoshop automatically saves the files as you work on them, but this increases the amount of random access memory the application uses. You can disable auto-recovery saving if it is of no use to you to free up some space on your scratch disk.
Launch Photoshop on your PC
Click on File > Preferences and then choose File Handling.
Uncheck the box that says Automatically Save Recovery Information.
5] Let Photoshop Use More RAM
Scratch Disks are used when the amount of RAM is not enough to hold everything. If you have excess RAM available on your computer, you can allocate Photoshop to use it.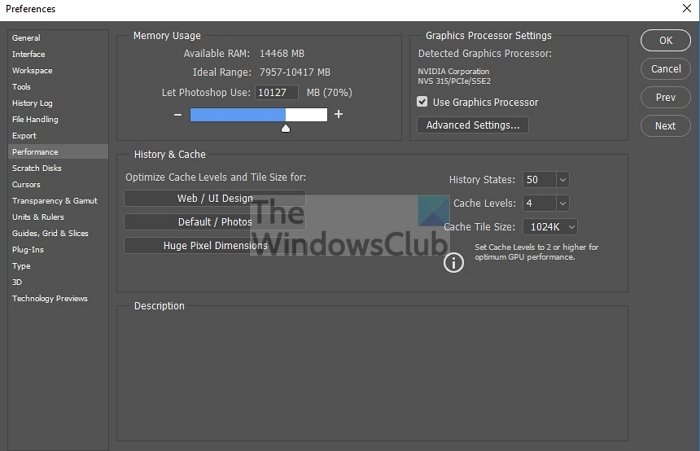 Open Photoshop and go to Preferences > Performance
On the side panel, check for the box labeled as —Let Photoshop Use.
Enter the amount of RAM that you want Photoshop to use.
Then click OK to apply the changes.
Why is Photoshop saying my scratch disks are full?
Photoshop uses scratch disks to save file history and other temporary files. Since it works on allocated disk space, it keeps filling with whatever you are working on. When it gets full, you get the error message.
How do I empty my scratch disk without opening Photoshop?
Open Photoshop, and then click on Edit from the menu bar. Select Purge and then select All. It will empty the amount of space occupied in the scratch disk. If you are not able to open Photoshop because of this issue, then you can hold down Ctrl + Alt keys in Windows Cmd + Option keys in macOS to set a new scratch disk.
Could not initialize Photoshop scratch disks are full?
Scratch disks are used for almost everything by Photoshop, including initialization. When it is full, Photoshop will fail to launch as well.
How do you reset Photoshop?
Use CTRL+ALT+SHIFT on Windows to launch Photoshop, and when asked—Delete the Adobe Photoshop Settings file—choose Yes. You can also go to Preferences > General and click on the Reset Preferences On Quit button. Close Photoshop and relaunch it.
Another way to delete the preferences file is by going to Users/[user name]/AppData/Roaming/Adobe/Adobe Photoshop [version]/Adobe Photoshop [version] Settings and delete everything inside it.
On macOS the location is set to Users/[user name]/Library/Preferences/Adobe Photoshop [version] Settings.
Overall, the error can be resolved easily by clearing the space or adding extra space or RAM for Photoshop. Once the space is available, the error should be gone. However, it is important that you allocate enough storage space if you do a lot of editing. I hope the post was easy to follow, and you were able to fix Photoshop Scratch Disks are a full issue.