Have a text or image in your GIMP canvas and want to add some shadow to it, but don't have a clue? In this tutorial, we will explain the process of adding shadow effects to your text or images. Usually, when persons add text or images to their GIMP canvas, they will either customize it by increasing or decreasing its size or adding colors and other effects to it.
A Shadow Effect allows users to add a professional shadow to their text or images to give a beautiful and unique look. The Drop Shadow tool is quick and easy, and applying the shadow is easy and not complicated.
How to add Shadow to Text or Image in GIMP
Enter Text
Click Filter > Light and Shadow > Drop Shadow
Increase the Opacity size
Increase the Horizontal Shadow Offset  X and Vertical Shadow Offset  Y
 Click OK
Now let us look at the steps in detail.
Open GIMP and enter your text on the canvas.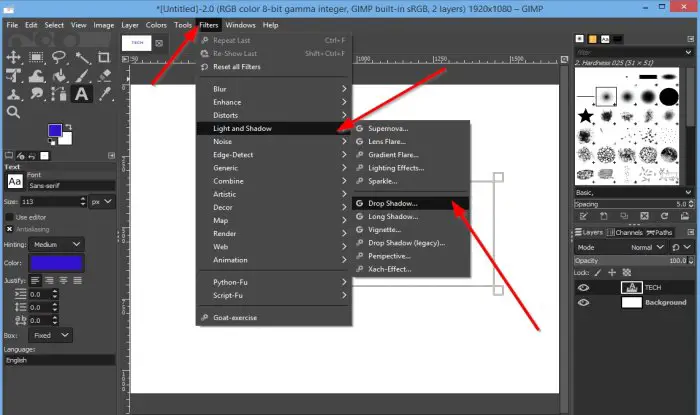 Click the Filters tab on the menu bar.
In the drop-down list, click Light and Shadow and select Drop Shadow.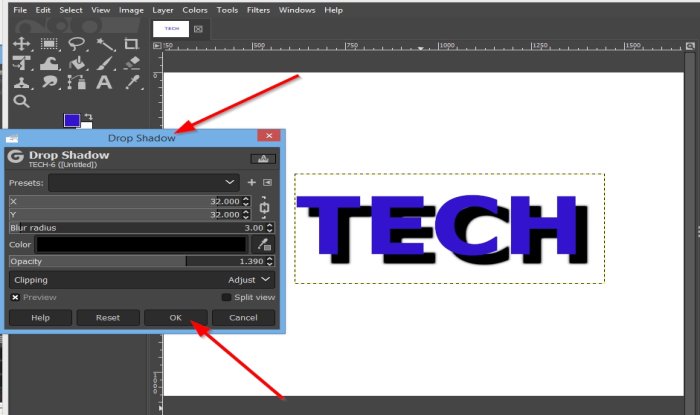 Once selected, a Drop Shadow dialog box will appear.
Inside the dialog box, to add a shadow effect, Increase the Opacity size; you will notice that the more you increase the size, the more the visibility of the shadow on the text show.
You can increase the Horizontal Shadow Offset  X and Vertical Shadow Offset  Y to bring out the shadow; depending on the increase or decrease of these two options, the Shadow will seem closer to the text if decrease and further from the text if increase.
The Blur Radius is used if you want to blur out the shadow.
You can click the Color button to change the color of the shadow.
Adjacent to the Color button, there is the Pick from the color button.
The Pick from the color feature removes the shadow from the text or image.
How to use the Pick from the color feature? Click the Pick from the color button, then carry the cursor to the canvas where the text is; you will see a small color picker icon.
Click the text, and the shadow is removed.
To remove the color picker icon, click the button again.
To showcase all the shadows on the text, ensure the Preview textbox is checked. If you want half the text to be shadowed, click the Split checkbox.
Then OK.
Now we have a shadow around the text.
We hope this tutorial helps you understand how to add Shadow to text or image in GIMP; if you have questions about the tutorial, let us know in the comments.
Read next: How to outline Text or add a Border to Text in GIMP.