Here is a simple tutorial to add borders to text and simply outline your text in GIMP. GIMP is a feature-rich vector drawing and image editing software for Windows 10. Along with standard image editing operations, you can use it to create animated GIFs, batch resize images, add neon glow effects to text, add shadow to text or image, and much more. In this software, you can also add a border to your text in a graphic. You don't have to do a lot of work for that. Just follow the steps mentioned in this article and you will be able to outline your text in GIMP without much hassle.
How to outline Text or add a Border to Text in GIMP
The process to add a border to text in GIMP consists of the following simple steps:
Launch GIMP and create a new image or open an existing one.
Add your text and copy path from the text.
Create a new transparent layer and select from path.
Set up a grow size.
Add a stroke line to the selection.
Save the outlined text as an image.
Let's have a look at the above steps in detail!
Firstly, you will have to download and install GIMP if you don't have it already on your Windows 10 PC. You can then go ahead with the below steps to outline text in GIMP.
Launch the GIMP application and then simply create a new graphic image or you can import an existing image to which you want to insert outlined text. For that, just go to the File menu and use the New or Open function.
Now, add your text to the image by using the Text tool present in the Toolbox at the left. You can customize the font, size, and color of added text.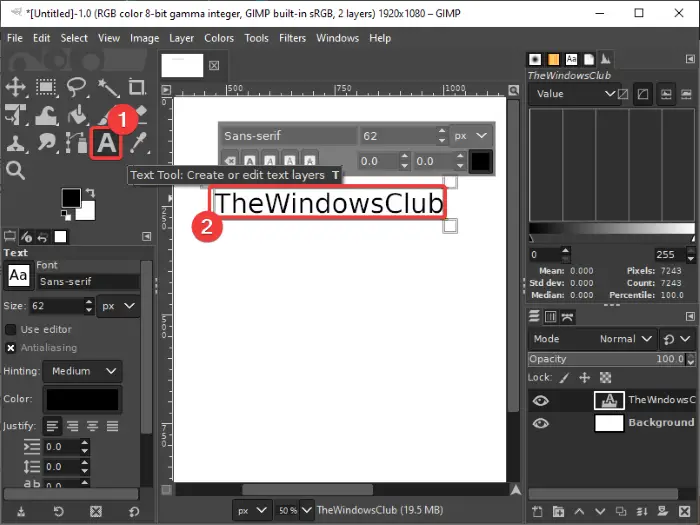 After adding and customizing the text, right-click on the text, and from the context menu, select the Path from Text option.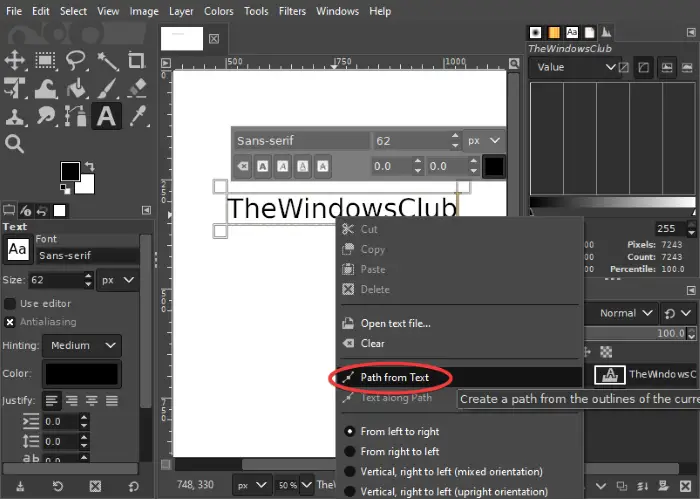 Next, you need to add a new layer. Go to the Layer menu and click on the New Layer option or simply press the Shift+Ctrl+N hotkey to add a new layer.
A pop-up to configure the layer settings will open up. Here, you need to set the Fill with field to Transparency value. And, name layer something like Text Outline or Outline of Text. Press the OK button after setting up these options.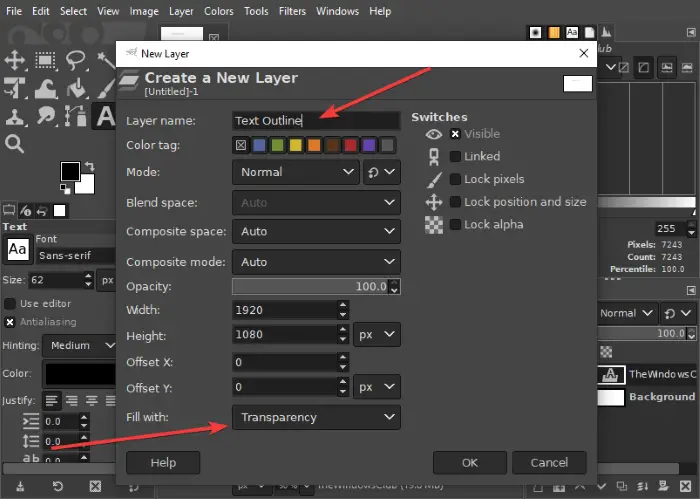 After that, go to the Select menu and tap on the From Path option. You will see your text is highlighted.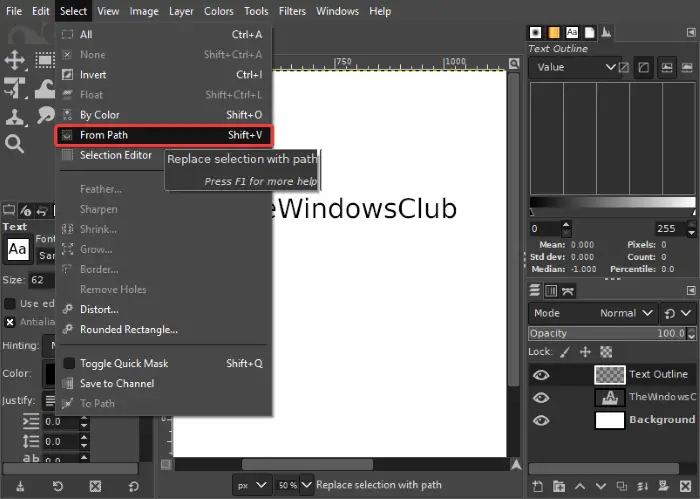 Now, again move to the Select menu and click on the Grow option. A small dialog box will open up where you can select the grow size. Make it something like 8 or 10 pixels or whatever you prefer.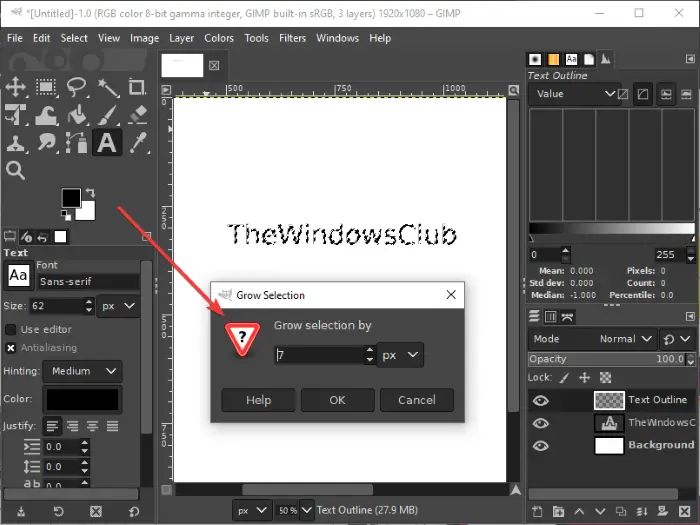 Before jumping onto the next step, make sure to select the active foreground color to the color with which you want to outline your text.
Go to the Edit menu now and from here, click on the Stroke Selection option. A dialog box will open up where you need to select the Stroke Line option and then set up various options like solid line, line style, dash pattern, line width, etc. After setting up these options, press the Stroke option.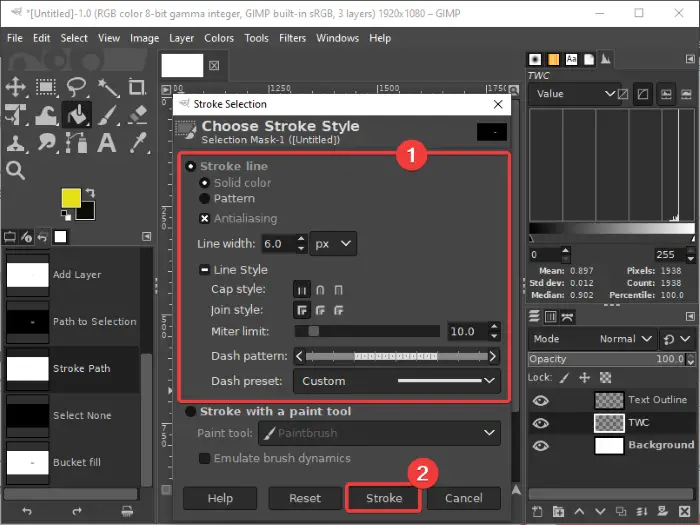 And, Voila! You will see an outline added to your text.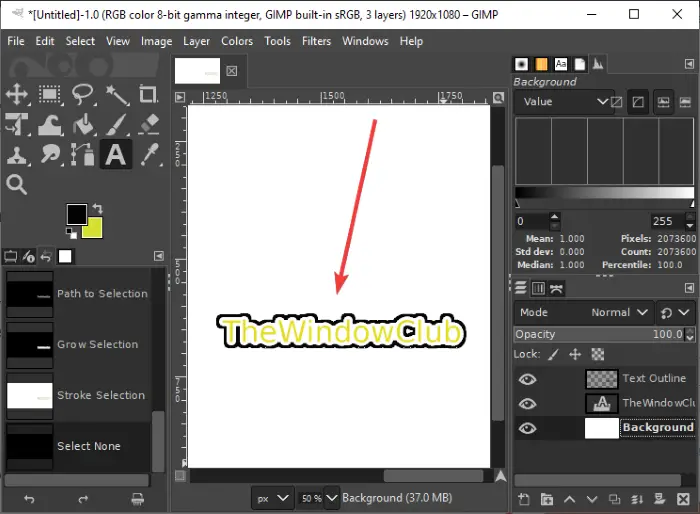 If you want, you can remove the background layer to create outlined text with transparent background. Right-click on the background layer and click on the Delete Layer option. After that, repeat the above step by going to Edit > Stroke Selection and adding a stroke line.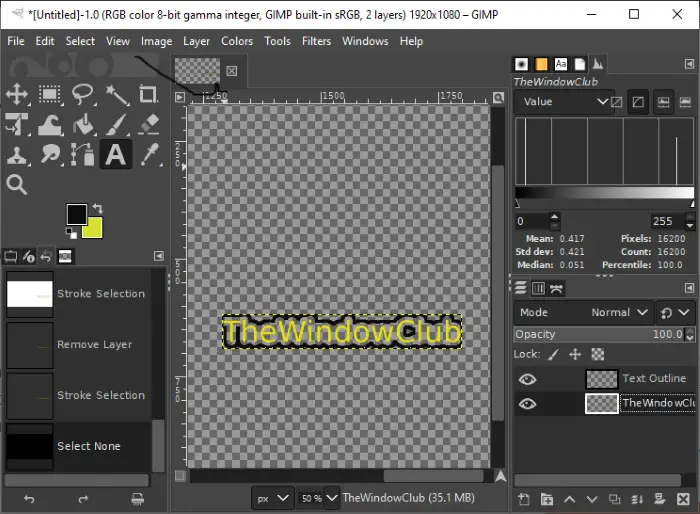 You can now export the outlined text in several image formats including PNG, JPG, WebP, GIF, BMP, PDF, and many more.
Hope this article helps you create an outlined text or add a border to your text in GIMP.