Although the Photos app in Windows 11/10 is a smooth and useful application, some users have reported that when they use the Photos app to open images, it displays blurry images even when the images are of high resolution and quality. If you are 100% sure that the original picture is clear, but Photos app is opening a blurry image, here are some possible solutions that will fix your problem.
Windows Photos app opens blurry images
1] Restart Photos app background process
Sometimes a background process can cause this problem and hence, you might find this solution working on your computer. When you open an app on your computer, several background processes run automatically, and they can create such issues.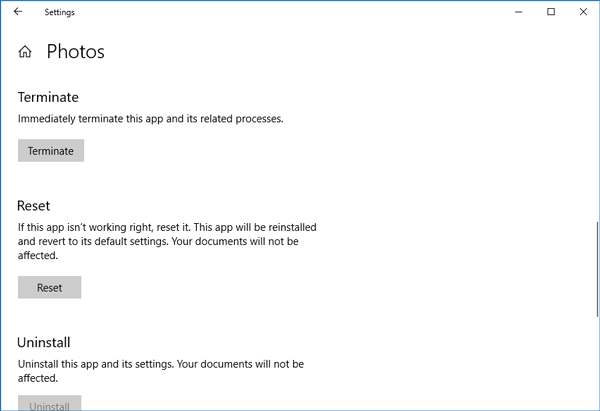 Therefore, to restart Photos app background process, open Windows Settings and go to Apps > Apps & features. On your right-hand side, scroll down a bit until you get the Photos app option. Click the Photos app button and select Advanced options. There, you will get the Terminate option on your screen.
2] Reset Photos app
If the restarting background process has not helped you fix this problem, you can reset the Photos app so that it starts using factory settings. This solution works when you are getting this issue after making several changes in the Photos app. To reset the Photos app, open Windows 10 Settings and go to Apps > Apps & features.
Scroll down to open the Advanced options of Photos app. On this page, you can find Reset option. Click on it and select Reset again to confirm.
It will take a couple of moment to make the change.
3] Reinstall Photos app
If the aforementioned solutions are not working for you, this will do the job. It is quite easy to reinstall preinstalled Windows 10 apps, and you can make use of Windows PowerShell to get things done.
To get started, open Windows PowerShell with admin permission and enter this command:
Get-AppxPackage –AllUsers
Now you need to find the PackageFullName Windows 10 Photos app.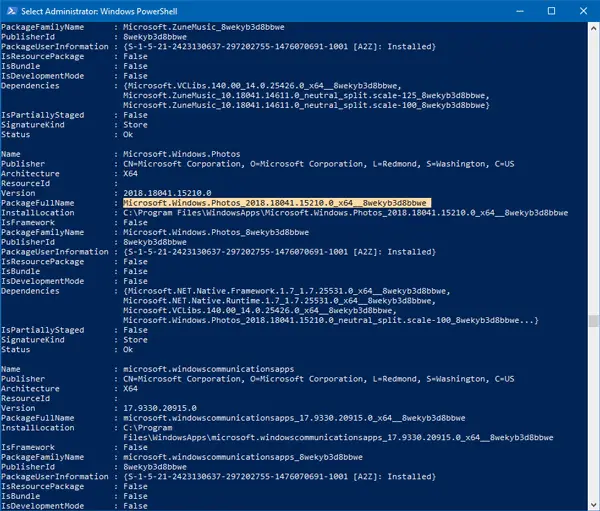 Note down the PackageFullName and enter a command like this:
remove-AppxPackage PackageFullName
Do not forget to replace PackageFullName with the actual package name. This command will uninstall the Photos app from Windows 10 computer.
To install it again, open Windows Store and search for "Microsoft Photos." Click the Get button to install it on your Windows 10 machine.
If you need a simpler way to reinstall any preinstalled app in Windows 11/10, you can use our 10AppsManager.
This should help solve the issue.
Read: How to add new Folder locations in Photos app on Windows 11/10.