If you are looking to keep your private and personal data out of the hackers' reach then Oxynger KeyShield is an anti-keylogger software, you may want to have a look at. When we browse through the internet, many times third-party software gets installed on our Windows system. Some of them could be PUPs which are relatively less harmful or some of them could be keyloggers that could spy on all your activities, by tracking your keystrokes.

Oxynger

KeyShield Anti-Keylogger
Keyloggers, spyware, and trojan-horses are some of the malicious programs that can steal your password and other details while you are shopping or carrying out financial activities on a public computer.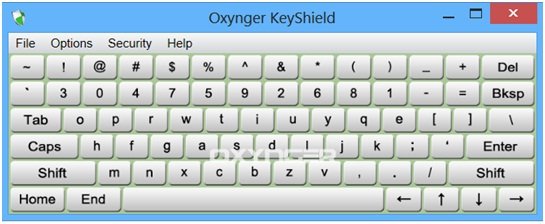 Oxynger KeyShield is a freeware that has been developed to protect your sensitive data like credit card details, bank passwords, personal information, etc. from being hacked by keyloggers or other malicious programs. What Oxynger KeyShield does is that it protects its keystrokes from keystroke logging, screen logging, mouse logging, clipboard logging, and shoulder surfing.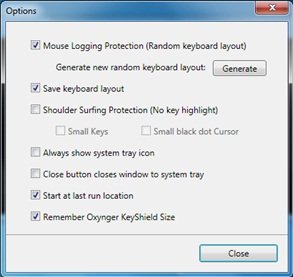 Features of

Oxynger

KeyShield
Some of the features of the Oxynger KeyShield application that make it one fine Anti-Keylogger software are listed below,
The application is a simple and easy to use application with an attractive GUI

Oxynger

KeyShield helps you to protect your personal information like credit card details, passwords, online banking information from keyloggers thus maintaining the security of your data

It provides you the ability to protect your keystrokes from Software & Hardware Keyloggers and screen loggers
Since it allows different layout for each user of the software, it provides protection against mouse logging, clipboard logging and provides functionality that could keep you safe against both known and unknown keyloggers
Beats Shoulder Surfing and offers Screenshot Protection to provide better security of data
This application is available in Portable form

Oxynger

KeyShield is protected from making its own screenshots or video. If taken, it returns a black screen.
List of Applications that are compatible with the

Oxynger

KeyShield security tool
Here is the list of applications that are compatible with Oxynger KeyShield software-
Browsers:

Oxynger

KeyShield application supports almost all top browsers like Google Chrome, Firefox, Internet Explorer, Safari, Opera (v15 and above). Other than these browsers,

Oxynger

KeyShield also supports Avant browser, Chromium, CometBird, Comodo Dragon, etc.
Encryption Programs:

Oxynger

KeyShield supports many encryption programs. Some of these are as follows- My Lockbox, MyWinLocker, SafeHouse Explorer, Secure IT, SensiGuard, etc.
Password Managers: To protect your data from unauthorized access

Oxynger

KeyShield supports many password manager applications like LastPass, Norton Identity Safe, Password Corral, Password Depot, Password Memory, RoboForm, etc.
Cloud Storage Programs: Dropbox, Google Drive, SkyDrive, SpiderOak, SugarSync are also supported to work with

Oxynger

KeyShield

ITunes

Note Taking Tools: Evernote and OneNote
Zip Programs: 7-Zip, FilZip, IZArc, PeaZip, PKZip, PowerArchiver,

SecureZip

etc.
Text Editors: NotePad, NotePad2, Notepad++, TextPad, UltraEdit, WordPad etc.
You can either go for a standard installer with a file size of 2.40 MB or if you want, you can download the installer or the portable version of the software which is just around 2.02 MB in size, from its home page. It requires .NET Framework 3.5 – plus the Desktop Composition needs to be enabled.
If you suspect that someone has with malafide intent installed a keylogger on your system, you can run a full in-depth scan with your antivirus software. You may also want to check out some other keylogger detector freeware.