When an email is sent in Microsoft Outlook, the associated email service first copy that email to the Outbox folder. This is done in order to check if the email can be sent technically or not if the sending and receiving servers can accept or reject emails, network connection, etc. In case if there is a network error or if the email is being sent to an address that doesn't exist, the sending message remains in the Outbox folder, with an error message encountered. While in other cases, if everything is okay, the email is copied to the Sent items folder.
The Outlook application in Office follows the same procedure while sending mails. But sometimes you may observe some peculiar behavior while sending mails with this component, such that:
You send a mail from the shared mailbox and it remains in the Outbox folder
When you manually open the Send/Receive operation window, an email is sent automatically
In some cases, you may first see errors when you open Send/Receive dialog: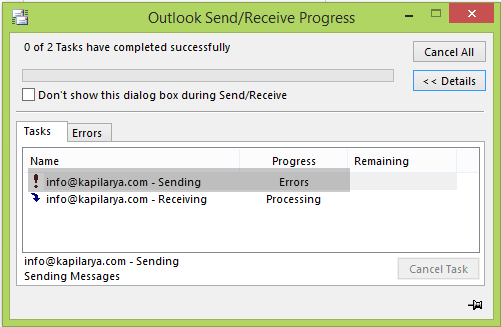 In a few moments that paused email is sent: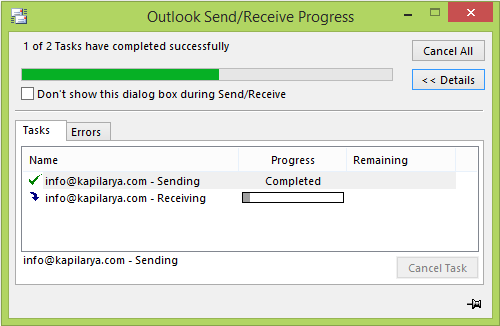 Thus the problem here is that until you open Send/Receive dialog manually, the email is not sent and remains in Outbox, indefinitely. Here is how you can get rid of this problem:
Outlook Email stuck in Outbox
Registry Disclaimer: Further steps will involve registry manipulation. Making mistakes while manipulating the registry could affect your system adversely. So be careful while editing registry entries and create a System Restore point first.
1. Press Windows Key + R combination, type put regedit in Run dialog box and hit Enter to open the Registry Editor.
2. Navigate here:
HKEY_CURRENT_USER\Software\Microsoft\Office\x.0\Outlook\Preferences
Substitute the placeholder x.0 with 15.0 for Outlook 2013, 14.0 for Outlook 2010, 12.0 for Outlook 2007, and 11.0 for Outlook 2003, and so on.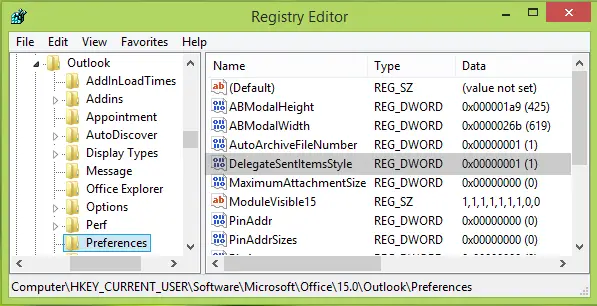 3. In the right pane of the above-shown window, look for the registry DWORD (REG_DWORD) named DelegateSentItemsStyle, it must be having its Data set to 1.
Double click on the same DWORD to modify and get this: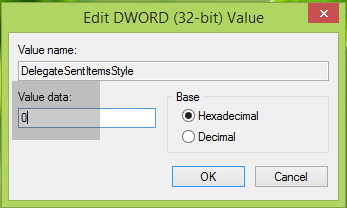 4. Finally, in the above-shown box, set the Value data to 0 and click OK. Close the Registry Editor and reboot the machine to get this problem solved.
Hope this helps you. Good luck!
Related posts: