Some users of the popular online email service Outlook.com, have been complaining as of late about a problem where Outlook.com is no longer receiving or sending emails for some strange unknown reason.
To be completely honest, we're not sure of the exact cause, but we've got a few ideas of what could be the problem right now. Worry not; we're pretty certain that at least one of the upcoming fixes will solve the problem, hopefully once and for all.
Folks who are experiencing the inability to receive or send emails are saying everything else tends to work quite well; therefore, this matter is quite strange. But hey, we love strange, so let's get down to having this thing under control right now.
Outlook.com is not sending emails
Bear in mind that fixing this issue requires your undivided attention. We expect at least one of the fixes we have laid out below to work, so try them all until the problem has been rectified.
1] Outlook.com fails to send emails.
OK, so the problem with the inability to send emails is a major problem for some, so we suggest checking your internet connection for abnormalities. This is one of the main problems if you're having problems sending emails via Outlook.com, so please keep that in mind.
2] Are you sending to the correct email address?
Maybe you have made the mistake of sending your emails to the wrong email address, so please double-check. Furthermore, there is the chance the email address you're sending emails to, is no longer in operation, so that is something you should get to the bottom of.
3] Undo Send
Outlook.com comes with an undo feature, but it is not turned on by default. Maybe you have activated this, and by mistake, canceled the sending of the email before the allocated time.
To turn off the undo feature, click on the Settings button, then select View all Outlook settings. From there, click on Mail, then choose Compose and Reply. Finally, scroll down to Undo Send, then use the mouse to bring the slider down to zero.
Read: Emails stuck in Outbox of Mail app on Windows PC.
Outlook.com is not receiving emails
1] Check the junk folder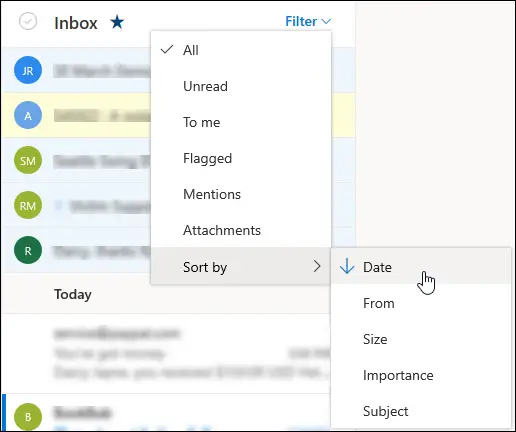 The first step is to check your Junk email box to see if that's where emails are ending up. Go to the Outlook.com folder list, then select Junk Email, and from there, look for the missing email to see if it's there.
If the emails are right there, then we suggest right-clicking on each email and then clicking on Mark as not junk. Doing this should move the selected emails directly out of the Junk box to the regular section.
2] Check your filters
Are you using filters? This can be one of the main reasons why you're not seeing a single email or the ones you want to see. Additionally, it could also be the reason why folks are unable to send emails to certain parties.
To make changes, click on Filter, then from the dropdown menu, select the messages you want to see. When it comes down to sorting, click on Filter, then Sort by, then choose what you want to sort by.
If you want to see recent messages, then we suggest clicking on Date to get it done. For a specific person, click on From and that's it.
Read: Error 0x8004010F, Outlook data file cannot be accessed
3] Check the Other tab
A lot of your emails will go to the Other inbox instead if Focused inbox is enabled, so with this in mind, we'd like to suggest checking this inbox for any missing emails. It's possible to right-click on an email in the Other tab to have it transferred to the Focus inbox.
Read: Emails not automatically Sent or Received at startup in Outlook.
4] Check your email rules
When it comes down to checking your email rules, users must click the Settings icon, you know, the little Gear icon at the top-right corner. After that, scroll below and click on View all Outlook settings.
The next step, then, is to select Mail, then click on Rules. From there, we suggest editing or deleting all rules, if any are available there.
Read: Windows Mail app not sending or receiving emails.
5] Are you forwarding emails to another account?
Follow the above step and navigate back to the section that says Mail, then click on Forwarding. From there, check if your emails are being forwarded to another email account.
Read: Outlook disconnected from server; How to reconnect?
Let us know if this post helped.