In this post, we will discuss what to do if Opera GX is not downloading any files. Opera GX is a popular gaming browser. Many gamers choose Opera GX as their preferred browser when it comes to playing games online. It offers them a lag-free gaming experience, though a few users have reported that they are facing issues while downloading files from Opera GX, such as a texture pack for Minecraft. The download either won't start or it's partly finished and then stops.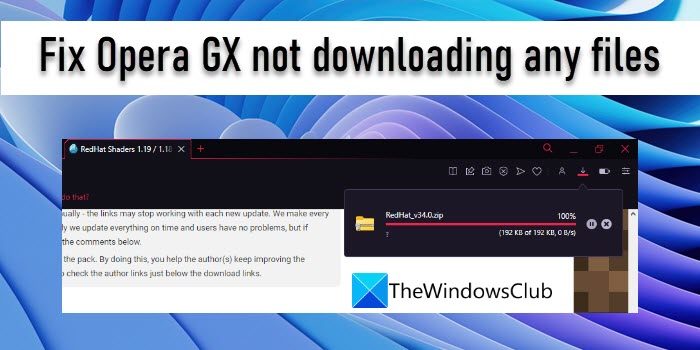 Why is Opera GX not working?
There could be many reasons behind Opera GX not downloading anything. The browser may identify the file as suspicious, though the website may seem safe. Or your firewall software may be blocking the download for security purposes. A third-party add-on or Opera's integrated VPN or ad-blocker could also be conflicting with the download. Resetting the browser can help if your Opera GX is not working.
Fix Opera GX not downloading any files
If you're not able to download anything from Opera GX, restart your PC and see if that fixes the issue. Also, make sure you have a stable internet connection and try again after temporarily disabling the VPN (if you've activated the VPN in Opera GX) or your firewall or antivirus software. If these quick tips won't help, use the following solutions to fix Opera GX not downloading any files:
Update Opera GX
Enable app permissions for Downloads folder
Disable extensions
Turn off ad-blocker for individual site
Clear cookies and cache
1] Update Opera GX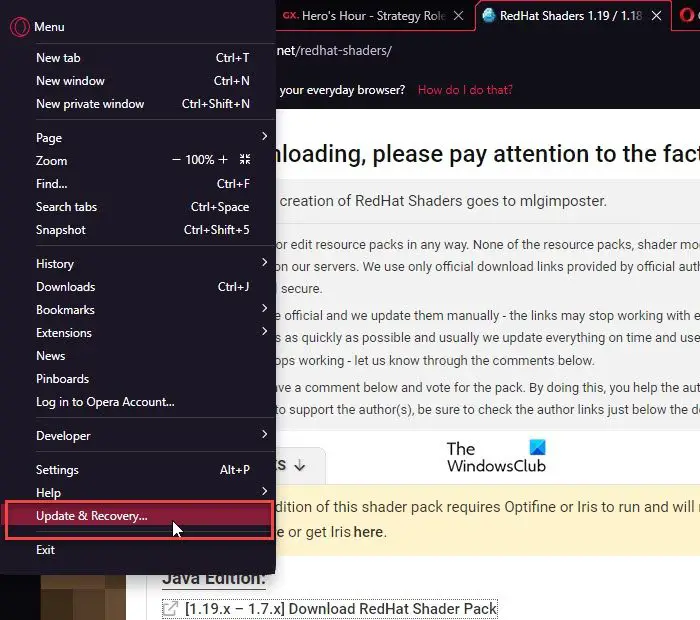 Make sure your Opera GX browser is updated to the latest version. Though Opera automatically updates to the latest version when it's available, you can manually check for any pending updates by clicking on the Opera icon (O) in the top-left corner of the browser window and clicking on the Update & Recovery option. Click on the Check for update button. Then click on Update if an update is available. Relaunch Opera GX to finish installing the update. You may also try reinstalling Opera GX if the update doesn't help.
2] Enable app permissions for Downloads folder

Opera GX may fail to download a file if it doesn't have permission to access your Downloads folder. To ensure this, click on the Start button icon in your Windows taskbar and select Settings. Then click on Privacy & security on the left. Then under Apps permissions on the right panel, click on the Downloads folder. Make sure both the toggle buttons on this page are set to On.
3] Disable extensions
Click on the Opera icon and click on the extensions menu. Select extensions and click on the toggle button to disable extensions you've installed from third parties. Relaunch Opera GX and try downloading the file. If the download completes, you can re-enable extensions in Opera GX.
4] Turn off ad-blocker for individual site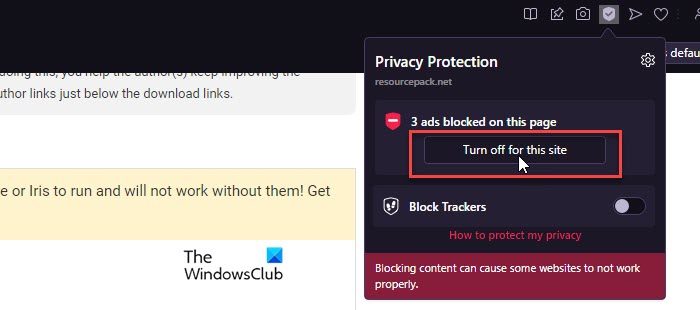 Next, disable Opera's built-in ad-blocker for individual site and then try. The ad-blocker blocks ads and popups in Opera GX. It may prevent your file from downloading if it appears in a popup window. Opera GX allows you to turn off the ad-blocker and allow popups from individual sites that you mark as 'exceptions'.
Go to the webpage you're trying to download the file from.
Click on the shield icon on the right side of the address bar of Opera GX.
Click on the Turn off for this site option.
You can also manually add the website to the list of exceptions through Opera's Privacy protection (Basic) settings.
5] Clear cookies and cache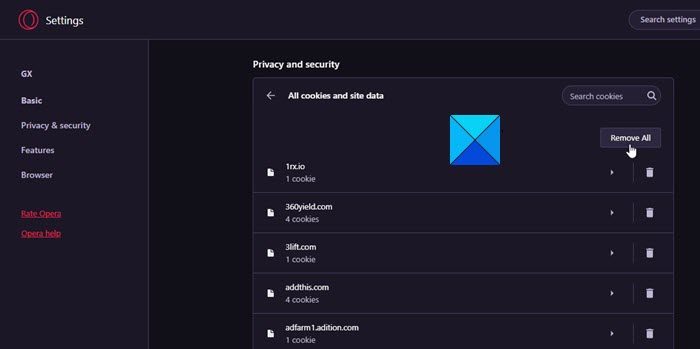 If the above solution won't help, clear cookies and cache of your Opera GX browser.
To remove individual cookies, go to Settings > Privacy & security > Cookies and other site data. Then scroll down and click on See all cookies and site data. Use the search bar on top to find specific cookies and click on the trash icon to delete them. You can also click on the Remove All button to delete all cookies. However, deleting individual cookies prevents you from logging out of all sites in your Opera GX browser.
To clear the browser cache, Go to Settings > Privacy & Security > Clear browsing data. Select Cached images and files and hit the Clear Data button.
The above solutions should fix the issue. If you're getting a warning that the page you're trying to download from is not secure, click on the lock icon on the left of the address bar, then click on Site settings and set Insecure content to 'Allow'. Please note that this setting may download an infected file. Be sure about the file before you download it on your PC.
Read Next: Opera GX installer not working on Windows PC.