In this article, we will discuss what you can do if the Opera GX installer is not working in Windows 11/10. The Opera GX installer is reported to have failed for some to update or install the browser. The error commonly occurs when you update or install your Opera GX browser on your computer. If you are also using Opera and having the same issue, this post might help you.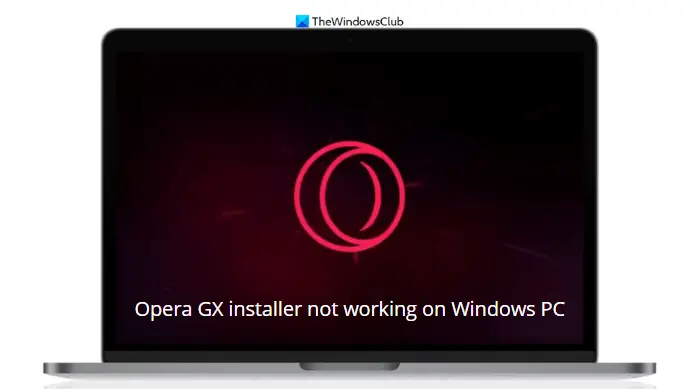 Opera GX installer not working on Windows PC
If the Opera GX installer is not working on your Windows PC, you can try the below suggestions and see if it solves the issue.
Change the directory of Opera GX
Create a new user account
Change your Network profile
Let's see now them in detail:
1] Change the directory of Opera GX
Go to the Opera GX website first.
Click Download Opera GX on the next page to get the browser.
Double-click the executable file once it is downloaded.
Choose the Options button, rather than clicking Accept and Install.
Click on the Change button next to the Install path.
Next, choose the location where the file will be installed.
After that, click Accept and Install to install the file.
In case you need an explanation, let's now look at the steps in more detail:
To get it started, navigate to the Opera GX website first. This can be done by visiting the link www.opera.com/gx. It will take you directly to the Opera GX web browser download page as shown in the snapshot below.
Once the file has been downloaded, go to the Download folder of your File Explorer window and double-click on the executable file.
When you launch the executable file, a new page will open that looks similar to the image above. As you proceed to the next page, do not rush to select the Accept and Install button. Before proceeding, you should click on the Options button, which I have marked with a white rectangular line.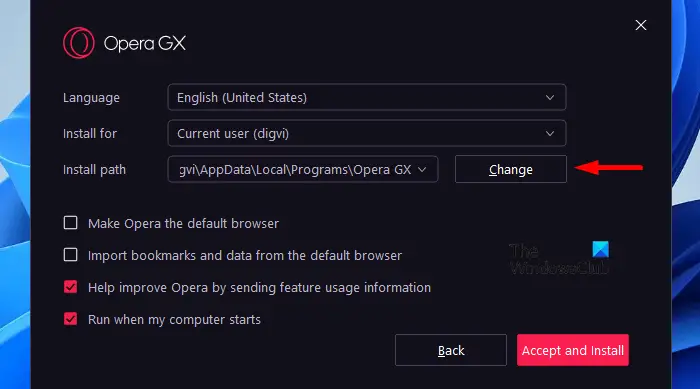 Next to the Install path, click on the Change button. Here you need to choose the location where you would like the file to be installed. As part of this step, you will edit the directory in which the browser will be saved and then proceed to install it.
When you have selected the location, click OK to save it. Once that is done, click Accept and Install to install the file. After changing the installation path, check if the Opera GX installer works.
2] Create a new user account
This solution requires you to create a new user account and check whether the Opera GX installer is working on your computer. In case it does, it means the old user account is corrupted.
3] Change your Network profile
In case none of the solutions work, you should change your network profile, and this should resolve the issue.
Why does Opera GX fail to open on Windows 11/10?
Problems with your Microsoft account may cause this issue, and in that case, you should check the family settings of your account. In some cases, this problem can also be caused by a corrupted installation, so reinstalling the browser might be helpful.
Read: Opera GX not opening on Windows
Is Opera GX a gaming browser?
According to the company, Opera GX isn't designed to be a gaming browser but it has several options that can be tweaked. These options include setting CPU, RAM, and network limits. The browser has these features, but on its own, they are not enough to make it suitable for gaming. Although Opera GX Browser was not built from scratch, it does have many advantages for gaming.
Why should you use Opera GX?
Opera is the company most likely to have developed a gaming-specific web browser. The company has introduced some unique features that were later adopted as industry best practices to differentiate itself from competitors. It has been designed especially for PC gamers, equipped with advanced features that improve the quality of their gaming experience without affecting their gaming performance.
Is Opera GX different from Opera? In what ways are they different?
Opera is one of the oldest and most popular browsers used by users to conduct their online searches. The program includes features such as an integrated VPN and ads blocker. There is, however, Opera GX, which is specially designed for gamers. It is a browser intended exclusively for gamers. According to the company, it is a more advanced or special version of the Opera browser. It comes with some useful features such as CPU, GPU, and Network limiters, which makes it a must-have for some users.
Hence, Opera and Opera GX are two different browsers made by the same company, but for different target audiences. Although they are both manufactured by the same company, there are a number of similarities on both ends. Both run on Chromium, have similar privacy policies and use the same VPN.
Related Post: Opera browser not opening or loading pages.