Opera One is the most recent version of Opera Browser that incorporates a completely new look with some new functionalities. It is now available for the general public as the latest version of Opera. In this post, we are going to talk about the new functions that you are going to get in this browser and how you can download and install Opera One on Windows 11/10.
Opera One browser for Windows PC
Opera One is the latest and improved version of the Opera browser. It is redesigned and contains many new features that you must be looking forward to. It contains a built-in AI chatbot and other AI tools, comes with Tab Islands, has intuitive tab navigation, and much more. As its developers say:
Functionally, Opera One has been reengineered with a new technology stack which ensures that animations run smoothly without interruption.
The browser contains a compositor thread which ensures smooth rendering and animations. Let us have a look at the key features of Opera One that are being talked about.
Key Features of Opera One
Here are the key features of Opera One:
Redesigned modular look.
The first AI-powered browser with native AI tools.
Tab Islands.
Multithreaded Compositor.
Redesigned modular look
With a newer version of any software, you expect a modification in its look and feel. The same is with Opera One. It now has a modular design with a dynamic interface. In it, you get a sidebar where elements like social media apps, AI services, and more are adjusted automatically as you add more elements to it. I personally liked its look and feel more than the Opera. It is modernized and nicely redesigned.
See: Best Opera browser tips and tricks for better browsing.
The first AI-powered browser with native AI tools
Opera One's developers have referred to it as the "first browser with native AI" and "the first AI-powered browser." This is because it contains native AI features that are going to better your browsing experience.
Aria, which is a browser AI built on Opera's AI engine, is the native AI chatbot function in Opera One. Just like ChatGPT, it is based on several Large Language Models i.e. Generative Pre-trained Transformer (GPT) built by OpenAI. You can interact with this chatbot and ask anything from it. It provides information on asked topics and generates ideas to help users.
To use Aria in Opera One, you just need to sign up for it and then you can start using it right from the home page of the browser. It is added to the sidebar in the browser as shown in the above screenshot. You can click on it and then start chatting with Aria.
If you are browsing and you want to evoke Aria, you can press the Ctrl + / hotkey to open the Aria prompt. You can enter a query or anything in the box and it will generate the response accordingly. If you want, you can regenerate a response and copy a response.
You can also pin the aria prompt in the sidebar while continuing to browse.
Furthermore, you can also enable ChatGPT and ChatSonic AI services in the sidebar. Just right-click on the empty part in the sidebar and choose the Sidebar setup option. Next, under AI Services, enable/disable AI services as per your need. You can also add extensions, Opera tools, Messenger apps, and more features to the sidebar to quickly access them.
Read: Opera GX vs Chrome: Which is the best?
Tab Islands
Tab Islands is a newly added feature in Opera One that enables you to easily group tabs. It helps you manage a workspace easily and conveniently. It has multiple advantages such as:
You can seamlessly switch between ongoing projects and tasks.
Research work can be streamlined.
Enhances shopping experience by letting you compare products with Tab Islands.
Now, how you can use Tab Islands in Opera One? Well, most of its functions are automatic. It automatically connects the child tab to its parent tabs so that you can keep up with the research on the same topic.
To manually group tabs, you can press and hold the CTRL key and select the tabs. After that, right-click on the selected tab and choose the Create tab island option. This will group all the selected tabs and create a tab island.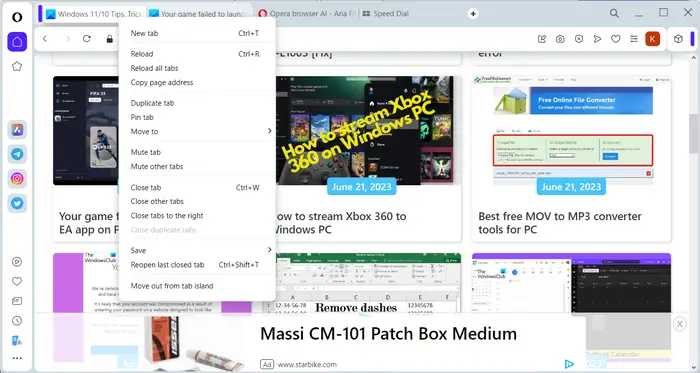 The Tab Island feature allows you to perform several tasks on the grouped tabs. You can right-click on a tab and access the context menu to perform tasks like the following:
Reload: You can refresh all the tabs in the same tab island.
Copy page addresses: You can quickly copy the URL of opened web pages of grouped tabs.
Move to: You can move a tab to a different workspace.
Mute, close: It also lets you mute all tabs or close them.
Save tab to Pinboards: You can also save tabs in a tab island to a pinboard.
Save all tabs to Speed Dial folder: It also allows you to save all tabs of a tab island to Speed Dial.
Move out from tab island: If you want to remove a tab from the tab island, you can do that using this option.
Read: How to use Workspaces Tab Grouping feature in Opera browser?
Multithreaded Compositor
Another good feature in Opera One is Multithreaded Compositor. It helps in smooth rendering and animations without any lags. It has a main thread and a main thread and a compositor thread. While the main thread manages the overall rendering process by interpreting HTML, CSS, and JavaScript code, the compositor thread is responsible for effects like animations and transitions.
How to download Opera One?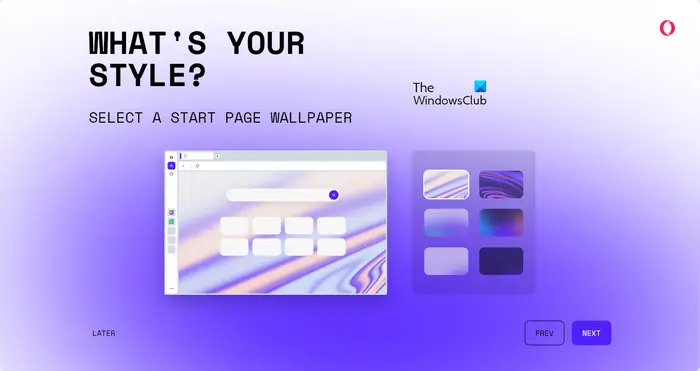 You can download Opera One from opera.com/one. Just visit this website and click on the Download Now button present at the top-right corner. Once the setup file is downloaded, you can run it and install the browser. When it is installed, it will ask you to configure the browser like style, layout, etc. Follow the prompted instructions and complete the process.
Where can I download Opera Browser Offline for Windows?
Download Opera Offline Installer for Windows (64-bit) by clicking here.
Download Opera Offline Installer for Windows (32-bit) by clicking here.
Is Opera available for Windows?
Yes, Opera is definitely available for Windows PCs. It can also be used on other major platforms like Mac, iOS, Linux, and Android. The browser is completely free to use.