Don't have Photoshop, and your colleagues have sent a PSD file? You start wondering how to open PSD files since you don't have Photoshop installed on your PC. Photoshop is certainly the best image processor in the market, and you get a lot of image editing features with it. However, investing in such expensive software, just for opening the PSD files and making few changes in the images, is certainly not a good idea.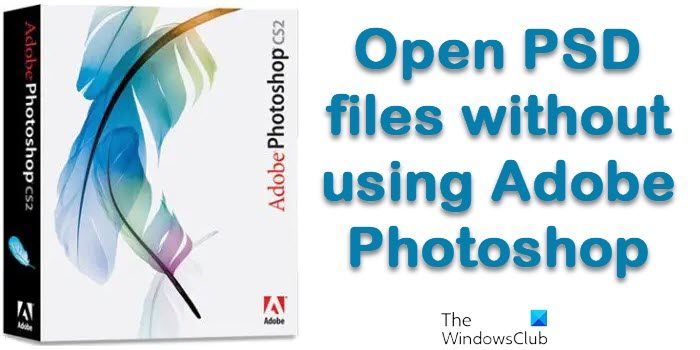 How to open PSD files without using Adobe Photoshop
You don't have to worry anymore! There are several 'other' ways with which you can open PSD files without having Photoshop installed on your system. You will be happy to know that many of these tools are free to use. Thus, they are the best alternative (and free!) for the expensive Photoshop software.
Use GIMP to open PSD files
GIMP stands for 'GNU Image Manipulation Program'. It is a free tool that can be easily used on Windows. It offers useful features such as image authoring, image composition, and photo retouching. It can be used as a paint program as well as a proficient photo retouching tool. It can also be used as a format converter for the image, mass production image renderer, and batch processing system. It plays all these roles very efficiently. GIMP is extendable, and it can be augmented with a variety of extensions and plug-ins. Its easy-to-use interface makes the user experience better.
Use Go2Convert to open PSD files
Go2Convert is yet another free image converter tool which can be used to convert your PSD file into a viewable format like JPEG. In order to do so, upload your PSD file on this website. You can also download the image from the URL in the adjacent tab.

When you click on 'Upload Now', you can see the information about the image you uploaded. The window displays image title, file size, and time elapsed time after uploading the file. Along with it, you can select the format to which you want to convert your PSD file, from the drop-down list. Not only JPEG, but you can convert the file into numerous known formats like BMP, DIB, GIF, M2V, PBM, PDF, PNG, and many more. You can choose the format as per your requirement. You can also select the quality of the converted image.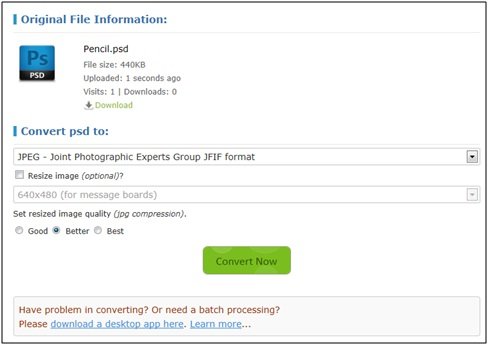 When you click on 'Convert Now', the PSD file gets converted into the selected format. Here in the following example, the PSD file is converted into a JPG image. You can now download and open PSD files using the Go2Convert tool.

Apart from these tools, there are other free-to-use image converter tools available in the market such as IrfanView and Paint.NET. However, GIMP and Go2Convert are easier to use and don't require any sort of expertise to convert the image in a viewable format.
So stop worrying about how to open PSD files if you don't have Photoshop. Try these tools and let us know which of these tools you find to be the most useful and user-friendly!