This post will show you how to view ITHMB files on Windows 10. On Windows OS, there is no built-in feature to open iThmb files. But there are some good options that can help you view iThmb files on Windows 10 PC. This post covers all such ways.
iThmb file format is a thumbnail version of images and it is used in iOS devices (iPhone, iPod, etc.). These files are created automatically when you save a photo on an iOS device. iThmb is a smaller version or link to the original images. If you are looking for some simple ways to open ITHMB thumbnail files on Windows 10, this post can be helpful.
Open ITHMB files on Windows 10
We have covered 2 free ITHMB viewer apps and 3 free software to open ITHMB files:
CompuClever ITHMB Viewer
Ultra Image Viewer
XnView Classic
XnView MP
XnConvert.
1] CompuClever ITHMB Viewer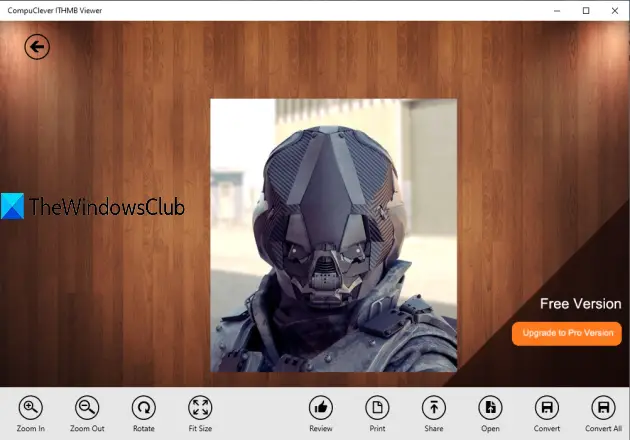 CompuClever ITHMB Viewer is a free Windows 10 app. It lets you view and share ITHMB files. The features to print and convert ITHMB files are also there but those are available in its paid plan. Its free version is good enough to open iThmb files.
You can also rotate iThmb file and use zoom in and zoom out options. Apart from using this as an ITHMB file viewer, you can use it to view PNG, JPG, TIFF, GIF, and other images.
Download this app from Microsoft Store and launch it. You will see four buttons: Open, Convert, Print, and Share. Use the first option and add an ITHMB file. That's it! Now it will show that file and provide zoom in and out, rotate, and other options. You can also use the mouse wheel to view smaller or different sizes of an ITHMB file.
2] Ultra Image Viewer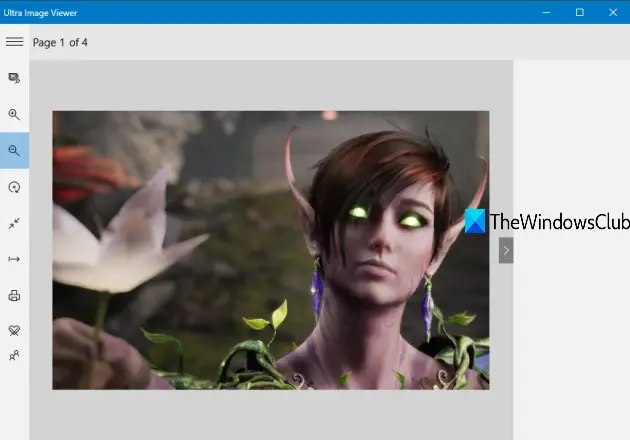 Ultra Image Viewer is another free app for Windows 10. It supports DNG, BMP, GIF, JPG, PNG, and other formats. You can also use it to view ITHMB files.
It brings features similar to CompuClever ITHMB Viewer. It lets you rotate the ITHMB file, zoom in and out, and fit to page option. ITHMB converter and print options are also there, but you need to buy a paid plan to use those features. For viewing ITHMB files free of cost in Windows 10, the free version is simply good.
Grab this Windows 10 app and open it. After that, use the Open option to add an ITHMB file. After that, it will show that file on its interface. You can expand the left sidebar and use the available options. In addition to that, you can also use the mouse wheel to view different sizes of that particular ITHMB file.
3] XnView Classic
XnView Classic is an image viewer and converter software which is available free for educational or private use. More than 500 image formats are supported by this software and ITHMB file format is also included in that list. You can view multiple ITHMB files on separate tabs of this software. A navigation pane is also available that makes it easy to access folders containing your image files.
You can also use different options while viewing an ITHMB file. You can rotate or flip an ITHMB file, change zoom level, adjust brightness, contrast, gamma level, crop, print the ITHMB file, and more.
Use its download page to grab a portable or installer version. After launching the software, you first need to access Options in the Tools menu and then select Display all image file types option in the General section. Press OK to save this change and relaunch this software. Now you will be able to preview ITHMB files. You can also double-click on an ITHMB file to view it in a separate tab and use available options for ITHMB files.
4] XnView MP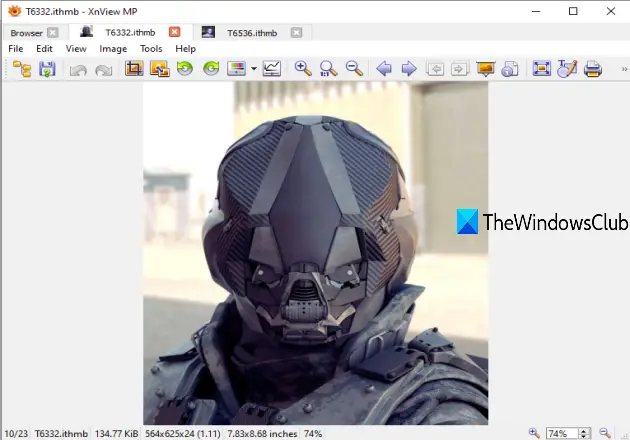 XnView MP is an enhanced version of XnView Classic. It is also available free of cost for private or educational use. This software comes with an image viewer, image converter, image resizer, and image management features. ITHMB file format is also supported.
To use it as an ITHMB viewer software, you need to access Settings available under the Tools menu. You can also press the F12 hotkey to open the Settings window. Now access the General section and select Show all graphic formats option. Save the setting and relaunch it.
Now you can view a thumbnail preview of all ITHMB files. Double click on any ITHMB file to view it in a separate tab. You can also use options like resize, rotate, flip, zoom in and out, print, etc.
5] XnConvert
XnConvert (free for educational and personal use) is a bulk image resizer and image converter software. 500+ formats are supported for conversion including iThmb format. You can use this software to convert ITHMB to PNG, BMP, JPG, or any other format and then use some image viewer to open the converted file. This way you can open ITHMB files.
After launching this software, access its Input tab to add files or a folder that contains ITHMB thumbnail images. You can preview ITHMB files in small or big thumbnails. When images are added, go to the Output tab, and select an output format for conversion. You can also select the output folder in that tab. If you want, you can access the Actions tab to add watermark to images, change color depth, resize, rotate output images, etc.
Finally, press the Convert button. You will get the output images in the folder set by you.
So, these are some good ways to view ITHMB files on Windows 10. While apps are simple to use, the classic software provide more features. Hope these options work for you.