In this article, we have provided some possible solutions if you are getting this Office error code 30145-4. This error occurs when you try to install Microsoft 365. Some of the reasons for this error could be a corruption of the Office installation, problems with your antivirus or firewall software, etc.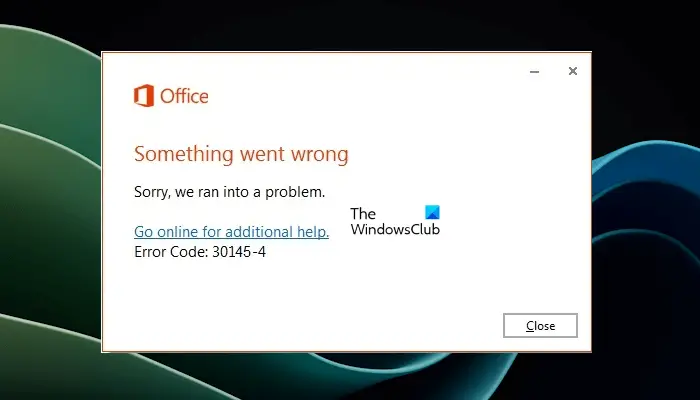 Fix Office Error Code 30145-4
Use these solutions to resolve the Office error code 30145-4.
Connect your device to another network
Repair Office installation
Install Office offline
Uninstall and reinstall Office using the SaRA tool
Let's start.
1] Connect your device to another network
Network issues are the primary cause of this problem. Make sure that your internet connection is working fine. If you are connected to your work or school network, they may have restrictions on the network that are causing the Office installation to fail. This can be resolved by switching your internet connection. Connect your system to another network connection (if available).
You can connect your system to an ethernet cable and then run the Office setup. Wired internet connections are more stable than wireless internet connections due to less packet loss.
2] Repair Office installation
Repair Office installation and see if that helps.
3] Install Office offline
Microsoft has also provided an offline installer package for Microsoft Office. Users who have internet connectivity issues can download this offline installer file and run the setup offline.
4] Uninstall and reinstall Office
One possible cause of this problem is the corrupted Office installation. If you have tried to install Office previously but did not complete the setup, your system might have corrupted Microsoft Office which is interfering with the new Office installation, hence causing the Office installation to fail and showing you this error message. Or if you have installed any other versions of Microsoft Office, you have to uninstall them too before starting a new installation.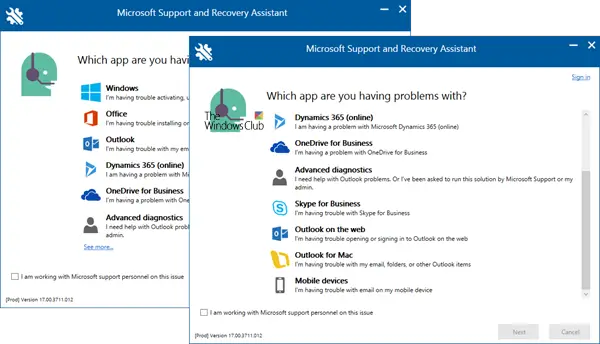 Check in the Control Panel if there is any previous installation of Microsoft Office. If yes, uninstall it completely using the SaRA tool. After uninstalling Office, restart your computer and begin a fresh installation of Office.
That's it. I hope the above solution helps you to fix this issue.
How do I fix Office installation error?
You may get different Office installation errors. Each error requires a different way to troubleshoot. You can use some general fixes, like disabling your antivirus or firewall, uninstalling previous versions of Office, using an offline installer, etc.
Can I uninstall and reinstall Office?
Yes, you can uninstall and reinstall Office. You can do this if you are experiencing issues with Microsoft Office applications. You can use Microsoft Support and Recovery Assistant to completely uninstall Microsoft Office.
Read next: AADSTS50020, User account from identity provider does not exist in tenant.