Sometimes, drivers from the likes of NVIDIA, AMD, and Realtek install themselves, appears on the list but don't respond. At other times, they just refuse to install on Windows 10. What's one supposed to do under such a situation? Many advise reinstalling the drivers; however, this trick seldom helps. Here's a method that might help you!
NVIDIA, AMD, Realtek drivers won't install
Sometimes, the drivers just refuse to install as there are traces of earlier versions left behind or incomplete installation which create a conflict. Display Driver Uninstaller or DDU is a driver removal utility that completely uninstalls AMD/Intel/NVIDIA graphics card drivers and packages from your system. It does not leave anything behind.
Use Display Driver Uninstaller to uninstall NVIDIA & AMD drivers
Before proceeding further, create a system restore point.
Now, to download NVIDIA drivers, go to the NVIDIA website, find the 'Drivers' tab, search for your NVIDIA driver and download it. Also, save it to your Desktop. This step will make things easier for us later on.
Now, download & install Display Driver Uninstaller.
Once the installation is complete, open the tool and look for 'Select Graphic Driver' description. Just adjacent to it, you will find a drop-down arrow. Click it and select NVIDIA from the list of options displayed.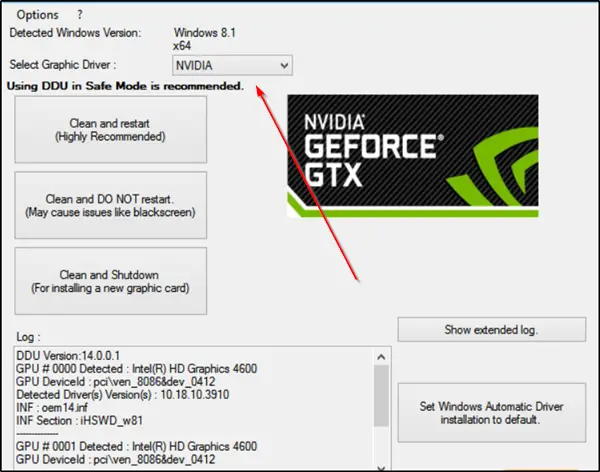 Next, hit the 'Clean and restart (Highly Recommended)' to clean the driver. This will restart your PC.
Try installing the driver once again.
Similarly, using this tool, you can uninstall AMD drivers. AMD users can also use the AMD Clean Uninstall Utility.
The problem should be resolved.
Uninstall Realtek and Microsoft UAA Drivers
Installation errors often associated with the Realtek HD audio drivers are usually a result of either an error in overwriting the files within the default Windows driver or conflict with the Microsoft Universal Audio Architecture. So, you'll need to uninstall existing Realtek and Microsoft UAA Drivers and then reinstall Realtek driver. Do the following,
Boot Windows in Safe Mode.
Now, load Windows Device Manager. Find and click 'System Devices'.
When the System Devices menu expands, right-click 'Microsoft UAA Bus Driver for High Definition Audio' and select 'Disable'. Restart the computer.
Again, go back to Windows Devices Manager and look for 'Sound, Video and Game Controllers' entry. When seen, double-click it to expand its menu.
Here, right-click the Realtek audio device and select 'Uninstall' option. Click 'OK' to confirm.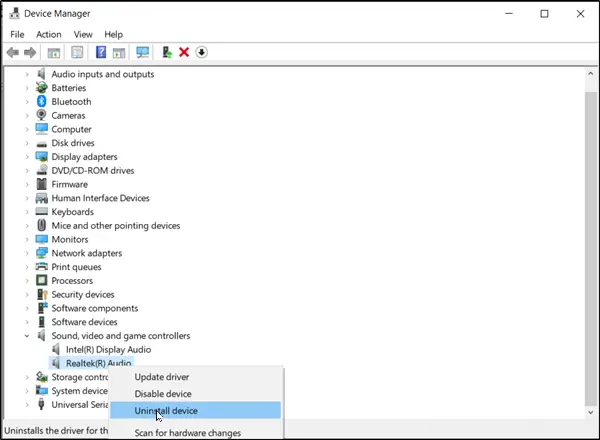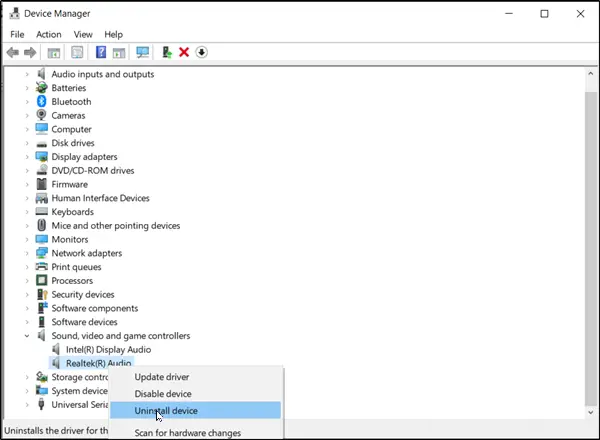 Again, double-click 'System Devices'. When its menu expands, right-click the disabled 'Microsoft UAA Bus Driver for High Definition Audio' device and select 'Uninstall'. Close the Device Manager.
Assuming you have a new copy of the Realtek driver downloaded, double-click the "Realtek" driver installation and proceed to install the driver.
Boot the computer into Normal Mode and restart the computer.
Hope this works for you.