Kodi is clearly growing in popularity. The app has been the primary media app over most TV sets, tablets, and smartphones. Recently, many users have reported an issue that there is no sound from the Kodi application on Windows 11/10 computers. The issue could either be with the Windows system itself or the Kodi application. This troubleshooting was performed on Kodi Leia 18.1. If you are using an earlier version, we would request you to update to the latest one.
Kodi no sound on Windows 11/10
The first approach should be to try running another media file – other than those running through Kodi, and check if the sound on the system works fine. If not, the problem is with the sound system of the computer itself.
Once you have isolated that this possibility, you could proceed with the following troubleshooting:
Update the sound drivers
Update Kodi to the latest version
Re-configure Kodi's audio settings
Re-install Kodi.
1] Update the sound drivers
While the sound on your system might work on your system with obsolete drivers, sound on Kodi would require the updated set.
The best method would be to update the Intel's drivers or download & install them from Intel website.
Restart the system once done.
2] Update Kodi to the latest version
In order to be compatible with your system and settings, it is advised to use the latest version of Kodi, especially since Kodi keeps changing its properties and versions from time to time.
You can download the latest version of Kodi from its official website. Then scroll down to the Windows icon and click on it.
You would get options for Installer (64Bit) and Installer (32Bit). Select the one which is in accordance to your operating system.
Download the Installer and install it. Restart the system once done.
3] Re-configure Kodi's audio settings
Open Kodi and click on the gear-like symbol on the top of the page to open the Settings menu.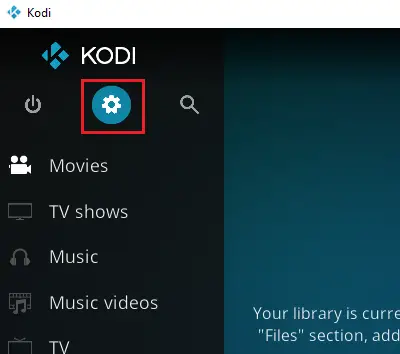 In the Settings menu, select System.
Click on Audio and then click on Standard on the bottom of the Window.
This will change the settings to Advanced mode.
Click on Reset above settings to default.
Restart the system and try running Kodi. Check if it resolves the problem.
4] Re-install Kodi
If none of the above explained steps helped, you could consider re-installing Kodi.
Press Win + R to open the Run window and type the command appwiz.cpl. Press Enter to open the Programs and Features window.
Right-click on the Kodi application and select Uninstall.
Then download Kodi from Kodi's official website and fresh install it.
Hope it helps!