The Windows operating system includes several accessibility features that make using Windows 8/7 easier, for people with age-related or other disabilities. By the time folks cross the fifties, most will have vision, hearing, or dexterity impairments.
Have dexterity and mobility impairments? Activate a window by hovering over it with your mouse or learn how to use the Windows computer without a keyboard or mouse.
Are you having trouble seeing things on your computer screen? You can use the Windows  Magnifier, make the Windows Cursor more visible, and even make the text easier to read. The Narrator is another built-in tool that can be used to read text aloud.
Windows 10 user? Read – How to use Narrator in Windows 10.
Narrator in Windows 7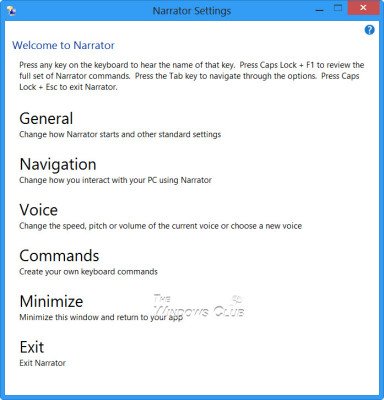 Windows includes the Narrator, which is a built-in accessibility feature that can read text on your computer screen aloud. It can also read out and describe various other events which may occur on your PC, including reading out error messages. So if you have vision impairments, you will find this feature useful as it can also allow you to use your PC without a display. Moving the mouse pointer to the text you want to be read, will make the Narrator read the text.
How to start Narrator in Windows 7/8
To start the Narrator, if you are signing in, press Win+U or click the Ease of Access button in the bottom-left corner and choose Narrator.
If you are already on your desktop, press Win+Enter to start the Narrator.
If you are using the tablet, press the Win+Volume Up button together.
You can also start the Narrator via Control Panel\All Control Panel Items\Ease of Access Center.
How to turn off Narrator in Windows 8/7
To exit Narrator, press Caps Lock+Esc.
Narrator Settings
You can configure the Narrator settings so that they meet your requirements.
Under the General window, you can configure a lot of settings like Start Narrator minimized, Echo keyboard keystrokes while typing, Read out voiced Narrator errors, Enable visual highlighting of Narrator cursor, Play audio cues and so on. You can also set if you want the narrator to start every time you sign in.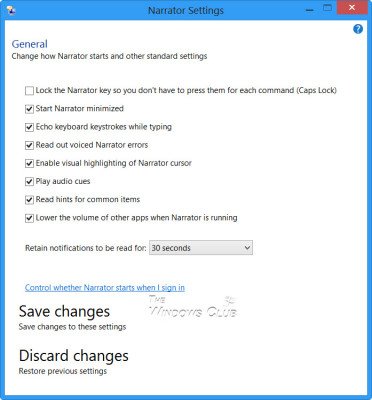 Under Navigation you can decide if you want to Activate keys on the touch keyboard when you lift your finger, Enable the Narrator cursor to follow the keyboard focus and so on.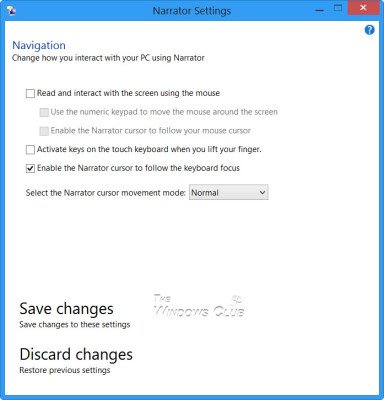 Under Voice you can even select a different voice for the Narrator. The default is Microsoft David Desktop. You can also choose Microsoft Hazel Desktop or Microsoft Zira Desktop.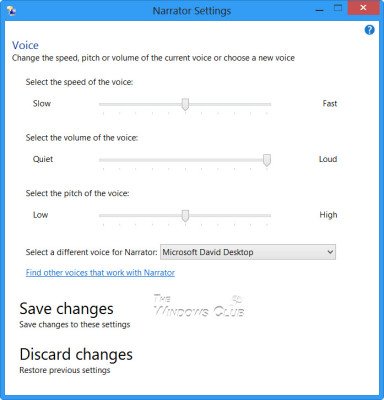 Under Commands, you can see and also change command keyboard shortcuts.
In Windows 10, if you open Settings > Ease of Access, you will see the settings to adjust the speech and sounds you want to hear, and other cursor & key options.
Do remember to Save changes, before you Exit.
Windows 10/8/7 have new actions and new locations for common commands. Here are some of them.
Windows 10/8/7 also some have new keyboard shortcuts. Here are some of the most useful ones.
Hope this helps.