For any small and medium-sized businesses to be successful, it is essential to incorporate certain traits like business agility, flexibility,  and the ability to save extra costs. All this, and others can come by moving to Cloud Technology but the bewildering amount of contradictory information floating around on the Internet stop us from making the right move. Knowing the facts can certainly help to bust cloud myths and dispel wrong notions that we might think are true.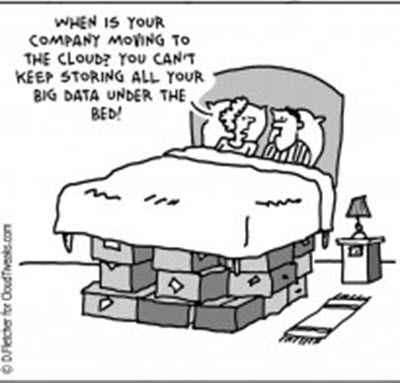 Cloud computing myths
The first myth. If our data moves to the cloud, our business will no longer have control over our technology. Here's what you need to know! When you move to the cloud, time spent in maintaining hardware and upgrading software is significantly reduced. How? The capital budget spent on maintaining servers on-premises for email storage and workloads is greatly reduced. So, rather than spending large portions of resources on servers, you can think strategically to support your business needs in a more prudent manner. This will help you spend more time and energy in improving business operations and launching agile initiatives.
The second myth. Keeping data on-premises is safer than in the cloud. True? Certainly not! Your on-premises systems aren't inherently more secure than they'd be in the cloud. Security experts say there's a rising trend seen in cyber theft problem. Many companies are routinely hacked so security has grown into a full-time job as it requires a team of experts to thwart security breaches. Fortunately, some of the companies offering cloud services like Microsoft hires the best and brightest in this business. Its team uses processes such as the Security Development Lifecycle; traffic throttling; and preventing, detecting, and mitigating breaches that many companies don't have the resources to ensure.
Apart from this, Office 365 also has a 99.9 percent financially backed uptime guarantee and keeps itself up to date with the latest regulations and rules: HIPAA and Sarbanes-Oxley, Federal Information Security Management Act (FISMA), ISO 27001, European Union (EU) Model Clauses, U.S.–EU Safe Harbor framework, Family Educational Rights and Privacy Act (FERPA), and the Canadian Personal Information Protection and Electronic Documents Act (PIPEDA), to name a few.
The third myth. You have to move everything to the cloud. In short, it is an all-or-nothing scenario. Not true! Cloud gives you complete control for delivering the computing power and capabilities that your business necessarily demands.
The fourth myth. Cloud costs jobs. Not true! Instead of taking jobs, Cloud computing has created jobs.
Lastly, many believe governments get access to all the data if it is in the cloud. This is a major fear many businesses have about the cloud and thus stops them from adopting this technology. It's unfounded! Why? It is just the vendor IT team that manages access, sets up rights and restrictions, and provides smartphone access and options. The company remains the sole owner and retains all the rights, title, and interest in the data stored in the cloud. Moreover, the data is not used for any sort of advertising or for any purpose other than providing you services that you have paid for.
There are a bunch of posts here about the Cloud that you want to take a look at.