Ever since its debut, Telegram has been considered a better-equipped, privacy-friendly, and advanced-class Instant Messaging platform. In the past years, thousands of individuals and enterprises had made their way to Telegram as well. Today, however, considering the brand-new privacy shenanigans from Facebook, you've more reasons to move WhatsApp chats to Telegram.
Why move to Telegram from WhatsApp?
Here are the common reasons why, we think, you should move to Telegram from WhatsApp.
Telegram is completely open-source and free to use. The company uses military-grade encryption for protecting your messages from attackers.
Telegram uses a straightforward privacy policy, which doesn't permit sharing sensitive user data with third-party entities.
You don't have to worry about inter-service ad tracking once you have moved to Telegram. It means you won't see creepy Facebook ads based on what you messaged on WhatsApp.
Compared to WhatsApp, Telegram offers some advanced features in individual and group chats. Recently, Telegram also introduced something called Voice Group Chats, which are excellent.
More importantly, Telegram is a responsible company. Since its initial launch, the platform has tried its best to ensure maximum user-privacy and convenience. For instance, the ability to share huge files is one of the most popular features, indeed.
Now that you know these things, shall we see how to migrate WhatsApp group chats to Telegram?
Read: WhatsApp vs Telegram vs Signal vs Messenger.
How to move WhatsApp Group Chats to Telegram
Unfortunately, because WhatsApp and Telegram are direct competitors, you cannot directly sync your group chats from WhatsApp with a new Telegram group. Here, the practical solution is to export the chat from your WhatsApp group and share it to the Telegram interface. These messages will be available in a section named 'Saved Messages' to see the exported messages. Here's how you can use this feature.
1. Open WhatsApp on your Android smartphone and select the group that you want to export.
2. Now, tap on the Options button on the top-right and select the option called 'Export Chat.'
3. Choose Telegram from the share menu that opens up.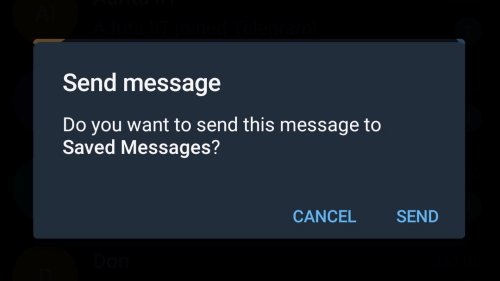 4. Now, open Telegram and save these messages to the 'Saved Messages' entry.
WhatsApp allows you to decide whether you want to include group media in the chat. If you tick this option, the sharing size will be bigger, consuming more time. Please keep in mind that this method allows you to safe-keep the messages sent/received on a WhatsApp group. You cannot replant all the conversations into a new group.
Read: Telegram's new feature helps you Import Chat History from WhatsApp.
Create a Telegram Group & Switch from WhatsApp
Since there is no official integration between WhatsApp and Telegram, you need to follow the steps we have given below.
1. You have to install and set up Telegram. You will have to provide and verify your mobile number. In a few seconds, you will be ready to go.
2. Now, open the sidebar and choose 'New Group' from the menu.
3. In the next step, you have to select the people you want in the group. You can pick people whom you frequently contact or search for their names.
4. In the upcoming step, Telegram will ask you to name the group.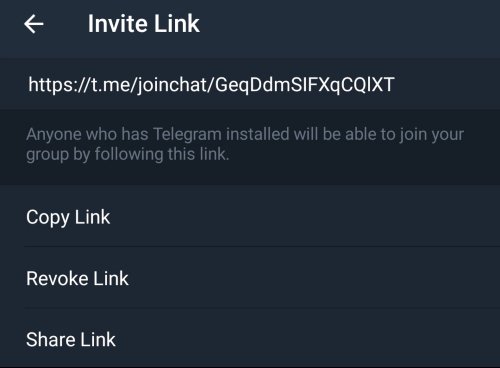 5. If this is done, you can copy the Invite Link to the group and paste it on your current WhatsApp group.
Anyone who has access to the link will be able to join your new Telegram group. Therefore, make sure that you keep the link as confidential as possible. By the way, Telegram groups go far beyond the 250-members restriction. In fact, these groups can host thousands of users without any hassle. So, it's a great time to shift to Telegram if you plan to accommodate more people into your group.
Now that you have brought everyone to the Telegram group (good luck with that, by the way), you can enjoy a fantastic set of features inside. For instance, you would have access to better admin rights control, extra group privacy control, and crazy-huge file sharing support. All these come in handy when you want to create a group that can handle all sorts of conversations.
For instance, if you need a space where you can share official documents, Telegram is the best. You can also avail of Telegram bots to better management of resources. Long story short, migrating your groups from WhatsApp to Telegram is excellent from every perspective.
Read: Telegram app Tips and Tricks.
As you can see, it doesn't take more than a few seconds to join the Telegram group chats and migrate all your contacts to the new platform. When you do, you can stay away from the nasty marketing/advertising tricks from Facebook and WhatsApp.
Telegram has ensured the service would remain secure in the future and that regular users won't be bothered with in-app ads. Even if you think the WhatsApp privacy issues are worth suffering, the additional features in Telegram are top-notch.
Related read: How to move WhatsApp Group Chats to Signal app.