In this post, we will see how we can improve the accuracy of the Mouse and use move the Mouse pointer using Keyboard, one pixel at a time in Windows 11/10/8.1/7. There may have been times where you may have ever struggled to move your mouse cursor exactly by one pixel while you were selecting a rectangular region of a picture, or when you were drawing a precisely horizontal or vertical line in a drawing tool. In such scenarios, it becomes imperative to control the accuracy of the mouse.
Move Mouse one pixel at a time
To move the mouse one pixel at a time, open Control Panel > Ease of Access > Make the mouse easier to use.
Here check the Turn on Mouse Keys check-box.
Click on Set up Mouse Keys.
You can configure the Mouse Keys to your specifications. If you Turn on Mouse Keys, you can toggle the Mouse Keys on and off with Alt+Shift+Num Lock, using the left Alt+Shift. Click Apply > OK.
You can now use the arrows on the number pad to move the mouse.
Using these settings you can improve the accuracy of the Mouse by making it move slower and thus you will be able to even move it one pixel at a time!
There is one freeware that lets you move your mouse pointer one pixel at a time. It is called …. Move mouse one pixel at a time!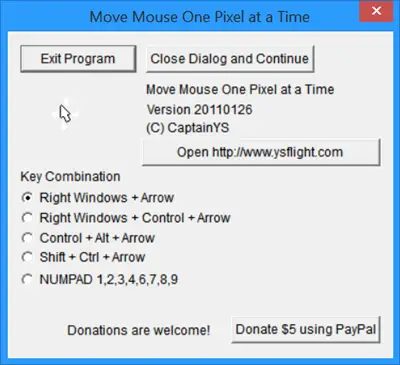 When you run this tool, you will see its icon in the notification area. By default, you can move your mouse cursor by pressing the right Windows key + one of the Arrow keys. By clicking on the icon in the taskbar, you can open the configuration dialog in which you can customize the key combination. The options are:
Right Windows + Arrow keys
Right Windows + Control + Arrow keys
Control + Alt + Arrow keys
Shift + Control + Arrow keys
Numeric Pad 1, 2, 3, 4, 6, 7, 8, 9 keys
The developer states that some key combinations may not work in a specific environment. In such a case, you should choose another combination.
I checked it on my Windows 11 and it appeared to work fine. Download it here if you'd like to check it out.
While on the subject, you might want to read this interesting post on Useful Mouse Tricks For Windows Users.