Mirroring a smartphone screen to a computer, or a computer screen to a smartphone is something we view as interesting. Certainly, not everyone will want to perform this task, but for those who do, then we suspect you'd be looking for the right tool to get the job done. For the past couple of days, we've been testing a screen mirroring tool known as LetsView, and from what we can tell, it only works for Windows 11/10, Android, and iOS. For now, we have only used the Android and Windows 10 versions since we have an Android device, and both are needed for mirroring.
Now, bear in mind that for the mirroring to work, both your smartphone and Windows 11/10 computer must be on the same Wi-Fi network. Furthermore, the tool supports both AirPlay and Miracast, which means you should have no problems connecting at all.
Let's look at some of the features one should expect when using LetsView:
Whiteboard
Recording
Screenshot
Live streaming
PowerPoint Control
QR code scanning to connect
PIN code connecting
The ability to live stream, record, control PowerPoint, and using a whiteboard, are the features that really got us excited.
Mirror Android screen to Windows 11/10 PC
Using this free screen mirroring tool, LetsView, you can mirror Android or iPhone to Windows or cast PC screen to your Phone easily. This program is not 100 percent straightforward, but for the most part, it is very easy to use, and that's always a good thing.
Same Wi-Fi network
Connect devices
Take Screenshots
Whiteboard
Settings
Let us look into this with more details, shall we?
1] Same Wi-Fi network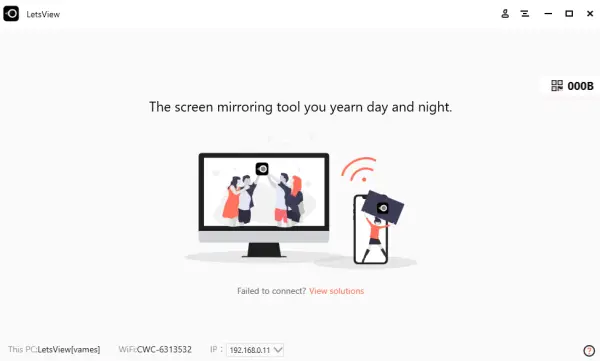 Before beginning the mirroring process, please make sure your mobile and Windows devices are connected to the same Wi-Fi network in your home or business. Once that is done, then its time to take the next step.
2] Connect devices
On your mobile phone, you should see the name of your Windows PC, along with the icon. Tap on it, then select either the option to show the phone screen on your computer or the computer screen on your phone.
Bear in mind that your Firewall might block LetsView from mirroring your computer to your smartphone, so please bear that in mind if it doesn't work as smoothly. You will need to into the Firewall and set LetsView to allow.
If for some reason, you've done everything yet unable to connect, then we suggest clicking on the section to the right of the screen on your computer. It should highlight a few numbers, but when you click, you should now see a QR code.
Use your smartphone to scan the code in order to trigger the connection between the two devices.
3] Take screenshots
When it comes down to taking screenshots, this task is super easy to accomplish. You see, when you're mirroring your screen, you can take a screenshot by simply selecting the third icon on the upper right corner. From there, click on Screenshots to take a picture.
4] Whiteboard
You can do some writing with your fingers via LetsView, but it is all done from within the Whiteboard tool. Users can take advantage of this feature when its time to do presentations for either family, friends, or in a business environment.
It is very easy to use, and if you have used similar programs before, then there are no surprises when it comes down to the basics.
Overall, LetsView is a quality tool even without the added features. Mirroring works great, and as long as your Wi-Fi connection is fast enough, problems should be at the minimum.
5] Settings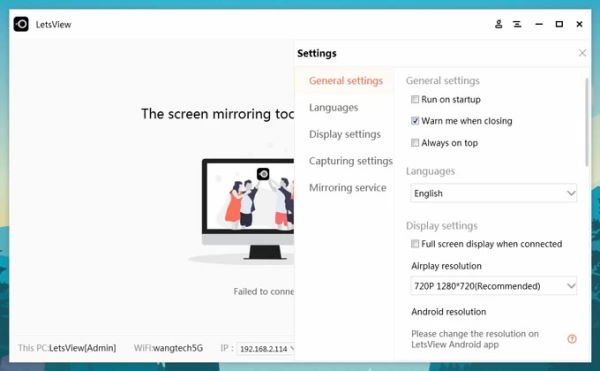 From this area, there is really not much there to do. The user can set LetsView to launch on startup, adjust the resolution of the stream, warn when closing, and a little bit more.
Download LetsView from the official webpage.
Related reads: