Screen mirroring is a common thing these days and there are a lot of situations where you want to mirror your Windows 11 and Windows 10 screen to some other Windows 11/10 device. But mirroring the screen requires an exceptionally good internet connection and the entire setup consumes a lot of data. When you are doing it over the LAN, it is achievable easily if you have a fast-enough Wi-Fi connection or a wired connection, you can easily mirror a PC's screen and even control it with another computer.
Windows Screen mirroring
Windows11/10 came with an inbuilt functionality that lets you mirror the screen to other devices available on the network. The receiver device may be a TV, a streaming stick, or even another Windows computer. All you need to do is tweak a few settings on your computer and the computer you want to project to. Check out this short guide on projecting your computer's screen to another Windows PC.  This will help you connect to a Wireless Display.
Mirror Windows 11/10 screen to another device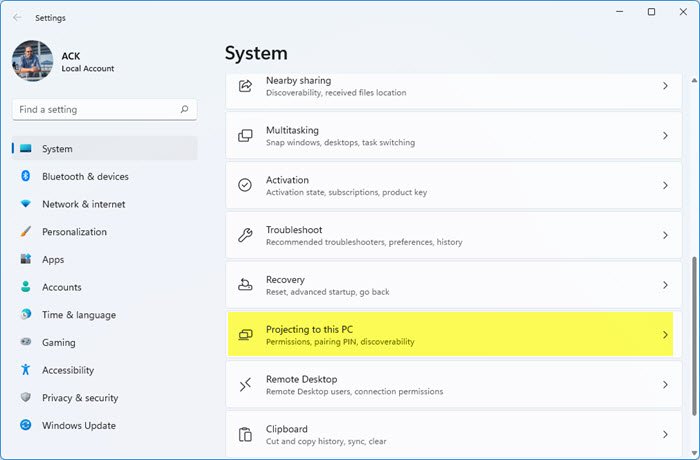 [Windows 11]
To, start with, we need to change a few settings on the receiver computer. So, make sure you have access to the receiver computer and follow these steps on that computer.
Open Settings and then open System.
Scroll down to find 'Projecting to this PC' in the left menu.
If prompted, you may need to add Wireless Disoplay Optional feature to your PC
Then from the first drop-down menu select, 'Available everywhere'.
And in the second drop-down select, 'First time only'.
Enable 'Require PIN for pairing' and change other settings as per your requirements.
To know more about these settings, you can read the provided descriptions or use 'Get Help'. So, now you've enabled your receiver computer. This computer can be used as a screen for other Windows PCs and phones.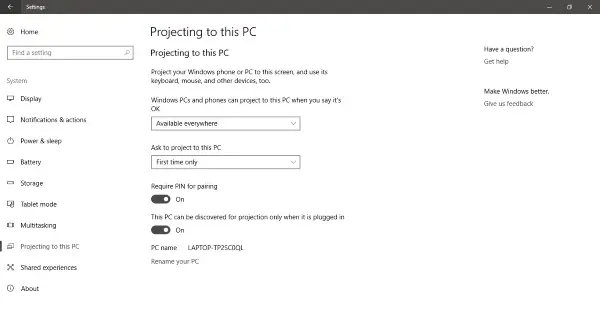 [Windows 10]
Now it is time to connect the projecting computer. Make sure that both the computers are on the same local area network. Now on the PC whose screen is to be projected, go the 'Action Centre' and hit 'Connect'. Pressing Win+K can also be done. It will take a while to search for the available devices, and then you will be able to find the receiver computer in this list. Select the device and hit 'Connect'.
Now go back to the receiver computer and click on 'Yes' to allow the connection. You may be prompted to enter the PIN displayed on the receiver computer. Once the connection has been established, you will be able to see a new window containing the screen output from the second computer.
There are a few more options available on the projecting computer. For example, you can change the projection mode, treating the other computer as an external display. You can choose from the standard four projection modes available. Which are 'PC Screen Only', 'Duplicate', 'Extend', and 'Second Screen Only'.
Also, you can allow input from a keyboard or mouse connected to the receiver computer. This feature essentially gives complete access to the other computer and can be useful while troubleshooting some problems on your computer with the help of an expert.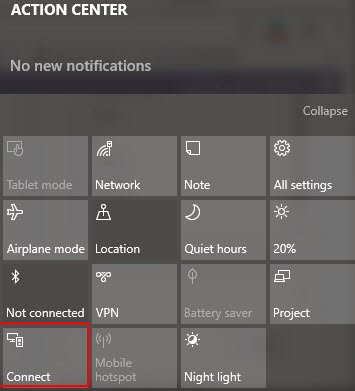 The 'Connect' feature in Action Centre was introduced in Windows 10 but 'Projecting to this PC' was only introduced in Windows 10 v 1607. So, you may be able to project a screen from a non-updated Windows computer. But you need to have your receiver computer fully updated.
How do I mirror screen in Windows 11/10?
To mirror the screen in Windows 11/10, you can use the in-built option called Projecting to this PC. You can find this option in the Windows Settings panel, irrespective of the version of Windows. From here, you need to choose the Available everywhere option. Following that, you can set up PIN requirements and more.
How do I mirror my screen to another device?
Mirroring your screen to another device is pretty straightforward as long as you use Windows 11 or Windows 10. If your monitor supports Miracast, you can use the Projecting to this PC option in the Windows Settings panel. The entire steps are mentioned in this article that you can follow to turn on and start sharing your screen with another wireless device.
So that was all about this tutorial. Almost similar steps apply if you want to project your mobile's screen.
Also read: