If MicrosoftEdgeCP.exe or Microsoft Edge Content Process is causing a high CPU or Memory usage issue, here is how you fix the issue. Although this problem mainly occurs in Windows 10, you can encounter the same in Windows 11 as well. It appears due to corrupt system files and other reasons. This article explains almost all the possible reasons and solutions to troubleshoot the problem.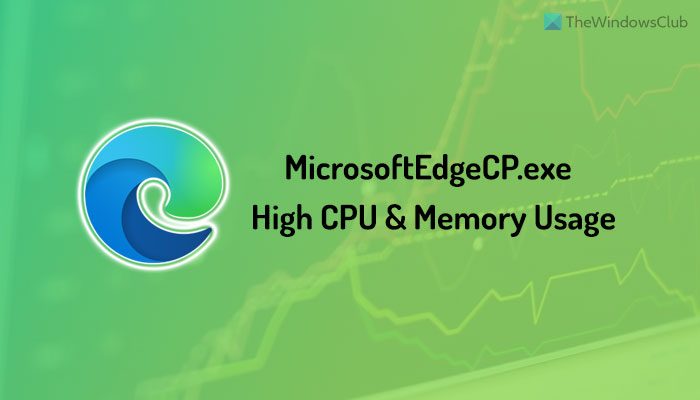 MicrosoftEdgeCP.exe High CPU and Memory usage
To fix MicrosoftEdgeCP.exe high CPU and Memory usage issue in Windows 11/10, follow these suggestions:
Update Edge browser
Close unnecessary tabs
Disable Startup boost
Scan PC for adware and malware
Disable ad block extensions
To learn more about these steps, continue reading.
1] Update Edge browser

As this problem could occur due to a glitch or bug, updating the Edge browser might be handy to troubleshoot this issue. If you haven't updated your browser for a long time, it is highly recommended to update it as soon as possible. Whether you use Windows 11 or Windows 10, this solution works on both of them.
To update the Edge browser, follow these steps:
Open the Microsoft Edge browser.
Enter this in the address bar: edge://settings/help
Let it check and download the update.
Click the Restart button.
Now, check if you get the same issue or not.
2] Close unnecessary tabs
If you have opened a lot of tabs and kept them as they are, it is highly recommended to close some of the unnecessary tabs immediately. As this application renders the content on each tab, having countless tabs opened might be a cause of this problem. Therefore, close some of the unnecessary tabs that you are not using anymore.
Tip: You can always re-open any tab by pressing Ctrl+Shift+T.
3] Disable Startup boost

Start boost helps you open the browser quickly when you start your computer. Although it reduces resource usage, at times, it might act in the opposite direction. Therefore, follow these steps to disable the Startup boost setting in the Microsoft Edge browser:
Open the Microsoft Edge browser on your computer.
Click on the three-dotted icon and select Settings.
Switch to the System and performance tab on the left side.
Toggle the Startup boost button to turn it off.
After that, restart your browser and check if the problem remains or not.
4] Scan PC for adware and malware
There could be times when this problem might occur when your computer has been attacked by malware or adware. They often change various files and settings to manipulate the browser in their favor. Therefore, it is recommended to scan your computer with a free anti-malware or adware removal tool like AdwCleaner.
5] Disable ad block extensions
Nowadays, almost all browsers support ad-block extensions. These ad-block extensions block various things on a webpage. In this process, some websites might use more resources than usual. Even if it is a simple website with text and images, you might need to allocate more Memory and CPU resources to load the page. That is why it is suggested to disable any ad block extension or content blocking extension in the browser.
Read: Fix Microsoft Edge High Memory Usage in Windows
MicrosoftEdgeCP.exe, What is it?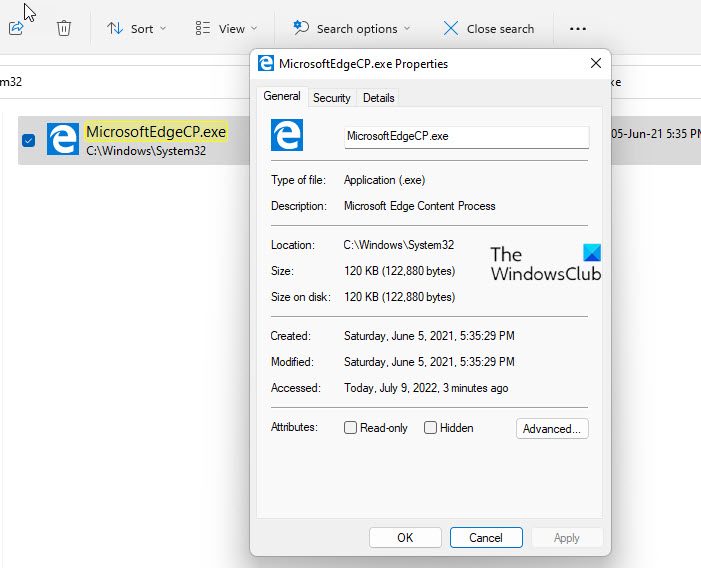 MicrosoftEdgeCP.exe is also known as Microsoft Edge Content Process. The MicrosoftEdgeCP.exe is an in-built application that comes to your computer when you install the Microsoft Edge browser. As Microsoft Edge sometimes comes as a pre-installed browser, you can find this application in this location: C:\Windows\System32.
Is MicrosoftEdgeCP.exe malware?
No, MicrosoftEdgeCP.exe is not malware if it is located in the System32 folder. Instead, it is an essential process required to render the content on the browser. Whether you use Microsoft Edge on Windows 11 or Windows 10 PC, you can find this application in your File Explorer. To be specific, you need to navigate to this path in order to find the MicrosoftEdgeCP.exe app: C:\Windows\System32.