One of the numerous Microsoft Store error codes that you may encounter on your Windows 10 device is error code 0x80073CFE. In this post, we will identify the cause as well as provide the most suitable solutions to resolve the issue.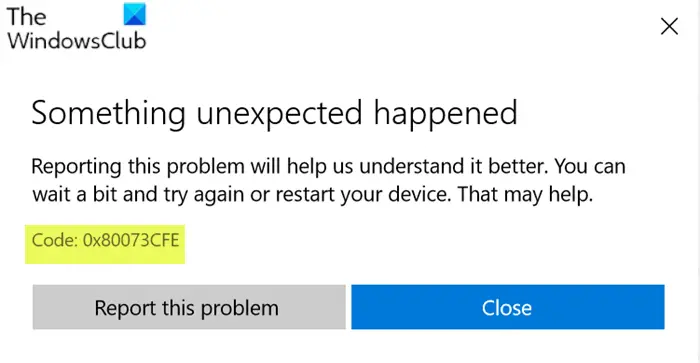 The error descriptions is as follows;
ERROR_PACKAGE_REPOSITORY_CORRUPTED

The package repository is corrupted.
There are several reasons for this issue to occur but generally, it happens if the folder referenced by the registry key below doesn't exist or is corrupted:
HKLM\Software\Microsoft\Windows\CurrentVersion\Appx\PackageRepositoryRoot
This error prevents Microsoft Store and its apps to function normally. You will not be able to update, download, install, or run the Store applications smoothly.
Microsoft Store error code 0x80073CFE
If you're faced with this issue, you can try our recommended solutions below in no particular order and see if that helps to resolve the issue.
Repair or Reset Microsoft Store
Run SFC scan
Run DISM scan
Repair Registry
Perform Reset This PC, Cloud Reset or In-place Upgrade Repair.
Let's take a look at the description of the process involved concerning each of the listed solutions.
Before you try any of the solutions provided below, as indicated on the error prompt, wait a few minutes and then restart your PC and then try again. Also, make sure you have a stable internet connection. Try hard restarting or power-cycling your internet device (router/modem) and see if that helps.
1] Reset Microsoft Store
Windows 10 now lets you easily, with a click Reset your Windows Store via Settings. Do it and see if it helps.
2] Run SFC scan
Sometimes, the presence of faulty or corrupted files prevents Store from operating properly. In which case, running SFC scan can potentially fix Microsoft Store error code 0x80073CFE.
3] Run DISM scan
A viable solution is DISM scan that can resolve component store falsification.
Fix: Windows Update Error 66A or 13EC.
4] Repair Registry
As per the error description referencing a missing or corrupt registry key, repairing the Registry could fix the issue at hand. If not, try the next solution.
5] Perform Reset This PC, Cloud Reset or In-place Upgrade Repair Windows 10
The solution here is that you can try Reset This PC, or Cloud Reset to reset every Windows component. You may also try In-place Upgrade Repair and see if that helps.
Hope this helps!
Related post: Error 0x80073cf9 while installing Apps from Windows Store.