If Microsoft is not sending a verification code or SMS text to you when you sign in or create an account, then this post will be able to help you. As it's an issue of concern, it should be fixed immediately. Fortunately, this post features easy methods to fix it.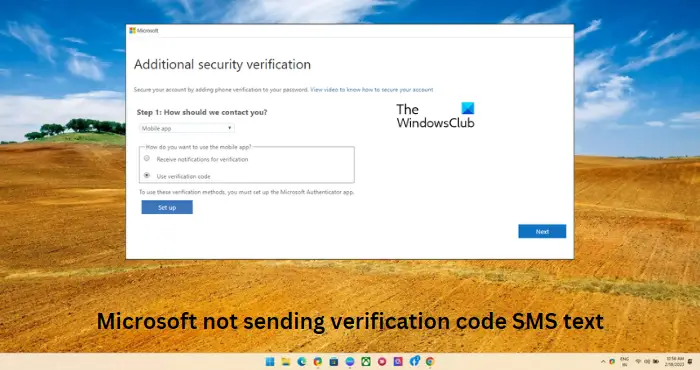 Why am I not getting the Microsoft verification code texts?
You may not receive a verification code for your Microsoft account for several reasons. One of the most common reasons is your network provider blocking messages from an unknown sender. Installing the Microsoft Authenticator app on your mobile device can help.
Fix Microsoft not sending verification code SMS text
If Microsoft is not sending verification codes to your device, follow these suggestions to resolve the issue:
Check your phone number
Check Carrier Plan
Try sending OTP to your Alternate mobile number
Disable Proxy/VPN
Disable Two-Factor Authentication
Contact Microsoft Support
Now let us see these in detail.
1] Check your phone number
Before getting started with different troubleshooting methods, make sure the phone number you entered while creating your Microsoft account is correct. However, if you have changed your phone number, you must update it in the account settings.
2] Check Carrier Plan
You should have an active carrier plan for receiving messages on your smartphone. If you have an outdated carrier plan, your device may not receive messages. If that's the case, recharge your device and see if the error is fixed.
3] Try sending OTP to your Alternate mobile number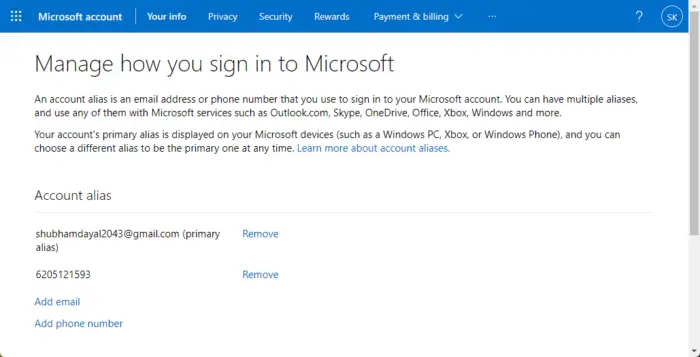 If you are not receiving verification code SMS text from Microsoft on your registered mobile number, you can add a new email or mobile as an alias. Here's how:
Click on Add phone number.
Type your phone number and click on Next.
4] Disable Proxy/VPN
Errors like these can occur if connected to a VPN/Proxy server. VPN and Proxy hide your IP address by rerouting your Internet traffic via a remote server. Nevertheless, Here is how you can disable it:
Press the Windows key + I to open Settings.
Navigate to Network & Internet > Proxy.
Here, toggle off the Automatically detect settings option.
Click on the Set up option next to Use a proxy server and toggle off the Use a proxy server option.
5] Use Microsoft Authenticator
Microsoft Authenticator is an application that allows signing into accounts using two-step verification. Using its passwordless feature, you won't receive a verification code anymore. Instead, Microsoft will send a prompt to the Authenticator app on your smartphone, Click on Allow and you'll be able to log in.
6] Contact Microsoft Support
If none of these methods help you, try contacting Microsoft Support. It's possible something needs to be fixed with your account. Some additional troubleshooting methods may help verify your account if that's the case.
I hope this helps!