Microsoft Windows OS includes a console of various tools which is used for managing and maintaining functions. The console is called Microsoft Management Console (MMC), which hosts and displays administrative tools created by Microsoft and other software providers for Windows. These tools are called snap-ins, and they are used for managing the hardware, software, and network components of Windows.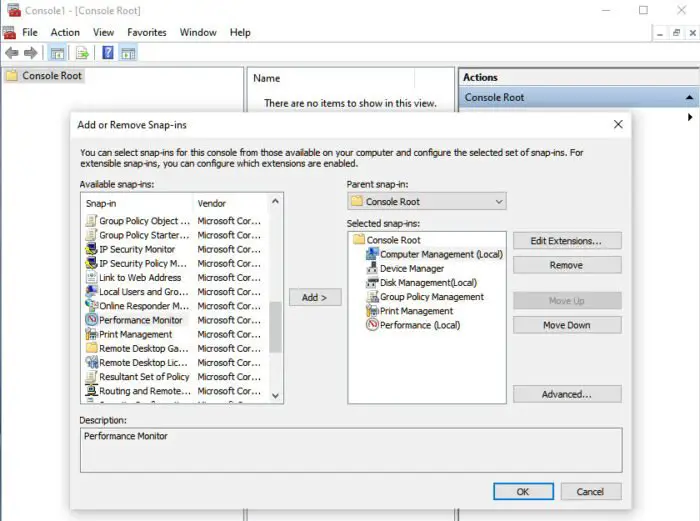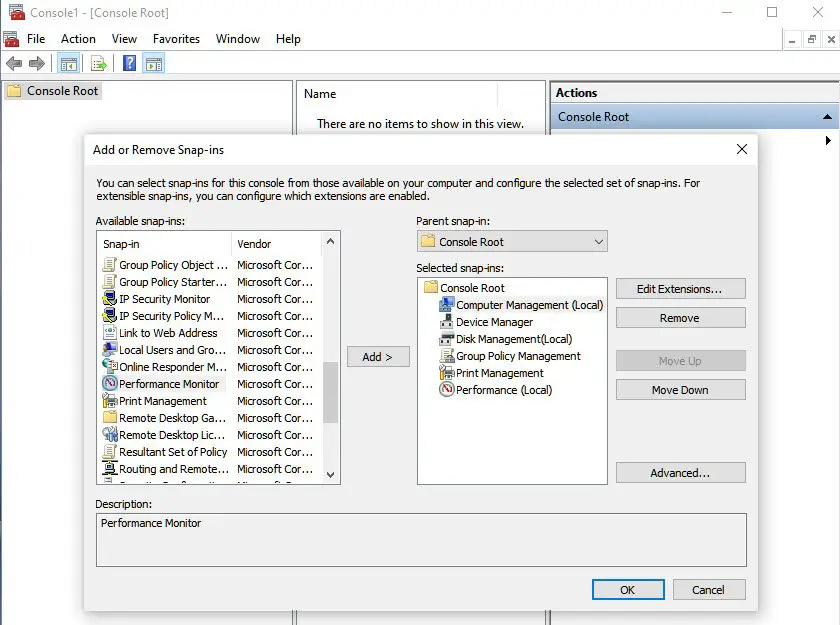 How to open Microsoft Management Console?
To open Microsoft Management Console open the Run box, type mmc.exe and hit Enter. You can also search for 'mmc' and click on the result. If you have the CMD already open, simply type mmc.exe and hit Enter.
What is Microsoft Management Console in Windows 11/10
If you type MMC in the Run prompt and press the Enter key, the result will be confusing. It will be a blank screen with panes.
But if you click on File > Add/Remove Snap-in, it will change everything. MMC is a place holder where you can add various Windows tools such as Disk Management, Computer Management, Performance Monitor, Print Management, etc.
The tool is powerful enough to perform these operations on another computer on the same network.
How to Add/Remove MMC Snap-ins?
Click on the File menu, and then click on Add/Remove Snap-in to open the selector.
Then select the snapins and click on the Add button.
Next, click on the Advanced section where it allows you to set parent snap-in, i.e., the one that remains on the top of the list.
Click OK, and then make sure to save this on the computer.
This arrangement will allow you to access a set of tools you often use quickly. While it sounds IT pro, even pro consumers can use this to quickly launch and use tools like Group Policy, Performance, and other tools.
One of the biggest advantages of using this is that you can access the features of the included tools right inside it. For example, when I clicked on Disk Management, it did not launch it in a separate window but launched it within the window.
MMC is an excellent tool to manage your Microsoft Windows operating system's hardware, software, and network components. You can create these custom snap-ins and then distribute them, among others, so they can also directly access them.
Helpful reads: